The Alps are so awesome that countries around the world steal their name in an attempt to emulate them, such as the Japanese Alps, Australian Alps and even the African Alps, a nickname given to Uganda's Rwenzori Mountains. But you can't emulate a range that rocks as much as the Alps do, especially the ones that dominate the southeast of France. And the French will be quick to tell you that they are home to the real Alps anyway, despite the fact that these mountains spread their magnificence across eight countries in total, the others being Italy, Switzerland, Liechtenstein, Germany, Austria, Slovenia and Monaco.
Où sont les Alpes?
Notice that when you write it in French, the word Alpes has an 'e' on the end, which can stand for enormous, exquisite, ethereal and many more possibilities. Indeed, some may even say they induce ecstasy. They may also have an 'e' because, quite simply, the word 'mountain' in French is a feminine noun and the highest peak, Mont Blanc is given the nickname 'La Dame Blanche' or the White Lady.
Mont Blanc reaches all the way up to an elevation of 4,810m and is part of the Mont Blanc Massif which is shared with Switzerland and Italy. Otherwise, the French Alps are spread over two French regions: the Auvergne-Rhône-Alpes and Provence-Alpes-Côte d'Azur and within those there are 15 massifs. The most notable of these are, from north to south, Haut-Giffre, Ecrins and
Mercantour
, the latter two protected by national parks.
Mont Blanc
The majority of our vacations in Mont Blanc are hiking trips along the iconic long distance walking trail known as the Tour de Mont Blanc. This 170km trail takes you through the great peak's three national domains including France of course and, in particular, its gateway town of Chamonix. Also known as the TMB, you can take on the whole circuit, either at a high level over about six days, staying in lodges and mountain refuges or, the easier option is to spread it over two weeks and stay at hotels and inns.
On the TMB you don't take on Mont Blanc's summit as this takes serious climbing skills and alpinism techniques. We do offer an excellent Mont Blanc ascent vacation, however, which does require a serious level of fitness, some climbing experience and commitment. Read more in our
Mont Blanc travel guide
.
Ecrins National Park
This is one of France's biggest national parks yet it remains a little elusive on the tourism map. Challenge yourself with serious alpinism in the Dome des Ecrins or the Barre des Ecrins or enjoy the winter snows and slopes here in a more gentle way on a guided snow shoeing vacation or on a winter activity vacation, at a fraction of a cost of the destructive and downhill brigades elsewhere in the Alps. The hills are very much alive in Ecrins National Park in summer too, when you can go canyoning and kayaking the Durance River, taking on giant ziplines or a Via Ferrata, horse riding through meadows or rafting down the Severaisse River. Serious hikers, or those who want to up their skills or ascents, can opt for a vacation where they can conquer some of the Ecrins National Park's spectacular peaks including L'Obiou (2,789m), Les Rouies (3,589m), Sirac (3,444m) or L'Olan (3,564m).
Our top trip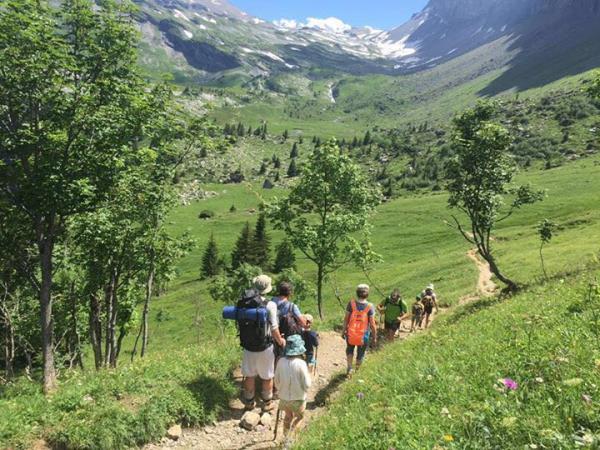 Life enhancing family adventure & yoga in the French Alps
From
£

1195
8 days
ex flights
Small group travel:
2024: 20 Jul, 27 Jul
If you'd like to chat about France or need help finding a vacation to suit you we're very happy to help.

Mercantour National Park
The Mercantour is France's southern belle, because just an hour north of Nice, you enter a world of Mediterranean influenced Alps in a national park that is ski resort free and definitely mass tourism free. The southern Alpes of the
Mercantour National Park
stretch for over 600km² across both the Alpes-Maritimes and Alpes de Haute-Provence regions. If wanderlust if your thing, then be prepared to fall in love as you hike along a vast array of ancient walking trails, many of which are still used by shepherds to bring their flock up into the high ground for summer pasture.
This traditional way of life in the Mercantour is reflected in the fact that walking with donkeys to carry your bags vacations has become a thing here. And a most stunning thing too, whether you want to go on a family walking vacation where you head off into the hills Von Trapp style or base yourself in a village ecolodge and head off to do different hiking trail every day. Some of the Mercantour's most magical spots include the Lacs des Millefonts, four glacial lovelies; the Gorges du Daluis, a 6km long red canyon formed by the River Var; and the Cime du Gélas which is the park's highest peak at 3,143m. Read more in our
Mercantour National Park travel guide
Tour des Alpes
Not surprisingly, given its world renowned stages in the Tour de France, there are plenty of cycling opportunities in the French Alps. Some are challenging, but there is something for everyone here with mountain magnificence at every turn. Starting off with the serious Lycra brigade, try out a week's tailor made French Alps cycling vacation based in the Champsaur valley near Gap, which has been a host town for the Tour de France on many occasions. From here you have access to cols galore including Col du Noyer, Mont Colombis, Col de Manse, Col du Moissiere, Orcieres and Chaillol. Or another option is to cycle from the shores of Lake Geneva to the world famous resort of Alpe d'Huez in a guided small group. This 21 hairpin bend cycling crown is also an option on a small group road cycling vacation that starts in the stunning town of Aix-en-Provence and ends in the medieval Alpine town of Chambery.
Less chamois and more shimmy, you can take a more casual cycle route on riverside routes that link the lakes of Geneva, Bourget, and Annecy, with plenty of swimming breaks at the lakes' beaches and eating breaks at the fabulous Alpine accommodation along the way.
Alps in winter
We
aren't big fans of downhill skiing
at Responsible Travel, favouring winter vacations that have less impact on the environment and more positive impact on local communities. In the Alps we have a plethora of winter wonderlands to explore, however, on winter activity vacations or perhaps on snow shoes. Snow shoeing in the Mercantour National Park is also a great way to explore its winter beauty, guided by International Mountain Leaders.
One other snow shoeing and winter walking hot/cold spot in the French Alps is the Haute Savoie, where you take guided excursions into the Vallée du Giffre which envelops the mountain village of Samoëns. This is just one of many beautiful valleys in this particular Alpine region. You will head off for five or six hours every day, with a hearty packed lunch that you will need when snow shoeing, and then come home to an Alpine feast of three courses, as well as a hot tub. Which should be veritably effervescent. Just to throw in one more 'e' factor of the French Alps.