Dana Reserve in Jordan
---
A reserve on the edge of the mighty rift valley
Just 35km from Petra, Dana Reserve straddles the edge of the Great Rift Valley. It is Jordan's largest nature reserve, covering 320 square kilometres of varying and spectacular scenery. The shark-tooth mountain ridges fall from a height of 1,600m down intricate cliffs and canyons of sandstone, limestone and granite that have been strangely cut by millennia of winds. When the land finally levels out, 100 meters below sea level, the desert provides its own raw beauty.
Biodiversity
---
Dana's varying altitudes and topography mean the reserve spans four distinct eco-zones, from the Mediterranean environment of the mountains, through Irano-Turanian and Sudanian to the Saharo Arabian desert plains of Wadi Arabi. This has resulted in an unusual wealth of flora and fauna,, including ibex, caracals and over 200 species of birds As well as its resident bird species, Dana is on the major migratory routes between Asia, Europe and Africa, making it especially interesting for birdwatchers.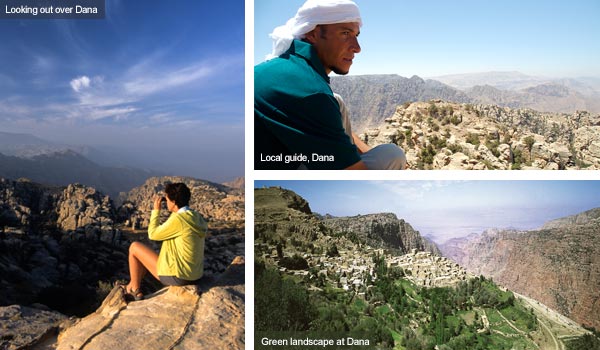 WATCH THE SUNSET FROM DANA VILLAGE
---
BRINGING A 6,000 YEAR OLD COMMUNITY BACK TO LIFE
Dana has cultural as well as natural treasures. There is evidence of human habitation dating back to Palaeolithic times and Dana village itself is believed to be over 400 years old, although people have lived here for more than 6,000 years. The village is perched right at the edge of the Great Rift Valley with views west down the steep rock walls down to the desert of Wadi Arabia.
Roughly dressed, honey coloured stones are stacked to make the walls of houses and terraced fields, giving the settlement an organic feel, an unintentional aesthetic that harmoniously marries human habitation and nature. Many of the square, flat roofed houses of Biblical description are empty and fallen into disrepair. But not all; this is still a living community and through tourism it is starting to thrive again after years of decline.
This enchanting hamlet had suffered from outward migration but tourism in the park has revived its fortunes. Fruits grown organically in its terraced gardens are now hand processed into jams at a small workshop; high quality silver jewellery with nature-inspired designs are crafted by local women; and goat skins are made into picture frames. In total, the park employs over 70 people, the vast majority originally from Dana village or nearby communities.

Stood at the western edge of the village, right where the land falls away there are views out towards the distant rock walls of another snake in the Great Rift and down to the desert. As the sun sets in your face it is is easy to understand why people have chosen to call this home since the dawn of civilisation.
DANA BIOSPHERE RESERVE ECOLODGE
---
WORKING TO REDUCE POVERTY
Feynan Ecolodge is situated on the site of a former copper mining research camp in the western edge of the Dana Biosphere Reserve and was highly commended at the 2011 Responsible Tourism Awards in the Best for Poverty Reduction category. Responsible Travel caught up with Feynan's Managing Director, Nabil Tarazi, to find out what progress in poverty reduction has been made in Jordan since 2011.
We asked Nabil what obstacles had been overcome to create an ecolodge within the Dana Biosphere Reserve.
---
"Jordan is unique in the sense that conservation in the country is managed by an NGO and not directly by the government. In 1966 a group of ex-hunters got together and established the Royal Society for the Conservation of Nature (RSCN), under the auspices of King Hussein. The hunters realised that their actions had been destroying one of Jordan's most precious natural resources, wildlife, and by setting up the RSCN they were going to do something positive to protect it. The RSCN then received a mandate from the Jordanian government to start establishing and managing Jordan's nature reserves, and in 1989 they created the Dana Biosphere Reserve. After the Rio Earth Summit in 1992, the RSCN adopted ecotourism as a tool for conservation and creating benefits for local communities.

Feynan Ecolodge was the most ambitious undertaking that the RSCN developed. It was the only ecolodge in Jordan, literally in the middle of nowhere and totally off grid, generating energy entirely by solar panels. The RSCN decided to develop the lodge to show that ecotourism is a sustainable alternative to destructive copper mining whilst also bringing much needed benefit to the impoverished communities living within the surrounding areas.

Through a combination of offering unique and authentic experiences, interaction with local people and explaining the benefits of ecotourism we've been able to influence tourist behaviours and in so doing conserve our natural landscapes and reduce poverty."
How does the local community directly benefit from Feynan Ecolodge?
---
"The local community is at the heart of the lodge and we've stuck to an exclusive, 100 percent local employment commitment to ensure over half of the money that a guest spends is put directly into the surrounding economy.
For example:
As the lodge is 8km from the closest paved road, local herdsmen and farmers are hired to transfer guests via their 4-wheel drive pickup vehicles. There are currently 45 drivers on a rota who work in conjunction with the lodge to provide transport during their free time – all money from the transfer goes directly to the drivers.
Bread is baked to order by Um Khaled, a local Bedouin woman, and purchased for a significantly higher price than it would normally cost to buy in bulk from Amman. From the money generated, Um Khaled's family bought a photovoltaic system to bring electricity to their goat hair tent. Now her children have light to study at night and she now has her very own washing machine.
Candle and leather workshops are in place for local people to supply the lodge with products that can be either used in-house or sold to guests.
Guests are invited to visit local homes and find out how to make coffee, bread or weave goat hair – the additional fee collected is given directly to the family.
Most food for the lodge comes from local shops situated within a 40km radius.
All in all, some 450 people from the local community benefit directly from Feynan Ecolodge."
Have you seen the poverty situation improve or decline since you were commended for your work at the Responsible Tourism Awards in 2011?
---
"2011 was a significant year for another reason as this was the start of the Arab Spring which affected many countries and regions close to Jordan, such as Syria and Egypt. Thankfully, responsible travelers continued to come to the lodge during this period and we weathered the storm and were still able to help reduce poverty in the local area.

However, even though Jordan is safer than many European capital cities it's been tarred with the same brush as much more volatile regions in the Middle East. A general naivety as to where Jordan is situated physically has seen a dramatic drop in tourist numbers, with Petra and Wadi Rum unable to attract the same level of travelers. This has had a huge impact on the local communities who depend on tourism for their livelihoods."
How can travelers help reduce poverty in Jordan?
---
"The absence of tourists has had a direct impact on poverty in Jordan and we implore travelers to do their research and find out more about the history and the current state of the area.

We know that 80 percent of guests coming to Feynan Ecolodge are seeking a unique, culturally fulfilling, adventure which is why we do our very best to enlighten them about sustainable tourism and give them something to take away and consider before planning their next trip. It's these sorts of responsible travelers that we need to visit Jordan to see for themselves that it's a safe place. It's only through their return that we'll be able to continue our commitment towards conservation and poverty reduction through sustainable tourism.

"On one typical day in January 2016, all of the hotels in Petra received just 20 guests. Wadi Rum, Petra and the communities living and working in and around Dana Biosphere Reserve have come to rely on tourism as their main source of income. Although there's still much to do in terms of waste reduction, recycling and educating both tourists and local people on the benefits of responsible tourism, if there's no one coming to our region then who knows where we'll be another five years further down the track."
Photo credits:
[Dana Reserve top box, looking out, local guide, green landscape: Visit Jordan] [Dana village at sunset:
Lawrence Murray
] [Feynan Ecolodge:
jcookfisher
]