Adventure vacations in Jordan
---
TRULY MAJESTIC ADVENTURES IN NATURE
The Royal Society for the Conservation of Nature (RSCN) may sound a little bit like an organisation that exhibits at the Chelsea Flower Show. Not that the Chelsea Flower show isnít an array of beauty, but the difference is that the RSCN supervises an array of beauty that would fit hundreds of thousands of flower shows into it. Because the Royalty in question is the esteemed monarchy of Jordan, and the natural heritage that the Society protects reads like a catalogue of some of the wildest and most adventurous places to explore in the world. Over a thousand square kilometres, in fact, of wadis, wondrous mountain ranges, desert canyons and plains, forests and wetlands, all of which are now finding their place on the worldwide map of responsible adventure tourism, with a unique Jordanian and unquestionably majestic twist.
Hiking in Jordan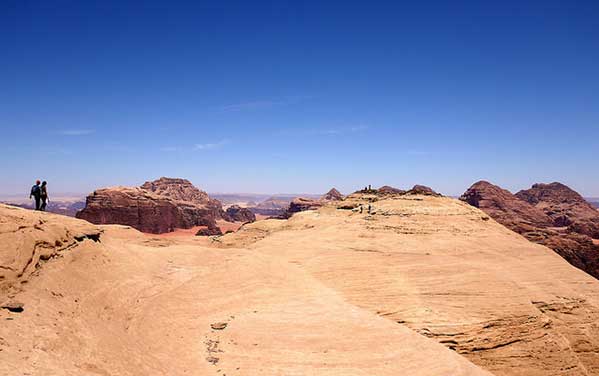 Hiking in Jordan
's precious, protected areas is fast becoming one of Jordanís most sought after pursuits for keen adventure travelers. Trekking in Wadi Rum, one of the RSCNís protected regions is already on many a travelerís wishlist, but the trekking terrain in Jordan stretches way beyond its most famous wadi. In the
Dana Biosphere Reserve
, for example, Jordan's largest nature reserve, with 320km
2
of shark-tooth mountain ridges, towering cliffs, sandstone, limestone and granite canyons, there are walking trails that vary in length from a couple of hours up to the top of Rummana Mountain to taking on the spectacular Rift Valley Mountain Trek (RVMT). The RVMT is Jordanís first long-distance hiking trail that takes hikers on an extraordinary 100km journey between Dana old village and Little Petra. It takes six days to complete, staying at the exquisite Feynan Ecolodge and Bedouin tents en route.
Many of the hiking trips in Dana Reserve revolve around Rummana Campsite, which is managed by the RSCN. There are 60 white canvas, pre-erected tents here, making a hub for hikers who want to go bird watching for the famous griffon vulture or explore the ancient copper trails en route to the dramatic desert landscapes around Feynan. All possible in a day, with or without Rummanaís own expert hiking guides, finishing back at camp for starlit spectacles.
Horse riding in Jordan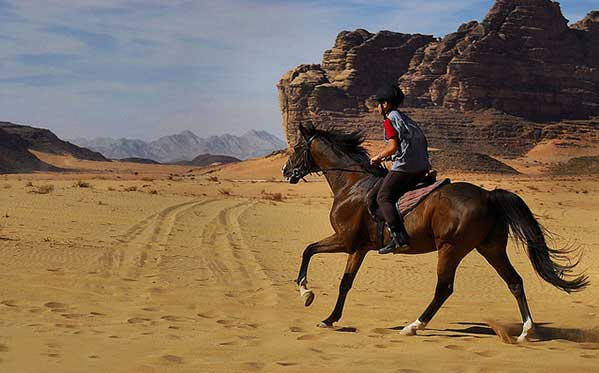 Many people associate Jordan with camel trekking, spurred on by the iconic images of Lawrence of Arabia, which was shot in Wadi Rum. There are other adventurous modes of transport to discover here; namely horse riding and
cycling
. You can explore the likes of Wadi Rum on weeklong horse riding trips, trekking through the likes of the Khathah and Wadi Nugrah Valley, climbing the Um Zelgah dunes or wiggling through narrow gorges and canyons such as Abou-Kashaba. All in the safe hands of Bedouin guides who host guests at their world famous camping sites. And as if that isnít enough, riding through the likes of Petra, Jordanís cultural crown, feels like winning the Grand National.
Multi-day rides will see you spending up to six hours a day in the saddle, while nights are for sleeping in either picturesque campsites - or simply outside, under the bright, desert stars. Some trips are point to point between Wadi Rum and Petra - a fascinating finale.
These multi-day horse riding tours are not suitable for beginners, although tours do cater to the abilities of all riders in the group, and there is no need to be a horse riding expert. The horses are usually pure Arabian, Bedouin Arabian or part Arabian, well trained and used to desert conditions.
Cycling in Jordan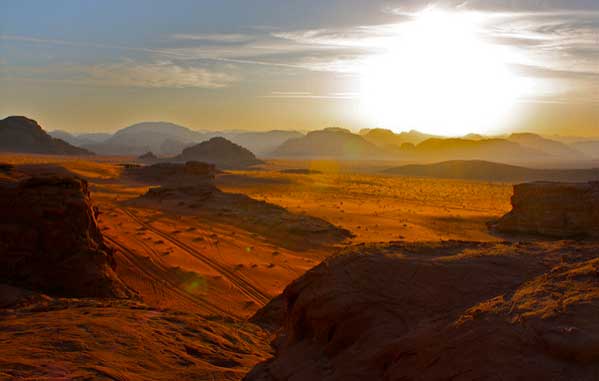 For very different saddles, and very different views, cycling in the Azraq Wetland Reserve is one of Jordanís best kept secrets. Where Azraq Castleís most famous resident was in fact Lawrence of Arabia. An area that is not only rich in biodiversity, with a bevy of beautiful birdlife, it is also culturally diverse with an ethnic mix of Bedouin, Druze and Chechen people. Pedalling around the mudflats of al Qaía and al Madbaaía, the Old Druze Village of Qasr al- Shaťr, the modern Azraq village, and Azraq Castle brings you into some of Jordanís most unique and welcoming homelands. And of course,
cycling adventures
can happen all over Jordan, from the natural beauties of Wadi Rum or Aqaba, to the cultural champions of Petra and Madaba.
Scuba diving in Jordan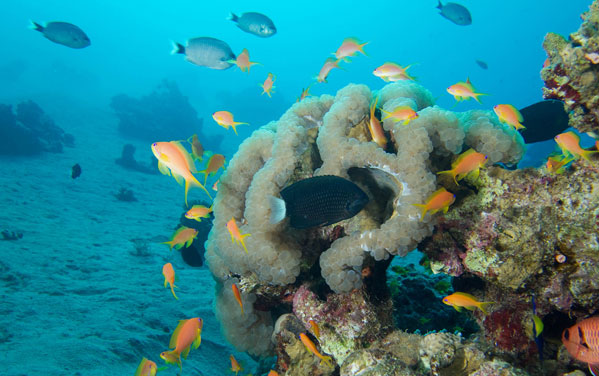 It may have just 27km of coastline, but Jordan has 21 designated
dive sites
along the fringing coral reef of the Red Sea near Aqaba. Many of these are quite close to shore, necessitating just a short boat ride - but the coral reef shelves steeply, and can reach depths of 50m. There is an excellent variety of both hard and soft coral and reef fish species - you may spot the odd green turtle grazing on the sea grass, too.
Climbing & canyoning in Jordan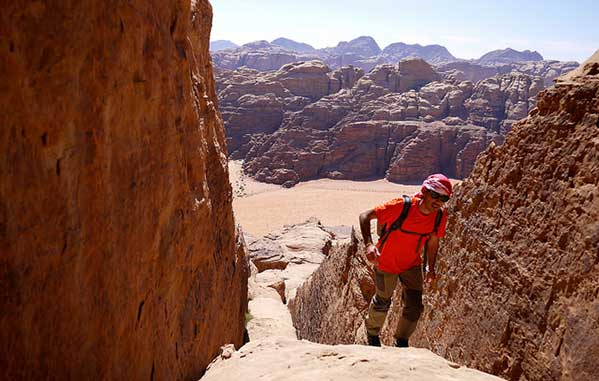 Jordan is also fast becoming a kingdom of climbers and canyoners looking for new problems and paradises to take on. Not only is this a cool way to vacation in the adventurous sense of the word, it is also literally cool, with many trips leading you through deep, narrow gorges, protected from the harsh rays of Jordanís sun. Again, from Rummana Campsite, after scrambling over rocks and boulders, a full on canyoning experience awaits at Wadi Ghway, with a spectacular red, sandstone gorge and river that are flanked with ancient ferns and palms.
Some of the countryís most dramatic canyoning is to be found in the Wadi Mujib Reserve, such as the Malaqi Trail. This is an exhilarating, nine-hour adventure of hiking the Reserveís Ibex Trail, then following what could be called a kingfisher trail upstream through the Mujib River, because you will see so many en route. When you reach the confluence with the Hidan River, the swimming fest begins, with deep pools for paddling in and picnicking beside. Canyoning back through the Mujib Gorge, and descending a waterfall pretty much sums up just one of dozens of similar canyoning experiences to be had in Jordan. And with expert, trained guides on hand in all of the RSCNís regions, Jordan definitely rocks.