Jordan food & drink
---
Flavours of the Mediterranean & Middle East
Jordan shares culinary cultures with other Arabic and Mediterranean countries - hummus, baba ghanoush, tabouleh, falafel and kebabs all feature strongly. Yet Jordan has its own delicacies and national favourites, including one of the oldest wine making histories in the world.
Alcohol
Even though Jordan is largely a Muslim country, drinking alcohol is not a social taboo; it is readily available in restaurants and hotels. There are also bars in tourist areas and some of the major cities particularly those with a significant Christian community.
Wine
. Jordan has one of the oldest wine making histories in the world; there are several references to Holy Land wine in the Bible. The climate and soils are well suited to quality grape production, yet until recently there were no vineyards of international repute.
The emergence of Omar Zumot's St George label has changed this and brought Jordan to the attention of wine experts.
Tasting
. St George uses natural production techniques without pesticides or artificial fertilisers. Visits to their vineyards include a guided tour with an introduction to wine making and a tasting session.
---
Contrive an invite for tea
Contriving an invitation to tea in in Jordan shouldn't prove too difficult but will be highly rewarding, and not simply for the chance to sip coffee, or sweet black tea, possibly flavoured with a few sprigs of mint. For all its ancient history, peerless monuments, stunning scenery and natural treasures, Jordan's greatest attribute is its people.
Yet many of the visitors that pass through the country see little, if any, of their common cordiality. They move from site to site in air-conditioned tourist buses with little or no opportunity for contact with the locals, but it is easy to meet people in Jordan with a little effort. Use a hire car to get around and stop at wayside shops or coffee vendors, wander around the towns that surround the famous antiquities, get out into the countryside and walk through the villages. Strike up conversations. Many people speak English and even those that don't may well take you home to sip tea.
"The local people - they like tourists. They ask them to have a cup of tea or a cup of coffee. Very easy. Just say,
Salaam alaikum
. The local people will say,
Wa alaikum Salam
. They will start talking and the tea will come" -
Mahmoud Hawawreh, guide on the Al Ayoun Trail
Coffee
Coffee is more than merely a drink; in Jordan it is surrounded with custom and treated with reverence. It is an important symbol of hospitality and trust.
Offering a cup of coffee to someone and having it accepted it shows mutual goodwill. Even if you aren't a coffee fan, try to accept at least one cup if you are offered it.
Etiquette
. A traditional Bedouin coffee ceremony involves three cups of coffee. Although it is polite to drink the first, it is acceptable to refuse the others. If you don't want a refill, simply tilt your cup from side to side two or three times as you hand it back. If you do want a top-up, just hold your cup out for more.
If you're driving, pull over if you see a roadside coffee stall. Not only will the coffee be great, it is a chance to relax and chat with Jordanian travelers.
---
Food
Influences
. Jordan is not as renowned for its cuisine as its neighbours Lebanon and Syria and this is unfair. Since antiquity, Jordan has been a highway between Europe, Asia, Arabia and Africa. Many different civilisations have come and gone and this influx and mixing of people over many centuries has led to a diverse food culture.
Ingredients
. Grain, yoghurt, olives, cheese, spices, herbs, both dried and fresh fruit, these give the dominant flavours. Lamb and chicken are the meats of choice. In rural areas, particularly in the north, few of these ingredients travel far, sometimes merely from the nearby fields.
Traditional meal times
. Mealtimes are often a communal affair with numerous plates served at once and people taking the portion of each dish closest to them. In traditional settings, eating with the right hand is the acceptable method, and men and women dine separately.
Dishes
. A large number of dishes are shared with other Arabic and Mediterranean culinary cultures: hummus, baba ghanoush, tabouleh, falafel and kebabs all feature strongly. Yet Jordan has its own delicacies and national favourites.
Without argument, the premier national dish is mansaf and its preparation is taken very seriously.
Mansaf
. This is the dish of special occasions; weddings in particular would not be complete without over-generous servings on big platters that four or five people share.
There are as many recipes as chefs, and secret flourishes are jealously guarded. Lamb, often seasoned with herbs and spices, is cooked with onion in yoghurt and served on heaps of rice with a bed of Bedouin bread. Almonds or pine nuts are sometimes sprinkled on top.
The result is a delicate and creamy sauce, and meat that is soft and highly flavoured.
---
Petra Kitchen
Petra Kitchen is a cookery classroom, located a just few hundred meters from the main entrance to Petra, where guests can learn hands-on how to make traditional Jordanian dishes. Lessons are conducted by a team of professional chefs and local women, tapping into the rich expertise of both the restaurant kitchen and the home.
"Petra Kitchen is the way to cook your own food by your own hand"
- Tariq Nawafleh, chef at Petra Kitchen
Local produce
. Ingredients are local and virtually all of the utensils, table linen, furniture and crockery have been made nearby or by crafts co-operatives and workshops elsewhere in Jordan.
The food
. The menu varies from session to session, but always involves an array of delicious dishes including a soup, mezze plates and a main course. The kitchen is well equipped and beautifully decorated. There are several high tables and the class is spread out so that everyone has a task: peeling, chopping, mixing or heating.
The teaching
. The local women and chefs wander between the tables keeping an expert eye on their charges and giving pointers and encouragement. The atmosphere is vibrant and fun. It is a great way to learn and because each person has something to do, everyone leaves with an understanding of how to make at least one of the recipes served here.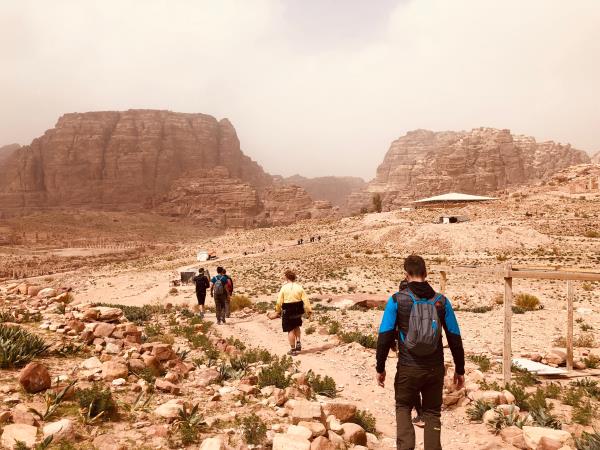 Ancient history, breathtaking hikes, local cuisine of Jordan
From
US $

2995
8 Days
ex flights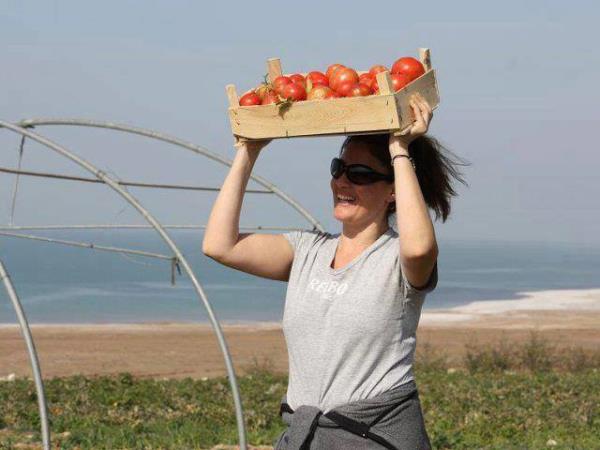 Enjoy affordable cooking tour while exploring stunning Jordan
From
US $

1735
8 Days
ex flights