Jordan culture
---
Jordan's modern & ancient culture & crafts
Jordan is a diverse community. There are many different ethnic groups living in this small country; it has been a mixing pot of cultures for millennia. You are surrounded by its rich heritage and culture in the remnants of ancient civilisations long since past, yet they still remain, stamped into the very fabric of this amazing kingdom and etched into the soul of the people who live here.
History
Jordan has been a hub for humanity since the dawn of civilisation. The Sumerians, Akkadians, Babylonians, Assyrians, Persians and Mesopotamians came in from the east. From the south came the Nabateans, while from the west, Pharonic Egyptians, Greeks and Romans, Byzantines and Crusaders. They left behind archaeological sites, historical towns and monuments scattered all across the country.
Modern culture
Alongside traditional culture, Jordan's younger generation are producing new forms of music, fine arts and theatre. As such, new cultural hotspots such as Jabal Amman are appearing with cafes, galleries and bookshops.
Food & drink
Jordan shares culinary cultures with other Arabic and Mediterranean countries - hummus, baba ghanoush, tabouleh, falafel and kebabs all feature strongly. Yet Jordan has its own delicacies and national favourites, including one of the oldest wine making histories in the world. Read more about
food & drink in Jordan
Crafts
There are workshops all over Jordan, including Art River Mosaic Workshop (which provides training and employment for disabled people), Dana Workshops (jewellery, herbs & preserves, leather goods) and The Soap House (high-quality, traditional, natural olive oil soaps). Read more about these workshops below.
Art River Mosaic Workshop
Madaba has a rich culture of mosaic craftwork, largely as a result of the fine Byzantine and Umayyad examples found in its churches.
The most famous is the intricate "Map of the Holy Land" or "Map of Jerusalem", a well-preserved sixth century mosaic in the floor of the Basilica of St George. The ancient art is taught at the Madaba Institute for Mosaic Art and Restoration and this has spawned many workshops in and around Madaba.
The Art River Mosaic Workshop is unlike the competition. It has been set up to provide training and employment for disabled people. Jobs for the disabled in Jordan are very limited, yet 60% of the people working at Art River have some form of disability.
All the mosaics are handmade. The stone is cut into very small pieces, a design is drawn and the stones are individually positioned with tweezers. Once all the stones are in place, the gaps are cemented, the surface polished and it is framed. This is painstaking and highly skilled work.
"For this micro-stone mosaic the workers much be very patient, have great knowledge and experience. They must be very skilled. It's not easy work"
- Bashar Twal Manager of Art River Mosaic Workshop
Art River is not a charity, it is a profit making company, but its disabled artists are paid an industry wage and have other employee benefits. Those who are able attend the workshop, while the people who are housebound can work from home.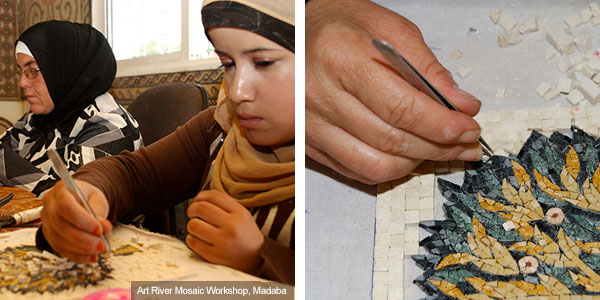 Dana Workshops
There are three craft workshops in Dana Reserve where local people have been given the skills and opportunity to produce high quality goods for sale. They don't just provide an income, but make the long-term survival of these rural communities more viable.
All the jewellery from the silver workshops is hand made by local women. The designs reflect the nature of the area, taking inspiration from wildlife or ancient rock art found in the reserve. The motifs have been created both by top designers and also the women themselves.
The terraced gardens of Dana village have fertile soils fed by spring water. They have fed the people who live here for hundreds of years and are still providing and abundance of produce. Everything is organic and local woman use fruit from the trees to make exquisite preserves and sun-dried herbs then package them as fragrant ingredients.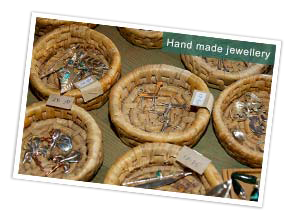 Down in the desert area of Feynan there is a leather workshop where goatskins are turned into hand crafted cushions, picture frames and other items. The leather project also helps to control the size of goatherds in the reserve which if allowed to get too large cause serous environmental damage.
There are also community craft projects at other reserves run by the Royal Society for Nature Conservation; ostrich eggs are carefully engraved at Azraq Lodge and the Jordan River Foundation has a number of projects throughout the country where people are taught skills and assisted in running craft workshops. Read more about
Dana Reserve
The Soap House
For generations, wherever olives were grown, rural communities used their oil to make soap rich in antioxidants and gentle on sensitive skin. Despite these and other beneficial qualities, modern mass production made this ancient art die out.
In Jordan, this traditional craft has been revived. Near the village Orjan in the Al Ayoun area, a house has been converted into a cottage workshop where local women hand-make a selection of high-quality natural olive oil soaps. Medicinal herbs and fragrant fruit and flowers like mint, cinnamon, pomegranate, lavender and geranium are also added. The project was set up by the Royal Society for Nature Conservation, RSCN, and by Dina Azar, a Jordanian businesswoman who had already established her own successful hand-made soap and cosmetics company.
The Soap House not only provides local women with skilled employment but because it is situated out in the countryside and not in an urban factory it also contributes to the rural economy. Fruits, flowers, herbs and olive oil are bought from farmers in nearby villages who are given a better price than they would otherwise get at the major markets.
The soaps are sold internationally but they can also be bought at the Soap House in Orjan and at Dina's own Soap House in Jabal Amman.
Visitors are welcome to tour the Soap House and watch the women at work. There is a guided walk from the Ajloun Forest Reserve called the Soap Maker's Trail that finishes with a visit to the Orjan Soap House. Read more about walking the
Soap maker's trail