Middle East travel advice
Cultural advice
Danniell Saunders, from our supplier Encounters Travel, shares his Israel travel advice:
"With so many religious sites to visit and an inherently conservative outlook, women should cover up as much as possible, so long sleeve shirts and baggy pants are recommended. Saturday is the Jewish day of rest and it starts at sunset on Friday and finishes at sunset on Saturday. This means shops will be shut and no buses will run. And learn a few words of Hebrew, it helps break the ice."
Linda Maguire, from our supplier Undiscovered Destinations, shares her Iran travel advice:
"Iran is surprisingly easygoing. Female visitors in particular must adhere to the dress code but at no time was the atmosphere oppressive or threatening and I was thanked on occasion for respecting the local traditions. The people are very warm and welcoming and seemed genuinely pleased to see visitors in their country. As tourists we were not aware of any political tensions or anti-Western sentiment."
Danniell Saunders, from our supplier, Encounters Travel, shares his Egypt travel advice:
"Egypt is Africa, which is important to remember – the people are so calm and relaxed and friendly that not necessarily everything happens to a rigid timetable or as you would expect. Be inquisitive. Don't be afraid to ask local people questions – if you have a question about Islam or about what it was like to live during the revolution, ask your guide; they'll tell you. Another thing to bear in mind is that not all of Egypt is Islamic; we have many guides that are Coptic Christians, which opens a whole new avenue for interesting discussion. Don't be scared to find out information – you won't get an angry response and it shows that you're interested. Egyptians won't shut you down; they'll let you have a conversation."
Marc Leaderman, from our leading Palestine vacations supplier, Wild Frontiers:
"Having led tours in over 50 countries, my trip to Palestine was amongst the most rewarding and insightful I've ever had. It offered an incredible diversity of scenery and historical wonders over such a small area, and more importantly a window into the rich cultural heritage of a people whose voice is all too often associated with conflict and suffering rather than warmth and hospitality. Come with an open mind and you'll be sure never to view the Middle East the same way again. I would certainly suggest reading up on the Israeli-Palestinian situation (ideally from both sides) although it can be quite challenging to find balanced sources. Good films include 'The Lemon Tree' and 'Five Broken Cameras."
Itinerary tips
Anthony Horrobin from our supplier, Encounters Travel, offers tips on where to go in Israel:
"If you have time whilst in Tel Aviv definitely walk along the promenade to the small town of Jaffa, perched on a headland close to central Tel Aviv. The walk might take around an hour (maybe a bit less) but the contrast to Tel Aviv is immense. There's also a small (but high-tech) underground museum in Jaffa and a great fish market to have a wander around."
Liz Pepperell, Managing Director of our supplier Odyssey World, discusses Oman:
"Oman is such a special place but is sometimes perceived as being a five star beach vacation only, with people not being aware of what the country has to offer. I really advise people to look beyond the sun and sand as there is so much more to the country than this. In the fjords in the North you can see dolphins and whales, and the region is ideal for scuba diving."
Andrew Appleyard from our supplier Exodus:
"My favourite place in Palestine is actually Jericho, probably because it is one of the oldest archaeological sites in the entire world, dating back to about 5000 BC. And it is an amazing old site. It is also one of the places where Israelis and Palestinians get on incredibly well and no one interferes with any of them. But Jericho is a fab town, and there are great restaurants there too. It really is an amazing place."
Food tips
Marianne Grimshaw, from our supplier Wild Frontiers:
"Iranian food is generally very good – though I'm vegetarian and in the smaller places it's always a bit of an issue. Sometimes we were on the road and we'd stop at little truckers' cafes and I'd just eat rice and salad. In the towns and cities they are big on rice dishes and there are lots of aubergine and vegetable stews, chickpeas… there are a lot of kebabs. There are some nice delicate flavours using the spices. They're big on their saffron as well."
Thidara Udomritkul, from our supplier Exodus:
"If you do find yourself in Jordan's Wadi Rum, try a dinner cooked in a zarb. It is a traditional Bedouin cooking practice using an underground oven with layer upon layer of baked potatoes, seasoned vegetables and slow cooked meats. The food is buried and placed upon a bed of hot coals, with the sand sealing in the heat."
Danniell Saunders, from our supplier, Encounters Travel:
"There are a couple of things that I think people should definitely try when they visit Egypt, but they are often a bit scared to. The first one is shisha – which was originally invented in India – ask your guide to explain what it is and give it a go. Definitely try local foods and snacks too. I always recommend that people try kushari, which is a pasta and lentil based dish that's virtually free it's so cheap. You get a bowl with rice, lentils and pasta in it and then they give you chili oil, garlic sauce, béchamel sauce, tomatoes – whatever you prefer flavour-wise and then you just mix it all up and eat it. It's delicious, filling and very nutritious."
Accessible tourism
Ahmed Fayez, from our supplier Memphis Tours in Egypt and expert in accessible tourism:
"Many tours are accessible these days in Egypt. Boat trips are adapted to disabled passengers with assistance always available. Even the ancient sites in Egypt are now accessible to wheelchairs and walking with just a few limitations at certain sites. The Red Sea resorts also offer a range of activities which disabled clients can also be involved in with diving and snorkelling. Accessible tourism is much higher in demand these days due to disabled people being more adventurous in traveling, so adapting to suit their needs has become commonplace. Standards have improved greatly over the last 10 years."
Health & safety in the Middle East
HEALTH
Medical care is generally good quality in Israel, Oman, Jordan, the UAE and Iran, but varies greatly elsewhere and may be limited outside major cities, where clinics may be few. In most cases you'll have to pay for medical or dental care up front and claim from your insurance later.
Visit your GP or travel clinic six to eight weeks before departure to ensure you are up to date with routine vaccinations are up to date.
Staying hydrated in the Middle East is key; it is not only very hot, it is extremely dry. Make sure to carry sufficient supplies with you, including water and food, particularly if you're walking or biking out in the desert or wilderness.
Tap water is a bit of a mixed bag. It's excellent quality across much of Israel, Iran, Oman and the UAE, but not elsewhere in the Middle East. You'll either have to boil your water or use a filter or water purification tablets, and avoid ice cubes if you are unsure. Carry a reusable bottle rather than relying on buying plastic water bottles. Steripen, is a device that sterilises water using UV, while a LifeStraw safely filters water and means you can refill your bottle from taps or streams. Be wary of fruit juices as they are sometimes mixed with water.
Always travel with a basic medical kit, including rehydration salts and Imodium for stomach upsets; travelers diarrhea is common in many Middle Eastern countries. Ensure to bring your own prescription medicines along with a copy of your prescription.
A comprehensive travel and health insurance policy is essential for the Middle East. Make sure you're covered for 'dangerous' activities such as diving and get a policy with decent provision for evacuation.
Avoid dogs and other mammals because of the risk of rabies. Any bites or scratches should be cleaned straight away; and if there's any risk the animal may be infected, seek immediate medical attention.
Don't swim in the Nile and be careful walking around barefoot in gardens watered from it, due to the risk of the flatworm parasite, which causes schistosomiasis or bilharzia disease.
SAFETY
Most of the Middle East is safe with low crime rates so common sense is all you really need to ensure a happy, secure vacation. That said, the region isn't totally crime free and occasionally tourists are targeted. Don't flash expensive jewellery or cameras about when you're out on the street and in big cities such as Cairo or Amman it's best not to walk around at night. Women should be especially careful traveling alone at night, as there have been incidents of violent assault or rape. Ensure that you only dive with a highly reputable diving or adventure travel operator. And that your travel insurance covers all adventure activities. Take care swimming, as the currents can be very strong in the Mediterranean. Choose a beach with lifeguards. Take care driving too as local drivers can be fairly reckless and there's the danger of wandering wildlife. Also, in winter, when the rain comes, the roads can be very slippery after months of arid conditions. If you are driving in the sand dunes, be warned that motion sickness can be an issue; and never go off road alone, unless you are au fait with recovery methods in the event of an accident. Keep covered and take plenty of water if you are driving, cycling or hiking out into the desert - the heat can be extreme. Tell someone where you are going, and check weather forecasts as temperatures can suddenly dip, and flash floods do happen. Wadis are wonderful for swimming, but always check the weather, as they are prone to flash flooding and people do die in them every year. So, if there are rain clouds, stay clear. Be careful in the Dead Sea. Although famous for floating, every year people do drown. The rule is to only float on your back. Weak swimmers sometimes try to do breaststroke, and their legs are raised higher than normal, so their heads become submerged. This causes them to swallow water, panic and struggle.
Our top trip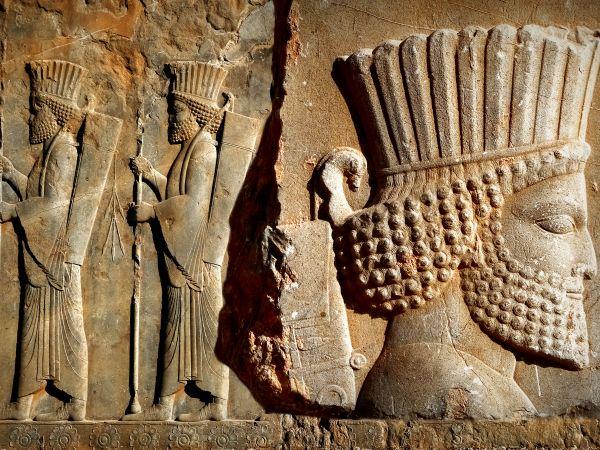 A 10 day trip to some of Iran's most fascinating highlights
From
US $

3656

to

US $

3719
10 days
ex flights
Small group travel:
2024: 18 Apr, 24 Oct
2025: 8 May, 25 Sep
If you'd like to chat about Middle East or need help finding a vacation to suit you we're very happy to help.

Middle East tips from our travelers
At Responsible Travel, we think the best people to advise our travelers are often... other travelers. They always return from our tours with packing tips, weather reports, ideas about what to do - and opinions about what not to.

We have selected some of the most useful Middle East travel advice that our guests have provided over the years to help you make the very most of your vacation - and the space inside your suitcase.

Have really warm clothes if you sleep at 8 thousand feet at Jebel Shams, in the morning it was 4 degrees and I had to sleep in gloves! You can't have bare shoulders out in public.

– Frances Hastings in Oman
"Take warm clothes for the night in the desert and the meal outside as it gets really cold at night in April. Loose long sleeved tops are best for daytime. I wore sleeveless tops but I did get looks - from men and women! There is not much to see in Amman but we did spend an extra day there at the end of the vacation and really enjoyed going to the Mosques and the Dukes Diwan, the oldest house in Amman."
– Lesley Wallace in Jordan

"Dress is more liberal than you might expect. Hair covering is compulsory but hair can show, and a woolly hat or turban covering a reasonable amount of hair is fine. Tight trousers are fine if worn with a top that covers your bottom - mid-thigh length tunics are ideal. Take wet wipes for toilets." – Julia Turkinson, traveling in Iran

"Just be aware of the FO advice for traveling to this area and then, as we did, notice that the experience is pretty much the opposite of what you're supposed to expect . . you think you'll have to be somewhat wary / on edge of potential problems and then find nothing other than a wonderfully friendly and relaxed atmosphere."– Nigel Lamb, diving in the Red Sea

Do go! Jordan is a very friendly and safe country with amazing things to see and do. Support them so they can continue to welcome Syrian and Palestinian refugees.

More Middle East articles