The cultural crossroads between east and west, the Middle East tends to make headlines for all the wrong reasons, and for many people the images that immediately spring to mind are those of conflict, rather than ancient civilisations and vast wilderness. But those people are missing out.

The Middle East is not only one of the great cradles of human civilisation, it was also the birthplace of three major religions, and is littered with soul-stirring reminders of its diverse, eventful past.

Once you've felt the history course through your veins you can get to know the region's warm and welcoming population and stimulate your senses in its wide, open spaces. Spend time with the Bedouin tribes of the desert, meet nomadic people on Iran's plains and hillsides, and dive into deep blue oceans to see magnificent underwater kingdoms that rival any that you'll find up above. Find out more in our Middle East travel guide.
The Middle East is…
a mesmerising patchwork of culture, history and outstanding landscapes
The Middle East isn't…
a dangerous conflict zone.
Our Middle East Vacations
What we rate & what we don't in the Middle East
Urban delights
Yes, the Middle East is home to the some of the best ruins around, but it also has plenty of modern city vibes. Both Beirut and Tel Aviv are stuffed full of hip art galleries, theatres and restaurants, and have equally vibrant nightlife and beach scenes, while Amman is home to modern boutiques and a thriving cafe culture.
Hiking
You may have come here to marvel at antiquities, but guess what? The Middle East suits nature lovers down to the ground – and what better way to explore it than
on foot
? Whether you're up for a day's stroll or a long-haul adventure, you'll find deserts to trek through, coastal paths to meander along and mountains to hike up.
Family travel
It may seem an unlikely destination for a top
family trip
, but if you head to Jordan, Oman or Egypt, for example, you'll find yourself in kid-friendly heaven. This is an extremely hospitable region, and children can scramble over dunes, visit fairytale castles and spend magical nights under desert skies, not to mention the fun to be had floating in the Dead Sea and sailing down the Nile.
Wildlife watching
You'll find some pretty incredible wildlife both above and under the water in the Middle East. The protected areas of the Red Sea teem with marine life, and there are some top turtle watching spots; while national parks and reserves in Jordan and Lebanon contain populations of Arabian oryx, ibex, wildcats and wolves. Safaris and walking trails will get you close to the action.
Natural landscapes
Beyond the ancient sites and big city bustle, the Middle East is a land of incredible beauty, where fierce rivers roll through arid plains, snow capped mountains scrape endless skies and sweeping dunes lead down to the multi-hued waters of the Red Sea. And it's big and empty enough that you'll be able to find your own patch of perfect wilderness.
Genuine hospitality
If you based your perceptions of the Middle East on newsreels you'd think it was a hostile, unwelcoming place. The truth couldn't be further away. Hospitality and welcoming strangers is at the heart of Middle Eastern culture and travelers are often invited to share a conversation or a meal. You may even be asked in to visit a local home.
Diving
The Red Sea is one of the best places on earth for diving and snorkelling, and it's home to a diverse collection of corals, fish and marine mammals. If you're keen to get some underwater action, Egypt, Jordan and Israel are where it's at, and newbies will find plenty of opportunity to get their
PADI certificate
.
Ancient history
This is it. The thing that drew you to the Middle East in the first place. The chance to be surrounded by living, breathing testaments to ancient civilisations and major world religions. Wherever you turn the past looms large, whether you want to relive the glories of the Persian Empire at Persepolis, or join the pilgrims at Jerusalem's Temple Mount.
All inclusive resorts
The Middle East has many fly and flop hotels in Mediterranean resorts such as Eilat and Sharm el Sheik. They get you close to the dive sites, but they are a damp squib when it comes to sustainability, with most of the profits staying out of local hands. Try a homestay or locally owned guesthouse instead - you'll get a dose of regional flavour and contribute to the local economy in the process.
Independent travel
While some people do travel independently in the Middle East, we think you'll get more out of an organised tour. Not only do out operators take you away from the tourist hubs, using local guides and business owners, they'll also sort out the logistics and visa applications, monitor the security situation and ensure you are aware of local laws and etiquette.
Giant cruise ships
Haifa and Eilat on Israel's Mediterranean coast and Alexandria and Port Said on the Nile are havens for massive floating hotels, many of whom have dubious environmental and social track records, with little tourism money going into the local economy. Stick to small ships and sailing boats if you want to take to the waters in a responsible fashion.
Dubai
A gleaming modern temple to consumerism, Dubai is all high rise luxury hotels, sprawling shopping malls and energy guzzling theme parks, with little room for an authentic taste of the Middle East. If you want to experience big city life in the region, you're better off making for Cairo or Beirut, where the action comes with more of a local flavour.
Our top Middle East Vacation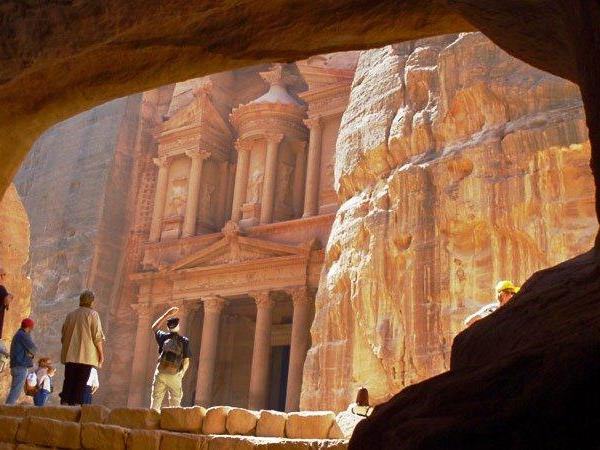 Great value tour covering all Jordan's major sites
From
£

699

to

£

749
6 days
ex flights
Small group travel:
2023: 15 May, 22 May, 5 Jun, 19 Jun, 3 Jul, 17 Jul, 31 Jul, 14 Aug, 28 Aug, 11 Sep, 25 Sep, 9 Oct, 23 Oct, 6 Nov, 20 Nov, 4 Dec, 23 Dec, 28 Dec
2024: 15 Jan, 29 Jan, 12 Feb, 26 Feb, 11 Mar, 25 Mar, 8 Apr, 22 Apr, 6 May, 20 May, 3 Jun, 17 Jun, 1 Jul, 15 Jul, 29 Jul, 12 Aug, 26 Aug, 9 Sep, 23 Sep, 7 Oct, 21 Oct, 4 Nov, 18 Nov, 2 Dec, 16 Dec, 23 Dec
If you'd like to chat about Middle East or need help finding a vacation to suit you we're very happy to help.

Eating & drinking in the Middle East
Mealtimes aren't quick Western style TV dinners, but drawn out sociable affairs to be shared with family and friends.

Common across the region are marinated, grilled kebabs, most often lamb or chicken; large, chewy flatbreads; delicately spiced rice dishes and mezze – a collection of small plates of food, such as hummus, baba ganoush (aubergine puree) and kibbeh (minced lamb, bulgur and pine nut patties).

Sticky pastries are sold everywhere from bakeries to street stalls to restaurants. The most famous is baklava.

Wine is increasingly popular in the region, with vineyards scattered across Israel and in Lebanon's Bekaa Valley.

Iraq is home to a natural gas vent known as the Eternal Fire (or Baba Gurgur), which is said to have been burning non stop for more than 4,000 years.

People & language
Arabs are by far the largest ethnic group in the Middle East, and Arabic is the official language of Egypt, Jordan, Iraq, Oman, Saudi Arabia and the UAE. Farsi is Iran's official language, while Hebrew and Arabic are the majority languages in Israel. There are many minority groups in the region, too. Iraq is home to over four million Kurds, most of whom live in Iraqi Kurdistan, in the north of the country. Around six million Kurds live in Iran. The vast majority of people in the Middle East are Muslim, with Christians and Jews the second and third biggest religious groups.
Arabic:
Hello = salam or marhaban
Thank you = shukran
Hebrew:
Hello = shalom
Thank you = toda
Farsi:
Hello = salâm or dorood
Thank you = merci
Gifts & shopping
The controlled chaos of the souks and bazaars of the Middle East is an assault on the senses that will linger on long after you've left the labyrinthine lanes. Spices make great gifts and are sold loose by weight. Beware of cheap saffron, though, as it is usually safflower.

With over 500 beekeepers in Israel, there is artisanal honey for sale everywhere.

Leather goods are found in the souks across the Middle East. In Egypt you can get your favorite book bound in the stuff.

Over three quarters of the world's handmade carpets originate in Iran, so you know where to head to score the perfect rug. They're traditionally handwoven on a loom – the higher the knot count, the better the quality.

Bagpipes may seem typically Scottish but according to academics they originated in Persia.