Trekking tips
Megan Parkinson, from our supplier Chimu Adventures, shares her Patagonia travel tips:
"Something that I think is incredible is the trekking in Tierra del Fuego. Very few people go, and some of the paths aren't even marked, but there are guides from the region who can take you on treks in the complete wilderness. It's a really incredible experience because you feel like you really are the only people there, and you feel like you're at the end of the earth, trekking. The area hasn't really been developed, and when people think of trekking they think of Torres del Paine, Fitz Roy and El Chaltén – and not the far south. It's certainly very bleak and cold but it's very, very beautiful."
Cruise tips
David Orrock, from our supplier Pura Aventura shares his Patagonia travel tips for choosing a cruise: "The Skorpios cruises are underrated and less famous than the Australis cruises, which travel round the bottom of Tierra del Fuego. The Skorpios cruises are more laid back and there are a lot of South Americans on them too. They do an amazing trip in Chile up to the 30,000 year old San Rafael glacier, round Chiloé Island and right into the fishing villages – a lot of places that aren't as well known. It's much more cultural than the southern cruises, and it's something quite different to do."
Tips on where to stay
Myer Henderson, from our supplier Say Hueque, reveals his Patagonia travel tips for choosing a base: "El Chaltén is one of my favourite spots. It's a center for hiking and trekking, about four hours from Calafate – it's a tiny, sleepy little town nestled in the heart of these lovely mountains. The town has grown with tourism, so you have some lovely microbreweries, tasty restaurants, small hotels, a few hostels and some nice lodges. But it's so small that you can wake up in the morning, walk ten minutes out of town and you're at the trailhead, and you can go straight off and start exploring the region. There's Fitz Roy and Cerro Torre, you can do horse riding too. It's basically the quintessential Patagonian experience, especially for outdoorsy folks. I love it!"
Culture tips
David Orrock, from our supplier Pura Aventura, shares Patagonia travel tips for culture lovers:
"We always warn people that Patagonians don't really make much small talk because they lead very solitary lives out in the wilds, especially the gauchos. You'll get a warm welcome – but not in the way you're used to. They don't really chit-chat. It's all connected to the difficulty of getting around and the scale of it all – you can't get a sense of the vastness of the place until you try and imagine actually living there."
Our top trip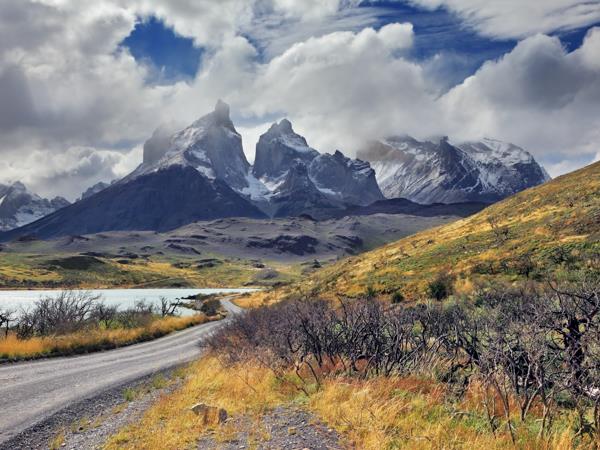 Explore the spectacular wilderness and mountains of Patagonia
From
£

4900
20 days
ex flights
Small group travel:
2023: 10 Dec
2024: 14 Jan, 11 Feb, 10 Mar, 27 Oct, 17 Nov, 8 Dec
If you'd like to chat about Patagonia or need help finding a vacation to suit you we're very happy to help.

Health & safety in Patagonia
HEALTH
This is an incredibly safe region, with no serious diseases or high-altitude treks, and great quality food. Tap water is also drinkable – check with your guide if in doubt.
Vaccinations are generally not needed – but visit your GP at least six weeks in advance to ensure you are up to date with the basics, including Hepatitis and Tetanus.
The sun is fierce down here – chilly temperatures won't decrease your chances of burning. Snow and water will simply reflect the rays. Wear a wide-brimmed hat, high factor sun cream and ensure your sunglasses have full UV protection. They'll also shield your eyes from the wind.
While health risks are low, some regions are very remote with limited health facilities, so ensure your travel insurance covers emergency evacuation just in case you have an accident or become ill - especially if traveling in Patagonia with kids.
SAFETY
Crime rates are exceptionally low in Patagonia, and families as well as lone, female travelers will feel safe. If flying into Buenos Aires or Santiago, these have the same issues as any other major city. Keep valuables out of sight, and don't walk around alone at night outside of the main streets. While buses are efficient, safe and very comfortable in this region, bus stations can be paradise for thieves. Keep your backpack on your front, never flash your money or valuables, and use a concealed money belt for passports and credit cards to be on the safe side. Campfires are illegal in many of the parks. Despite the region's cold, wet image, fires can still burn out of control, and in 2011 a hiker was charged with accidentally starting a fire which destroyed over 40,000 acres of Torres del Paine National Park. The forests will take centuries to recover.
Patagonia tips from our travelers
At Responsible Travel, we think the best people to advise our travelers are often... other travelers. They always return from our tours with packing tips, weather reports, ideas about what to do - and opinions about what not to.

We have selected some of the most useful Patagonia travel tips that our guests have provided over the years to help you make the very most of your vacation - and the space inside your suitcase.

My tip for anyone heading to Argentina would be to learn some basic Spanish as it really helps understand the people a little more and allows you to fit in a little more easily.

"Make sure you have appropriate footwear (hiking boots). There is no need to bring a sleeping bag as these can be hired at the time – and they are good sleeping bags." - Frank Sperling

"Make sure you have all the right equipment including a lightweight towel and rain jacket because some parts of the trip involve having to walk with your own stuff. Also the microbrewery at El Chaltén was extremely good! Two very good beers on tap." - Karen Simecek

"Do some walking beforehand, if you want to get the most from it. Also, don't forget a camera or you will be truly sorry!" - Chris Senior

Make sure you're in good shape for long and sometimes challenging hikes

"Just relax and enjoy yourselves. Everything was really well organised by the operator so the only thing for us to do was have a fantastic honeymoon!" - Jennifer Warnett

"Take a little notebook to write down your spottings - I am not a twitcher but you cannot help becoming interested and noting the birds and animals down is infectious as it allows you to learn even more back at the lodge. The operator really came up with some wonderful ideas. They knew the best areas to stay in, the best accommodation – including a four-bedroom boutique hotel in Buenos Aires – and came up with original ideas for making our trip very special. The guides were all excellent, and all the pick-ups and transfers worked perfectly." - Kathryn Huddle