Traveling in Patagonia with kids
---
What does responsible travel recommend?
Biting winds can be gruelling, the sublime landscapes unappreciated by smaller travelers, who are unable to undertake the lengthy hikes and scree scrambles that make this region so exciting. But if you plan well when traveling in Patagonia with kids, the kayaking, penguins, cowboy horses and llamas will keep them amused, and you'll inspire their inner explorer.
Spirited teenagers will be buzzing, however, at the scale of the challenges that await them – snowshoeing, kayaking, rafting and boat tours past colonies of elephant seals, Magellan penguins and the chance to brag to buddies about having been to the end of the earth.
Activities for families in Patagonia
---
What to do with little ones
Patagonia's splintered coastline, protected peninsulas and glacier-fed rivers and lakes make for dramatic sea and river kayaking, plus whitewater rafting for the more adventurous - and highly experienced guides will take care of novice paddlers. If traveling in Patagonia with kids, you'll find that many trips are suitable for those aged ten and up, especially if you opt for double kayaks or family-sized canoes.
The weird and wonderful wildlife of Patagonia is sure to impress kids. The creatures' names are a clue to their exoticism – the ñandús (rheas) of Torres del Paine are fluffy, ostrich-style birds, while guanacos are pretty relatives of the llama, farmed for their fine fur. Along the coast are penguins, whales and the enormous, blubbery elephant seals with their ludicrous-looking "trunks.
Sometimes kids need nothing more complicated than to just be in nature. With lives filled with after-school activities, clubs and structure, the opportunity to just go outdoors and play – particularly for urban dwellers – is a wonder in itself. Scrambling around rocks, playing hide-and-seek in the forests, feeding the horses and getting lungfuls of crisp, unpolluted air is childhood as it should be.
Traveling in Patagonia with kids
---
responsible travel asks the experts

Myer Henderson, from our supplier Say Hueque, shares his tips on traveling in Patagonia with kids:
"Patagonia is a great destination for families because unlike parts of Africa or the Amazon, you don't have mosquito-borne illnesses, and there aren't lots of creepy-crawlies that are going to bite kids. One thing to bear in mind is that in remote areas you should bring a good medical kit, including antibiotics from your doctor. In Ushuaia there are doctors and a hospital, but in some of the more rural areas, in between Calafate and Ushuaia, there's not a lot there. There will be a little clinic or a local doctor but if you or your children have any specific medical needs or any medicine you're concerned about being able to access, it's always good to have an extra supply."
Megan Parkinson, from our supplier Chimu Adventures, shares advice on traveling in Patagonia with kids: "If you've got young children, then I recommend staying in one of the higher-end hotels that have specialist guides who think about what's on offer for children. Many now have programmes where you arrive and the guides will sit and chat to you and help you decide what's suitable. So maybe on the first day they will pick something less challenging and see how the children are, then give them other options. They'll organise different meal times, there might be a pool... If you've got younger children, you need those kinds of facilities.
For older kids, if they're into outdoor stuff, then Pucón in northern Patagonia has whitewater rafting and kayaking. You can climb volcanoes and there's hot springs and things like that. I'd really recommend that for teenagers who need to be kept active all the time."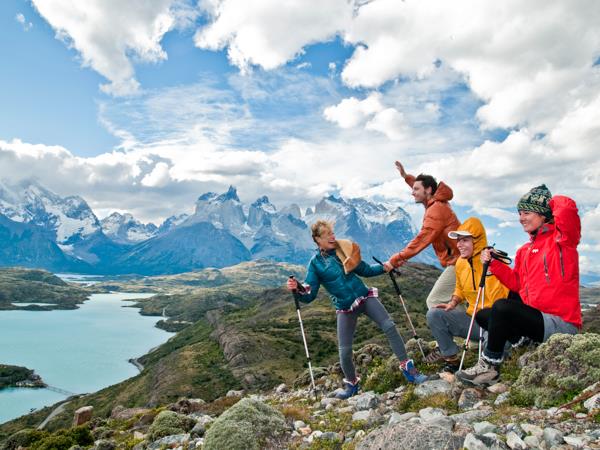 Discover true wilderness on this adventurous family vacation
From
£

5374
16 days
ex flights