Walking vacations in Patagonia
Patagonia's landscapes may be big, but to see it all you need to slow down. The real power of this place is best felt on foot; walk some of the world's most iconic trails; stand at the edge of a turquoise lake and watch the reflection of rocky fingers towering skywards; or bask in the might of a creaking glacier sweeping down a vast, ice-hewn valley.

Be warned, though: Patagonia will try its hardest to stop you in your trekking tracks. You don't need to walk far or high for far-reaching vistas; Patagonia's hiking hotspots are liberally littered with miradores. And while trails – like the Torres del Paine 'W' – will satisfy even the most adventurous of trekkers, if you're a hiking novice the region's more gentle routes still offer wonderful views. You'll encourage one foot in front of the other only because the next mirador promises to be even more spectacular than the one you've already loitered at a little too long.
What does trekking in Patagonia entail?
Being awestruck by mountain vistas isn't unusual, but Patagonia takes it one step further. Hike here and you can expect a near constant feeling of being truly humbled by the sheer magnificence, and scale, of the scenery around you.

Walking can be the thread that weaves your entire Patagonia trip together – or it can simply be how you enjoy a few hours here and there. Either way, you can expect to start any on-foot adventures from one of Patagonia's small frontier towns. Relaxed, pleasant, but generally unprepossessing (there's a reason Patagonia is famous for its wilderness, not its urban areas), El Calafate, El Chaltén, Ushuaia, and Puerto Natales are convenient gateways to a variety of glorious national parks, mountain trails, glaciers, lakes and wide-open steppe.
Guided or self guided walking?
Some small group tours offer guided, fully supported, multi-day walks in their itineraries, such as the three-day 'End of the World' trek to Laguna Caminante in Tierra del Fuego National Park. Others will build in free days based at a national park refugios or trailhead guesthouses to allow you to explore independently.

Hiking trails throughout Patagonia are well marked, well trodden and ideal for self guided walking, particularly during the long days of the southern summer.

On tailor made vacations your trekking company or accommodation will provide you with hiking maps, and suggestions for the most suitable trails for you. You may hire a car – driving between Patagonia's main hubs is easy, if lengthy – or your vacation company may arrange private transfers, flights, or tickets for the region's excellent network of public buses.
Where will I stay?
Accommodation varies – some multi-day hikes in Tierra del Fuego or the Fitzroy Massif, for example, may involve camping – while other trails, even the more strenuous and remote ones, can be sandwiched between a good night's sleep in a proper bed. Basic, but comfortable refugios with shared facilities are popular in Torres del Paine National Park, while all of the region's main hiking gateways offer excellent boutique hotel accommodation alongside more basic campsites, often with trails leading right from the door.

An army marches on its stomach, and Patagonia's plentiful, hearty fare will keep you marching through your vacation. The network of ranches mean meat is a speciality here; taste exquisite Patagonian lamb in El Calafate, served with a sauce made from the city's eponymous berry. Hikes in the Argentine Lake District end at the region's famously divine ice cream parlours, and in El Chaltén, thriving microbreweries warm the cockles while trekkers share stories of their day's adventures.
How fit do I need to be?
If your vacation is going to include a multi-day hike encompassing eight or nine hours of sometimes strenuous walking each day – for example the 'W' trek in Torres del Paine – you'll to want to do some preparation before you leave. Regular long walks with a few good hills thrown in will help, as will previous experience of multi-day hikes. Make sure your walking boots are well worn in too; blisters on day one are not fun.

That said, Patagonia is surprisingly kind to first-time or uncertain trekkers. Both El Chaltén and Torres del Paine offer some gentler, easier short walks of just one or two hours to no less lovely viewpoints – all accessible from comfortable lodges with no need for camping.
Do I need to take any special equipment with me?
Whether you're going to be walking for one hour or nine, a pair of decent walking boots will take you a long way in Patagonia. Even the easy trails will still be uneven underfoot in places and if you want to try ice hiking or climbing on the glaciers in Los Glaciares National Park you'll need boots to fix your crampons to.

Other gear – including good quality walking poles, tents, sleeping bags and jackets – can be bought or hired in the main tourism hubs, including El Calafate, El Chaltén, Ushuaia and San Carlos de Bariloche, although this isn't always cheap. Your tour operator may provide some of this for you – especially if you are on a small group tour that includes overnight camping – or may be able to arrange hire locally on your behalf.
Our top Patagonia Vacation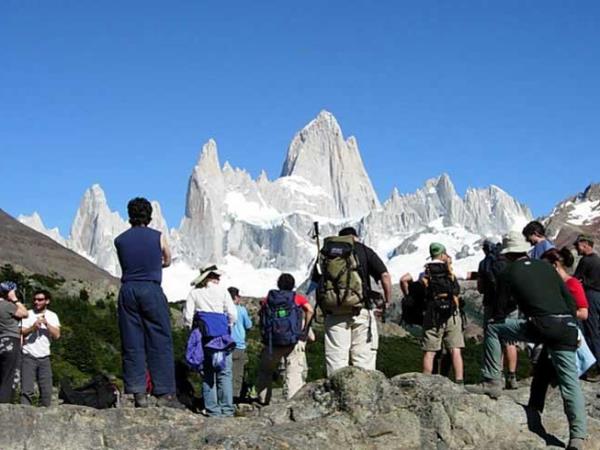 The best of Patagonia and Torres del Paine National Park
From
US $

3995
15 days
ex flights
Small group travel:
2023: 21 Oct, 4 Nov, 23 Dec
2024: 13 Jan, 3 Feb, 17 Feb, 2 Mar
If you'd like to chat about Patagonia or need help finding a vacation to suit you we're very happy to help.

Patagonia trekking highlights
Torres del Paine National Park
The jewel in Patagonia's well-bedecked crown, this Chilean national park offers some of the region's most iconic hikes. The four- to five-day 'W' trek is a classic, taking you alongside the mighty Glaciar Grey, past the beautiful, granite-striped Cuernos del Paine, into the vast, natural amphitheatre of the Valle Francés, then to the base of the Torres themselves, where dramatic rock pinnacles glow pink in the early morning sun.
Fitz Roy Massif
Patagonia's most fairytale mountain is easily accessed from Argentina's sleepy 'trekking capital' El Chaltén. Well marked trails lead straight from the village to the base of Mount Fitz Roy and Cerro Torre, via a variety of stupendous miradores and remote lagunas. A highlight here is the 26km, nine-hour hike to Laguna de los Tres for an unforgettable view of Mount Fitz Roy itself. Doable in one day, or you can camp overnight.
Aysén
A true Patagonian wilderness between the Lake District and Torres del Paine, Aysén is a hiking haven well and truly off the trekking map. Walks here take you through misty coastal rainforests, crossed by fast-flowing rivers and backed by snow-capped mountains and dramatic fjords. If you enjoy adventure Aysen has it in spades – with rafting, kayaking and horse-riding all possible alongside hiking.
The Lake District
Accessed from the pretty, Germanic town of San Carlos de Bariloche, Argentina's answer to Switzerland offers gorgeous mountain walks through ancient forests to waterfalls and turquoise Alpine lakes. And Bariloche's heavenly gelaterias will be calling to you when you return. Puerto Varas, on the Chilean side, brings its own chocolate-box charm, framed by two perfectly formed volcanoes and no less than six national parks to explore on foot.
Tierra del Fuego National Park
Rugged and oh-so-wild, Argentina's only coastal national park has a real end-of-the-world feel. In contrast to the open steppe of northern Patagonia, hikers here can expect trails through sharp, forested valleys, rock-strewn glacial lakes and stupendous views of the Beagle Channel. The three-day 'End of the World' trek to Laguna Caminante is a highlight, accessed from the town of Ushuaia, gateway to Antarctica.
When is the best time to go
trekking in Patagonia?
Best explored in summer, yet don't be surprised if Patagonia's mountains and steppe throw all four seasons at you in one day. Come prepared; sunglasses and sun cream will need to share space with waterproofs and warm layers.

The long days and warm sunshine of the southern summer months offer perfect hiking conditions. In Ushuaia and the far south you'll enjoy up to 17 hours of daylight in December, and even in the more northerly latitudes there's plenty of time to fit in nine or so hours of trekking in a day with time spare for long picnic lunches.
To avoid the peak summer crowds, consider traveling in spring and autumn. September to November are fresh and green and the best time to catch sight of more elusive wildlife; expect some rain showers at this time, but likely nothing heavy enough to ruin your trip. March to May bring ethereal golden sunsets and bright fall foliage.

Winter walking is possible, particularly around the more popular trails in El Calafate, El Chaltén and Torres del Paine – and in the Lake District. The landscape coated in a dusting of fresh snow is spectacular and you'll have Patagonia to yourself, but be prepared for some accommodation to be closed and some trails to be inaccessible. Freezing temperatures and snowfall make guided, rather than independent walks a safer bet.