Torres del Paine National Park, Patagonia

There's no need for superlatives in Torres del Paine; this UNESCO listed national park's glaciers, turquoise lakes, waterfalls and towering rock pinnacles speak eloquently enough on their own.

The granite fingers of the Torres themselves, glowing pink in the early morning sun, are a beacon calling all visitors to Patagonia to their flanks. Far below, the park's network of trails offer hikes in some of the most dramatic scenery in Chile.

One thing Torres del Paine is not is undiscovered. But somehow the park's magnificence remains undiminished, but perhaps not always untouched, by the visitors it receives. The main trails are well-trodden, and you'll inevitably pass other hikers on day walks. However, hike the 'W' and you'll find pockets of people interspersed with moments of humbling silence. Take on the full circuit and it'll often just be you and the full, brooding, beautiful might of the Patagonian wilderness.

Friendly herds of grazing guanaco excepted, Torres del Paine's notoriously shy wildlife is rarely seen on the park's main trails. However this 1,800km2 protected wilderness is home to 26 species of mammals, including pumas, Patagonian skunks and the endangered Chilean huemul. Its birds are even more plentiful; look skywards and you might even catch a glimpse of Andean condors cruising on the often fierce Patagonian winds.
Things to do in Torres del Paine National Park
Day hikes
You can easily explore Torres del Paine on many tailor made and small group tours without committing to a longer, multi-day hike. Usually you'll be based at one or two of the park's refugios, hotels or tented lodges and have the option to explore on foot from there, with your luggage transferred between accommodations for you.

Longer, more challenging hikes take you along sections of the classic 'W' trek, up into the beautiful Valle Francés, or to the Mirador Base Las Torres, for a spectacular view of the iconic rock pinnacles. The hike from Refugio Las Torres to the Mirador and back, for example, covers 18km and takes on average around eight hours. If you prefer something less strenuous you'll have the option to explore the gentler trails closer to your accommodation, while still enjoying spectacular mountain, glacier and lake views.
The 'W' Trek
One of the world's classic hikes, the 'W' is named for the shape of its 80km route that winds in and out of Torres del Paine's most spectacular valleys – alongside Lago Grey, into the Valle Francés to the Mirador Britanico and back, then round and up to the Mirador Base las Torres. The locations of the park's refugios means the 'W' can be completed in relative comfort, or you can choose to carry your tent and provisions and camp. Either way, be prepared for some serious days of hiking – up to eight hours over a mixture of gentle gradients and more strenuous scrambles. The 'W' is the shortest of Torres del Paine's multi-day hikes, and at four to five days it fits easily into a longer Patagonia vacation.
The 'O' or full circuit trek
Encompassing the 'W' trek and the more remote backside of the Paine massif, this eight- to 10-day, big daddy of the Torres treks is wild and not for the inexperienced. Catered refugios are few and far between along the most isolated sections of this 110km trail, so you'll need to carry your tent, sleeping bag and all provisions with you.
Where will I stay?
Fret not, a visit to Torres del Paine National Park isn't synonymous with basic, rugged camping – although this is in abundance if you prefer. In reality, the park offers a range of accommodation options, from luxurious hotels and hosterias to tented ecolodges and wild campsites. Most popular are the park's network of refugios – hikers' hostels offering comfortable facilities, shared dormitories and warming, hearty food.
How to visit Torres del Paine
National Park
Torres del Paine is an unmissable stop on most southern Patagonia vacations. Small group tours give you the services of an expert guide to unveil stories of the park's wildlife, geology and history as you walk. While less flexible, you will often find you have a free time allocated for some independent exploration – or relaxation – during your trip.

However, with well-marked, well-trodden, easy to follow trails, Torres del Paine lends itself to self-guided walking vacations. Tailor made tours give you more flexibility to choose how long you spend in the park, and how strenuous your days are – tackle the 'W' trek, or simply relax and enjoy a couple of day hikes. Your vacation company will take arrange your accommodation for you, and plan your transfers; whether that's private or public transport from Puerto Natales, or arranging a hire car.

On self drive Patagonia vacations, Torres del Paine is easily accessed by car, and while the roads in the park itself are mainly gravel these are well maintained and don't require a 4x4. Take extra fuel though; the nearest petrol station is almost two hours away in Puerto Natales.
Our top Patagonia Vacation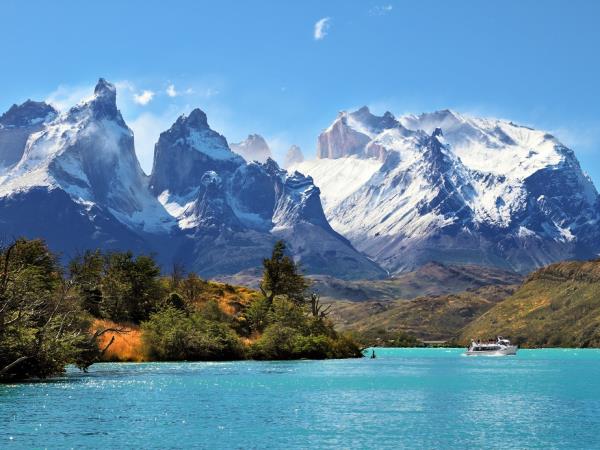 Santiago, Lake District, Patagonia, Glaciers & Buenos Aires
From
£

2995
11 days
ex flights
Tailor made:
This trip can be tailor made throughout the year to suit your requirements
If you'd like to chat about Patagonia or need help finding a vacation to suit you we're very happy to help.

Torres del Paine highlights
Mirador Base las Torres
The final scramble to the Mirador Base las Torres viewpoint is a toughie but the spectacular rocky needle rising sharply out of the surrounding massif are worth the effort. To catch the iconic pink glow at sunrise you'll need an early start from the Torres campsite (and tackle a dark fumble up the steep rocky path), or enjoy a spectacular eight-hour day walk from the comfortable refugios and eco camp further down the valley.
Cuernos del Paine
The 'Paine horns' loom large across the Pehoé and Nordenskjold lakes and greet you as you arrive into the park from Puerto Natales. These striking peaks, striped with granite, are a tantalising taste of the scenery on offer. The view of the Cuernos rising above the Salto Grande waterfall is positively fairytale, while the catamaran ride across Lago Pehoé offers a more gentle way to enjoy one of Patagonia's most iconic vistas.
Valle Francés
If you want to feel the vast, humbling power of the Patagonian wilderness then Valle Francés is an excellent place to start. This ice-carved valley is vast, headed by a hanging glacier and surrounded by an immense natural amphitheatre of jagged rock. Part of the classic 'W' trek, hiking into the head of the Valle Frances is also a popular, yet long and challenging day walk from the nearest refugio.
Glaciar & Lago Grey
Hike along the edge of iceberg laden Lago Grey and the hulking, luminous blue face of the Grey Glacier is your constant companion. A 2 hour 45min boat ride will take you close to the creaking, rumbling glacier edge, where, if you're lucky you might see the explosive power of the ice calving into the lake. Alternatively strap on crampons for a guided ice hike on the glacier itself.
Puerto Natales
Any tour taking in Torres de Paine will stop in this sleepy, tourist-oriented Patagonian town. While unremarkable, Puerto Natales is a good place to pick up provisions (although not at bargain prices) before treks in Torres del Paine. This writer's top tip: swing by the dried fruit and nut shop Frutos Secos on Calle Esmerelda for tasty, tailor made trail mix.
Best time to visit Torres del Paine
The Patagonian summer from November to February is a deservedly popular time to visit Torres del Paine; the weather – during the day at least – is usually warm and sunny, and all trails and accommodations will be well-marked, open and accessible. Self guided walks are easily managed, and excellent at this time of year, but you'll need to book well in advance. Be aware though, this is also the time Patagonia's powerful local wind – or willywaw – can blow up in the mountains, seemingly out of nowhere.

For more accommodation availability, less crowded trails and slightly cheaper prices, consider traveling in spring or autumn. September to November are fresh and green, while March to May bring beautiful autumn colours. While showers are more likely, they are rarely heavy enough to ruin hikes.

June to August bring shorter days, bitterly cold weather and much of Torres del Paine's accommodation will be closed. Some trails too will be inaccessible due to snowfall – and the adverse conditions make guided, rather than independent hikes a safer option. However the park is near-empty at this time of year, wildlife is more easily seen and the Patagonian wilderness under a blanket of snow is compelling.