Best time to visit Patagonia

Patagonia's weather is characterised by unpredictability; warm, windproof and waterproof layers are essential year round – especially given the relentless wind.

Dec-Feb bring warmth and longer days, with southern nights lasting a scant six hours, though night frosts and sleet can occur in the highlands even in summer. Mid Nov-mid Dec are less crowded, with beautiful spring blooms. Mid-Mar - late Apr also allow you to avoid the tourist hordes, and photographers should come prepared to capture the wonderful autumn colours and spectacular sunsets.The best time to visit Patagonia also depends on the region; it is huge, and there are great variations, not just from north-south. Coastal regions are wetter and milder, while the inland steppe is chillier and arid.
Tierra del Fuego Weather Chart
Patagonia, month by month
If you're heading to Patagonia in January or February then be prepared for surprising heat in the north, in places like Peninsula Valdés, as well as rain in the south, Tierra del Fuego, for example. Temperatures dip across the region pretty much from March through to October with nights, especially, proving particularly chilly. April and May are both thought of as the best months to visit Patagonia due to the colourful autumn foliage and fewer crowds, with northern regions still retaining some warmth against the milder climes of the south. May, June, July and August are cold and wet in and around Tierra del Fuego with many areas becoming frozen and often inaccessible to tourists. That said, winter months in Patagonia have plenty of clear blue sky days and less wind but more southerly national parks, such as Torres del Paine National Park and Isla Magdalena, are usually shut. September and October bring spring to Patagonia, and are also one of the best times to visit if you want to steer clear of the amassing crowds and don't mind wrapping up against harsh winds. As temperatures start to rise during November and December popular parks and natural landmarks start to get busy. However, this is a massive area and if you don't mind sharing, booking well in advance or getting further off the beaten track there are a great many Patagonia adventures to go round.
Responsible Travel recommends
Our nature pick: Penguins
Patagonia is the best place to spot penguins outside of Antarctica, and they're here in the warmer months of October-April. Head to the beaches around Ushuaia and Peninsula Valdés – or to Punta Tombo if you want to walk amongst South America's hugest colony of Magellan penguins.
Our top Patagonia Vacation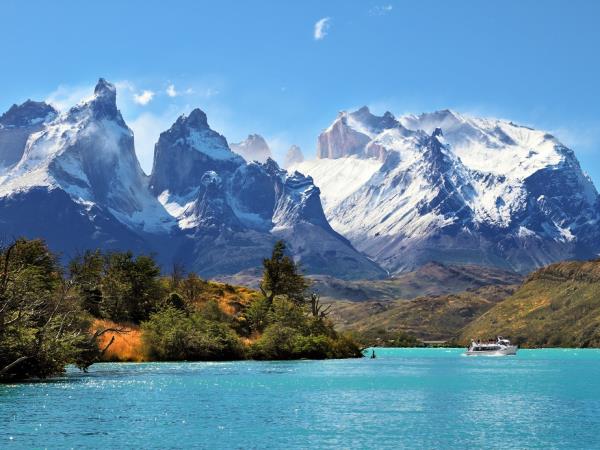 Santiago, Lake District, Patagonia, Glaciers & Buenos Aires
From £2595 14 days ex flights
Tailor made:
This trip can be tailor made throughout the year to suit your requirements
If you'd like to chat about Patagonia or need help finding a vacation to suit you we're very happy to help.

Festivals & events in Patagonia
Kayaking with whales
You can kayak with whales in the lagoons around Peninsula Valdes! Southern right whales travel to this nature reserve between late September and early December, and you can see them breaching, slapping their tails and tending to their babies from the shore – or from your kayak.
National Festival for the Longest Night of the Year
In impressive, South American style, the "National Festival for the Longest Night of the Year" actually lasts for nine nights. Held in Ushuaia, the festival begins with a torch light parade on 20th June, and there are fireworks and live music.
Pumas
While most travelers avoid the depths of winter, feline fans should head south for the season. It's the best time to visit Patagonia if you want to spot big cats – including the elusive puma. The cold encourages them to descend from chilly mountaintops into warmer valleys – which are no longer filled with tourists who might scare them away.