Top 8 adventure vacations in Scotland
Scotland lends itself beautifully to adventure vacations, whether you're an avid photographer, an active family, a winter walker or a fan of wildlife cruises. The diversity of landscapes here, from the peaks of the Cairngorms to the islands off the west coast, allows for a wide range of adventurous pursuits. Sea kayaking, tracking animals with night vision goggles, learning to dig snowholes, or hiking with a pony – Scotland is adventure central. And our expert partners are on hand to guide you, feed you, entertain you with folklore and fascinating facts, and generally ensure you have the time of your life without putting a foot wrong.
1. Cruise the Sounds of the Hebrides
The Sounds of the Inner Hebrides are the sounds of silence… broken only occasionally by the call of a seabird, the trudge of boots onto a sandy beach, the clink of glasses on the deck at sunset, or gasps as a dolphin skips through the surf. Sailing aboard a traditional wooden tall ship with just a few other passengers, you can kayak, hike or track wildlife through binoculars, your route dependent only on the weather and your own whims.
2. Spot wildlife in the Cairngorms
Deer, otters, pine martens, red squirrels, capercaillies and golden eagles – just a handful of the species you might encounter while camping in the Cairngorms National Park. Head out into this rugged mountain landscape with an experienced tracker guide, wild camping in a tent with a compost toilet and solar-powered shower, for a truly Scottish safari.
Our top trip:
Cairngorms wildlife vacation
See all our trips:
Scotland wildlife vacations
Read more:
Scotland wildlife travel guide
3. Go walking in winter
Hiking in the thick snow of the Cairngorms in winter is a challenge. But with crampons on your boots, and a professional guide at your side handling the navigation and weather assessments, you can enjoy an exhilarating sense of complete freedom. Your guide will also initiate you into vital mountain safety skills such as self-arrests using ice axes.
Our top trip:
Scotland winter walking vacation
See all our trips:
Scotland walking vacations
Read more:
Scotland travel guide
Our top Scotland Vacation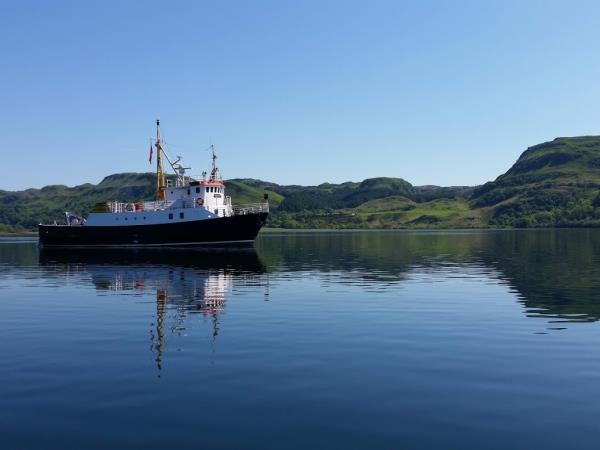 Cruise the Sounds of the Hebrides: Mull, Luing, Jura, Shuna
From
£

1020

to

£

1710
7 days
ex flights
Small group travel:
2022: 10 Jun, 8 Sep, 19 Sep, 3 Oct
2023: 22 Apr, 13 Jun, 10 Jul, 28 Aug, 11 Sep, 14 Sep, 30 Sep, 7 Oct
If you'd like to chat about Scotland or need help finding a vacation to suit you we're very happy to help.

4. Get active in the West Highlands
Stay on the bank of the idyllic Crinan Canal, with dozens of walking and cycling routes on your doorstep and ample free time to explore outside a range of organised activities. You can try your hand at sea kayaking, watch for beavers in the river, or visit Scotland's oldest castle. Every evening, return to a cosy cottage to relax, with fully catered options allowing you to also explore Scottish cuisine.
5. Learn the art of snow-holing in the Cairngorms
Trekking wintery peaks in the Cairngorms during the day is one thing; learning how to stay overnight,
without a tent
, is quite another. Join an expert mountain leader as you dig into the snow, creating a space large enough for your group to comfortably bed down in sleeping bags while the harsh wind whistles outside. You'll be cosy and warm inside, though, with homemade soup fresh off the stove.
Our top trip:
Winter trekking vacation in Scotland
See all our trips:
Scottish Highlands vacations
Read more:
Scottish Highlands travel guide
6. Go glamping & hiking in the Cairngorms
What's more fun than trekking into the heart of the Scottish Highlands with your family for a few days of adventure? Doing it with a pony by your side carrying your gear, including a spacious tent. Explore one of the UK's most biodiverse landscapes with an expert guide, picking up some fun expedition training.
Our top trip:
Cairngorms glamping and hiking vacation
See all our trips:
Scotland walking vacations
Read more:
Scotland travel guide
7. Sail the wild waters of the Outer Hebrides
Roam some of the most dramatic islands and seascapes of the Outer Hebrides on a small ship cruise from Oban. St Kilda, the magnificent Small Isles and the remote Monarch Isles are all on the route, and you'll be accompanied by an expert wildlife guide. That's because you can expect to encounter everything from golden eagles to whales, dolphins, puffins and grey seals as you sail.
8. Track wildlife in winter
Winter gets very cold, but there's perhaps no better season to admire Scotland's wildlife as it's framed against a backdrop of ice and snow. Because night falls early, your guide will equip you with night vision goggles – all the better to appreciate deer, eagles, pine martens and squirrels as they go about their business.
Our top trip:
Scotland winter wildlife vacation
See all our trips:
Scotland wildlife vacations
Read more:
Scotland wildlife travel guide