Best time to visit Scotland

The weather can be hard, but oh, the light and the mist! That is when it gets all seductively soft

You donít go to Scotland for the weather, you go for what the weather creates. Mist covered moors, windy and wild mountains, snow trails, alpine forest, aggressively eroded cliffscapes, spectacular sunsets across the islands and highlands and even the northern lights. Donít wait for the right weather, as you will often get four seasons in one day. You just need a lot of luggage to carry the layers.
Edinburgh & Lowlands Weather Chart
Edinburgh is an explosion of culture in August, when Edinburgh International and Fringe Festivals take over the city. As do the crowds. So if you want Celtic culture and cool, go then. If you want a chilled out capital, go in September when it's all over and the days are still long.
The Isle of Skye now gets very busy in summer months around Portree, a cruise liner port which sometimes receives two or three ships on a weekend. You can check how to avoid the thousands of cruise passengers with this very useful Cruise Timetable website. There is plenty of time when they arenít there, and as Skye is a large island, there are so many glorious places to see outside Portree.
Stalking season is from 1st July to 20th October, with a hind season until 15 February. The Heading for the Scottish Hills website is invaluable for keeping you up to date on what the various estates are doing and when. So if you want to hike in peace, stay away from the stalkers.
Hikers and cyclists will delight at the number of lambs jumping around the fields in April. So Scottish, so sweet. Not worth thinking about, however, if you are vegetarian.
Foodies will love October in Scotland. Seafood is superb from lobster to langoustines, monkfish to mussels. And the game is on, with wild duck, grouse and pheasant very much 'flight to fork'.
Hogmanay or New Year is a countrywide festival with community ceilis, music and whisky flowing throughout the night on 31 December, with a truly Scottish Auld Lang Syne to see you into January.
The midges in Scotland get a lot of bad press, but really they are only an issue at dusk and by the water's edge. And at their worst May until October. Bring nets and Avon Skin So Soft moisturiser (really) and you will be fine.
Scottish tourism is still seasonal in many places, with some hotels and restaurants, and some popular visitor attractions, closing for the winter, usually around late October/November time to around Easter. This mostly affects the islands however, rather than the mainland. The Cairngorms National Park and all the skiing facilities an exception of course.
If you want to travel to the Scottish islands between October until March, check the ferry timetables as a lot of them slow down to a stop during months that are out of the traditional tourist season. Similarly they get overcrowded in June, July and August, so book in advance if you can. Some offer standby tickets.
Our top Scotland Vacation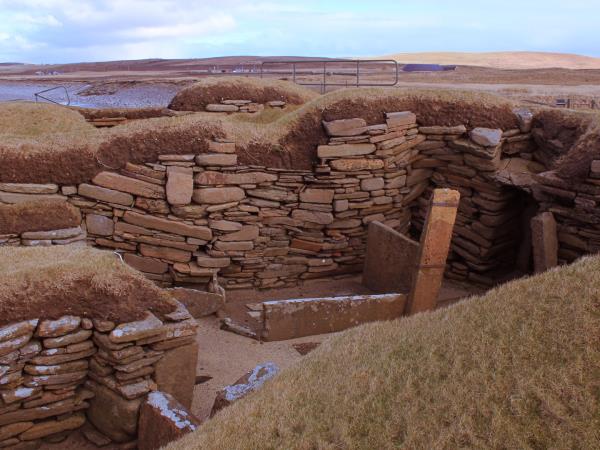 Self-drive island-hopping through the Northern Isles
From £840 to £955 7 days ex flights
Tailor made:
This trip can be tailor made throughout the year to suit your requirements
If you'd like to chat about Scotland or need help finding a vacation to suit you we're very happy to help.

Responsible Travel recommends
Sally Dowden, our supplier at Speyside Wildlife:
ďFor people coming to watch wildlife for the first time in Scotland, they should probably come in April, May and June because that is when birds are displaying and therefore slightly more visible.

But there are lots of different times of year for different species because Scotland is a wintering ground for birds that come down from the Arctic, such as geese, duck, whooper swans and buick swans. And of course, our permanent residents such as eagles and red deer are coming down out of the high mountains in the autumn and winter and are also more visible then too. And if you can catch that in the snow, it is absolutely magical.ď
Hogmanay
Hogmanay, or New Year, is a countrywide festival. Although Edinburgh hogs the limelight in this respect as a mass tourism event, if you head out into the small towns, such as the hilltowns in the Cairngorms, you can join community ceilis, or dances, with traditional music, mulled wine, hot toddies, firework displays and a lot of local love being shared throughout the night.