Orkney & Shetland Islands
Orkney and the Shetland Islands are two archipelagos, looking like a paint splatter off northeast Scotland. It's not all Shetland ponies and Fair Isle cardies here. These windswept islands are bashed by the North Sea. This is edge-of-the-map living, where birds and sea creatures outnumber people. It's where the weather and waves rule.

You'll find kirkyards instead of churchyards. Nordic inflections and Viking place names. Fiddle reels and villages where mussel farming is the main business, and a mash of Norse, Celtic and Scottish tradition. Spend a few hours, and you'll see why myths of selkies and finfolk spring from Orkney and the Shetlands. This is where history tilts into prehistory; where Neolithic monuments stand like lighthouses on the coast.

In Scotland, when people congregate, they tend to argue and discuss and reason; in Orkney, they tell stories.

For all their beauty, Orkney and the Shetlands hide away some of the most remote villages in the UK. Most visitors arrive by ferries totally dependent on variable weather conditions, and once you're there, knowing which islands you should visit can be a mystery.
Luckily, there are some specialist tour operators ready to ease the way. Each island specialises in something, so they'll plot your path depending on whether you're after history, hiking, wildlife, sailing – or a bit of everything. They'll advise on ferry timings and tip you off on where the puffin colonies are. They'll find you accommodation, too, and discuss the pros and cons of, say, a tailor made self-driving vacation versus a guided small group vacation.
Orkney is a group of 70 plus islands and islets topped with swells of green hills, trout streams and forlorn stone circles that pre-date the history books. Only 20 of the islands are settled by people; the rest is the dominion of birds and whales.

Unlike the Shetlands, there are more farms than fishing villages here; expect menus of Orkney lamb patties and honeycomb ice cream.

Mainland, Orkney's main island, is in fact not much bigger than a Scottish city. You'll probably make your landing in Kirkwall, the Orcadian capital, which gathers grey stone lanes and a fishing harbour under the eye of the 12th-century St Magnus Cathedral. Stromness is another possible gateway – a working fishing town stocked with yarn shops and pier-side art galleries.
It's on Mainland that you'll get your first feel for islands colonised by Norse raiders and Scottish missionaries. Orphir has a Viking museum, the Orkneyinga Saga Centre, and the remains of Scotland's only circular church, the Orphir Round Kirk. Skara Brae is a prehistoric village by the sea. The Broch of Gurness is an Iron Age round tower by the waves. Stenness prickles with standing stones two storeys high. In the grey-gold evenings, the views go from magical to full-out mystical.
Ferries putter from Mainland to the outer islands. Underground houses hint at a previous life on some islands, while on others, a single farmhouse B&B and several hundred birds is all you'll find. An Italian chapel lies a long way from home on Lamb Holm, built by prisoners of war in WWII. The Old Man of Hoy is a famous chip off the old block on Hoy.
How to get to Orkney
Orkney is a 90-minute ferry ride from Scrabster on the north coast of Scotland. You can make the journey independently on a self-drive vacation or join a small group tour that includes Orkney as part of the itinerary.
Deep-cut lochs, orca-friendly seas, puffin islands and weathered towns are the calling cards of the Shetland Islands. These are a good 210km from the Scottish mainland – and you'll feel it. Everything from the dialect to the way of life takes on a Nordic twist in the Shetlands.

Linguistics lovers, eat your heart out. Shetland dialect creates some of the most onomatopoeic towns in Scotland: Whirly, Funzie Girt, Rumblings, Cuppa Water. Creaky doors
snyirk
in high winds.
Baa brak
is the sound of water breaking on an underwater rock.

Most vacations to the Shetlands base themselves in Lerwick, the northernmost town in Britain. It's probably the greyest town in Britain, too, with storm-dark cottages and fishermen's pubs pushed between a steely sea and peaty hills. It's also a port of call for colossal cruise ships that pummel the town with up to 3,000 visitors once or twice a week.
But never fear, it's easy to make your escape. From Lerwick, you can drive south to St Ninian's Isle, where footpaths forge their way down to brushstroke beaches. Or you could head to the very southern tip, home to the 5,000-year-old stone houses of Jarlshof. Alternatively, sail to Mousa, where rowdy storm petrels and seals are the only stewards.
Noss National Nature Reserve pops up on most vacations to the Shetland Islands. A Scottish islands specialist can match-make you with the best boat trip here. The fractured coastline looks more like shards of ice than rock – perfect for hiding away thousands of gannets, guillemots and kittiwakes. Sail with an expert wildlife crew to realise the enormity of the colonies.

Tessa O'Hara is the marine conservation specialist on our Travel Team. She says: "Nothing compares to seeing orcas wild and free in their natural environment. We had the privilege of watching them for five hours: hunting porpoise, milling about, and traveling along the Shetland coastline with their pod, so close that we could hear their blow everytime they surfaced. It was just the most thrilling wildlife encounter I've experienced in my life."


How to get to the Shetland Islands
Catch an overnight ferry from Orkney to Lerwick, sauntering into the harbour just in time for a Scottish breakfast, or get the daily ferry from Aberdeen. Either way, self-drive vacations are often the best option. That way, you can hop around towns inaccessible by bus and seek out secret bays recommended by your tour operator.
Our top Scotland Vacation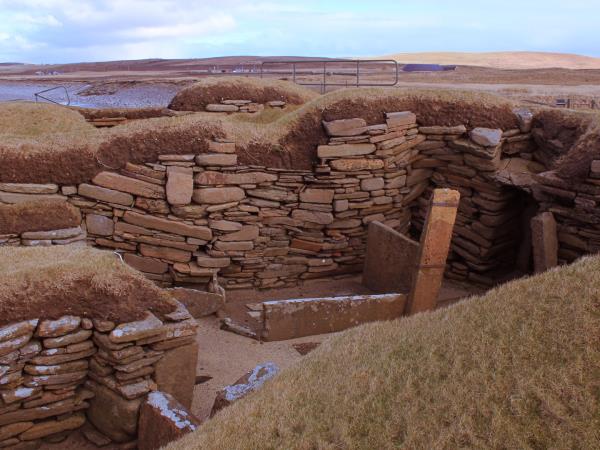 Self-drive island-hopping through the Northern Isles
From
£

895

to

£

1015
7 days
ex flights
Tailor made:
This trip can be tailor made throughout the year to suit your requirements
If you'd like to chat about Scotland or need help finding a vacation to suit you we're very happy to help.

Orkney & Shetland Islands practicalities
You'll need about a week to explore both Orkney and the Shetland Islands. Tailor made vacations are designed to fit you. Would you rather sail from bird colony to seal colony, or leapfrog the Neolithic remains around the coast? Is island hopping your thing? An Orkney and Shetland Islands vacation specialist will be able to sort these things for you. Accommodation is included in all organised vacations. You might wind up in a B&B in Kirkwall or a 16th-century stone house in the Shetland Islands. Let's face it, Scottish weather is changeable at the best of times. That increases tenfold while out on faraway Orkney and the Shetlands. Bring warm thermal clothing and be prepared for flash rains, brilliant sun, rainbows, whipping winds and Caribbean calms in the space of a week. You're less likely to find midges up here than the rest of Scotland… but best keep your insect repellent to hand, just in case you chance across a couple of warm, still days. Migratory birds parachute into the Shetland Islands to breed between May and August. Handily, that's also when you'll catch the best of the weather.