Things to see & do in Helsinki
Helsinki is in the middle of a cycling revolution. It's in the process of connecting already excellent cycle paths into a joined-up network that hops between neoclassical museums, the waterfront and green suburbs. Many are cleared throughout the snowy winter too.

This casually cycle- and pedestrian-friendly outlook is one of many reasons why Helsinki is one of Europe's most underrated cities. Almost all travelers who visit Finland will fly in and out of Helsinki, but they usually barely graze the airport before heading off to the summer cabins of Finnish Lakeland or snows of Lapland.

Our guide to the best things to do in Helsinki reveals why you should add a few days in the city to your vacation. We've got insider tips from Riitta Kiukas, founder and guide at our partner Skafur-Tour, who called Helsinki home for 30 years, as well as Responsible Travel director Tim Williamson, who often stays with friends who live in the city.

The ferry from Market Square to Suomenlinna is an unexpected highlight – a 20-minute mini voyage with widescreen city views and mysterious pink mists in winter.

Sail to Suomenlinna Fortress
Suomenlinna Fortress is one of the most popular attractions in Helsinki – an island garrison and prison first built in 1748 when Finland was part of Sweden. Follow the signposted Blue Route from north to south or take a guided tour to delve into all the nooks and crannies, including the leafy Great Courtyard, one of the oldest dry docks in Europe, the pink Jetty Barracks, and a memorial to the prisoners of war interned on the island during the Finnish Civil War of 1918.

"I love Helsinki in summer because it's located on a cape surrounded by water," says Riitta. "There are a lot of islands outside Helsinki and you can go sailing, stand up paddle boarding and canoeing. But Suomenlinna Fortress is overpopulated in summer. If we have a traveler who's going sailing, then we make a stop on the island when it's not as crowded. It's best to use the expertise of the local people to know exactly when to go where."
Take a sauna
Saunas are a part of Finnish life. It's where people go to socialise, contemplate their day, or meet with family and friends. And most Finns take a sauna as naked as the day they were born. "There are very nice public and private saunas in Helsinki," says Riitta. "And there are sauna boats where you can go for a cruise and then swim in the sea." Just remember to
read up on sauna etiquette
– and keep yourself hydrated (with a beer or cider, if you're rehydrating the Finnish way).

The harbour is the center of Helsinki.

Wander South Harbour & Market Square
"One of my favourite walks is down Esplanade Park, which heads down to the lovely big harbour area, where you can look across to Parliament," says Tim. "The harbour is the center of Helsinki. There's the old Market Square down there. We've often seen fishing festivals where people sell from the boats."

"The seaside is my favourite place in Helsinki," agrees Riitta. "If you leave from the market and go west, you'll see the Suomenlinna Fortress from the bank. You'll see different kinds of islands and there are many people walking by the sea and cafés open throughout the year, with the grand embassies facing the sea."
Explore Senate Square
Go to Senate Square to see Helsinki Cathedral, the National Library of Finland, the Government Palace, Helsinki City Museum, the University of Helsinki and al fresco art installations all in one place. Most of the buildings are done up in neoclassical finery. They're designed by Carl Ludvig Engel, who redesigned some corners of Helsinki in the image of St Petersburg during Finland's period as part of the Russian Empire between 1809 and 1917.
Pull up a pew at Temppeliaukio Church
Temppeliaukio Church rises out of the rock like a crashed UFO. Step inside the dome and admire the walls carved directly out of the rock, and a sculptural organ that's still used in recitals (the acoustics are, incidentally, out of this world). Temppeliaukio is still an active Lutheran church, so keep an eye on opening times before visiting.

Taste some of the blueberries, white raspberries and cloudberries if it's berry season.

Feast on seasonal Finnish food
Riitta leads food tours around Helsinki. "We start from the old market hall to taste products there," she says. "Mostly fish in different forms; it changes throughout the year. I would also go to the marketplace and taste some of the blueberries, white raspberries and cloudberries if it's berry season. There are all kinds of food there. There are some breweries for people who want to try local beer and coffee is always interesting. And ice cream! We love ice cream."

Tim also rates the seafood. "Muikku, these little whitebait-like fish. And reindeer – it's quite a sustainable meat, as the reindeer herds need culling and the skins are used for warmth in the winter… We also had our best ever chicken kiev in a Russian restaurant in Helsinki. Russia is just across the border and has had a lot of influence. This restaurant we went to was all dark with red velvets everywhere, and the food was amazing."
Discover inspirational Finnish inventions at the Design Museum
The Design Museum showcases all aspects of Finnish design, from wooden record players and vases to beloved coffee pots and the ubiquitous Nokia phones of the early 2000s. Past exhibitions have included an anthology of Finnish fashion and typography talks. Look for the Design Museum in the Kaarti district in the middle of Helsinki.
Join the ranks of coffee drinkers
Finland consumes the most coffee per capita in the world; it's probably what gets them through the long, dark days of winter. You won't often find drive-thru Starbucks, either. Coffee is there to be savoured (up to 10 times a day, for many Finns), preferably with friends and a gooey cinnamon bun.

"One of our favourite places is Kappeli in Esplanade Park," says Tim. "It looks a bit like a grand greenhouse – very old, very traditional… This is the sort of place where coffee is a ritual. It's an institution."

It's like a living room for Helsinki citizens.

People watch at Oodi Library
You can't miss Oodi Library – its façade is made completely of spruce wood and glass that swoops along the street like an icy wave. Its open design is meant to encourage free thinking and learning, with events and games rooms, a family-friendly reading corner that looks like cracked-open orange, and a Citizens' Balcony where you can step out and look over Helsinki.

"The new library is a very interesting place to people watch," says Riitta. "It's architecturally interesting – a beautiful place with cafés, so you can spend some time there. I recommend it if you need somewhere to wait with your bags before your flight. There are all sorts of equipment that you wouldn't have in the home but that you can book, like sewing machines. It's like a living room for Helsinki citizens."
Things to do in Helsinki in winter
It's a rare traveler who stays in Helsinki during the cold, dark months of November to March, but if you do decide to do some wintry exploring, we've got a few ideas for you…
Cycle the 75km of cycle paths that are cleared of snow in winter, including the city center Baana route Visit the Helsinki Christmas Market on Senate Square (you'll know it by the sky-scraping Christmas tree) Get a coffee at the cosy and architecturally spectacular Oodi Library Walk the Lux Helsinki winter lights trail Sail through icy waters and strange rose-tinted sea mists to Suomenlinna Fortress And if you're lucky, catch the Northern Lights on a clear night away from light pollution
Our top Finland Vacation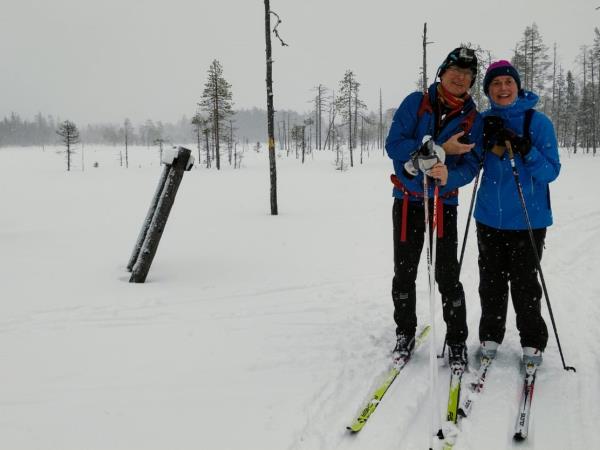 Guided country skiing vacation through remote eastern Finland
From
€

1140
7 days
ex flights
Small group travel:
2024: 18 Feb, 25 Feb, 3 Mar, 26 Mar
If you'd like to chat about Finland or need help finding a vacation to suit you we're very happy to help.

How to get around Helsinki
The best way to get around Helsinki is to get on a bike and take to the 1,500km of pristine cycle paths. "You can spend days cycling around Helsinki," says Riitta. "In summer, you could also cycle out into the countryside to see how silent it becomes outside the city."

The city-wide bike sharing scheme encourages you to hire a bike by the day or week between April and October. Many Helsinki residents find it the easiest and quickest way of getting around – whether they're nipping downtown on the Baana, hopping between islands on the archipelago route, or bumping through the 10km of forest trails in Central Park.

"I normally walk around with my guests," says Riitta. "We have a very good tram system, so I often buy a three-day tram to the starting destination – the Temppeliaukio rock church or stadium – and then walk back to the city center. When I guide people, I want to find something they would not find themselves."

Tim agrees: "Like most capital cities, it's nice to just wander around Helsinki. And you really can wander around. It's very easy to navigate."

"The old-fashioned trams are amazing," adds Tim. "Last time, we got the tram out to the suburbs to the home of pioneering Finnish architects Alvar and Aino Aalto. You can go around the house and studio on a tour and then have coffee by the lake afterwards."
What is the best time of year to visit Helsinki?
Summer (June-August), when there are long, light days for exploring the city. "The summers in Helsinki mean late sunshine," says Tim. "So you go for dinner and it's 11pm – and then you can go walk it off in the woods, because it's still light."

Riitta adds that it's best to avoid Helsinki harbour when the huge 3,000-passenger cruise ships arrive in summer. "Helsinki is full of tourists when the cruise ships come," says Riitta. "And there are many. I know when they come and when they go, so we can plan activities to avoid the cruise crowds."

How long do you need in Helsinki?
"I would recommend 2-3 days in Helsinki in summer," says Riitta. "In winter, normally two days (one night) is enough. It's pretty dark in winter, so a short stop in Helsinki is best. You could also combine the countryside with Helsinki to make a nice five-night vacation."

Is Helsinki worth visiting in winter?
Yes – as long as you don't mind exploring in bitterly cold temperatures and midwinter days where the sun rises at 9.30am and sets around 3pm. We recommend staying a night before continuing your winter wilderness adventure.

Is Helsinki expensive?
It depends on where you're from, of course, but for most people Helsinki is an expensive place to visit. Prices for food, drink and travel are certainly more expensive when compared with the rest of Europe, although not quite as pricey as its Scandi neighbours. (If you ever wonder why so many Baltic booze cruises depart from Helsinki, it's so that Finns can nip across the border to buy alcohol minus the eye-watering taxes.) That said, some museums such as Suomenlinna Fortress are free, allowing you to save money on sightseeing.

Can you see the Northern Lights in Helsinki?
Yes, but with difficulty. Helsinki is the capital city of Finland, with a population of over 600,000 people – and with the light pollution that goes with it. Combine city lights with the glare off snow, and your chances of seeing the Northern Lights in Helsinki reduce considerably. But it's not impossible, so keep your eyes out for clear winter nights and duck as far away from the city lights as possible when the weather forecast is clear.