You're here on your honeymoon, but your head's just been turned by a pair of icy blue eyes. Luckily, they belong to a husky, not a rival paramour. Your new spouse can breathe a sigh of relief. It is difficult to come on a romantic honeymoon in Finnish Lapland and not fall in love with the main attraction – the beautiful dogs used for dog sledding trips. On these trips, you take a team of baying beauties out into the frozen woods, where silence falls – except for the swoosh of the sled and the thud-thud of your heart.

Your heart beats faster every time you see them and they bark for joy in return. It's easy to fall in love with husky sledding on your honeymoon.

Husky sledding is one attraction for romance seekers; the other is the promise of privacy. Finland is the third least populated country in Europe, with just 16 people per km2 (England has 424). Finns know how to leave each other alone, too. Couples who come here will find plenty of peace, especially if they choose a winter log cabin vacation away from busy Rovaniemi.
What do honeymoons in
Finland entail?
Winter is by far the most romantic season in Finland, although snowy, brief days mean that a shorter honeymoon is best. The average trip to Lapland is usually a week long or less. Couples can choose intense, active trips with a large roster of activities or take the pace a little slower and get a little more snuggly, taking time to relax under blankets whilst gazing up for signs of the Northern Lights.
Our top Finland Vacation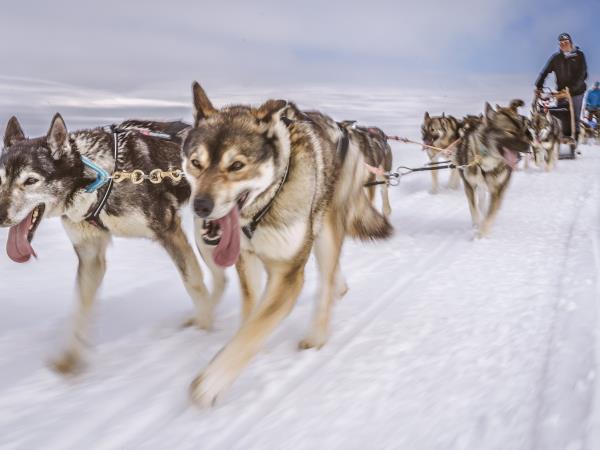 Sled with huskies through spectacular Finnish scenery
From
£

2945

to

£

3488
8 days
inc UK flights
Small group travel:
2023: 16 Dec, 23 Dec, 30 Dec
2024: 7 Jan, 14 Jan, 21 Jan, 28 Jan, 4 Feb, 11 Feb, 18 Feb, 25 Feb, 3 Mar, 10 Mar, 17 Mar, 24 Mar
If you'd like to chat about Finland or need help finding a vacation to suit you we're very happy to help.

Together in the tundra
Romantic accommodation isn't hard to find. Yes, there are far more family rooms than honeymoon suites in Finnish Lapland, which is traditionally seen as a place to take kids to see Santa, but there are also lovely cabins in the woods. Timber from local trees is used to both build and heat log cabins and their accompanying saunas, making them cosy enough to withstand long winter nights. Food is often sourced from reindeer herders and fishermen, and water might come fresh from the stream. Cabins are sometimes owned by family-run hotels, so you don't have to be cut off from civilisation and you can always wander back to the main hotel – many have spa facilities.
Dog sledding
For many, dog sledding is the highlight of a honeymoon to Finnish Lapland. You don't just have to be a passenger, either. You and your partner can go on a dog sledding trip where you'll each learn to drive your own team of dogs. Driving dogs isn't always easy. Hit a corner wrong and you might just tip gently over into the snow, or forget to apply the brake and you could accidentally catch up with the pack. The dogs will quickly clock that you're a nervous first-timer... whether they decide to go easy on you is up for debate. You'll have plenty of time to get the hang of mushing on a
longer husky safari
, where you can drive dogs over several days and sleep in wilderness cabins at night.
The Northern Lights
There are few things more romantic than being out in a remote cabin under reindeer furs, looking up at the sky and waiting for the aurora borealis to come skittering across the sky. The aurora borealis even has a romantic name – revontulet or fox fires – as though the phenomenon was caused by foxes brushing through a celestial tundra, causing sparks to fly.

When it comes to spotting the Northern Lights, remoter is better. You will be taken by snowmobile to a place with the least light pollution possible. "When the skies opened up on our final night, it was like a big bow on top of a really special present," said Rene Ostapuk, who booked a romantic Northern Lights vacation in a log cabin in Luosto, Finnish Lapland.
Finns are serious about protecting nature and the environment, and many vacation companies run as low-impact operations as possible. Young Finnish people don't have many employment prospects outside big cities and rely on jobs in the tourism industry, so try to pick a company that employs local guides – preferably all year round. And ask about using electric snowmobiles. Finnish vacation companies slowly started adopting them in the winter of 2019 and they are becoming more and more common. Not only are they less polluting than regular snowmobiles, they are quieter, so you can really enjoy the pristine peace of the snow-capped countryside as you go on safari.
The Northern Lights can be seen from September, but for the most romantic experience, you should aim to arrive when there's a nice thick blanket of snow, too. Head on honeymoon from December to April. December guarantees lots of long, cosy nights for snuggling up – or night-time snowmobile expeditions – whilst March and early April, when there's more daylight, often have the best snow for more active vacations.