Things to see & do in Yogyakarta
If you want to get to the heart and soul of Java, then head for Yogyakarta (pronounced 'Jogjakarta' or 'Jogja' for short). This city of over three million people has an ancient core where old customs still hold sway and an artistic spirit reigns supreme, surrounded by an urban sprawl of malls, fast-food chains and traffic jams, tempered by street art, galleries and hip coffee shops. It's also a perfect base for visiting Indonesia's key temple complexes, Borobudur and Prambanan.
Most visitors spend their time in the kraton, the old walled palace complex and hub of traditional life, still overseen by a local sultan. Set in a two-kilometre wide strip of land between the rivers Kali Winongo and Kali Code, it's beguiling and atmospheric, and the place to go if you want to see traditional batik makers in action, take in a puppet show or listen to poetry and gamelan music performances.
Things to do in Yogyakarta
Visit the Kraton
Yogya's vast palace, the kraton is its true cultural center. Essentially a walled city, it's made up of a series of plush halls, sweeping courtyards and pavilions built in the 18th century, and is guarded by two enormous dragons, which signified separate entrances for men and women back in the day. As well as being a hub of royal architecture, it's also home to some 20,000 people, around 1,000 of whom work for the sultan, and includes a market, shops, schools and mosques.

There are daily performances held in the kraton's inner pavilion included in the price of the entrance fee. You could get to see wayang golek (puppetry), Javanese poetry readings or hear some gamelan music, depending on the day you choose to visit.
Yogya is the perfect jumping off point to explore Java's temples. Not only are they sensational to look at, they tell a physical tale of Buddhism and Hinduism living peacefully side-by-side as shown by the proximity of Prambanan, the celestial, turreted Hindu temple, to the magnificent Borobudur.
Borobudur
The largest Buddhist building in the world, Borobudur is a cluster of arches, stupas and statues, which makes an arresting site, towering above emerald green rice fields and backed by volcanic peaks. One of the top sites in Southeast Asia, alongside Bagan in Myanmar and Cambodia's Angkor Wat complex, it has suffered a great deal during its lifetime, from earthquakes, volcanic eruptions and even a terrorist attack back in 1985.
The temples date from the 8th and 9th centuries and were built during the reign of the Sailendra dynasty. At some point in history, though it's not clear exactly when, they were abandoned to the jungle, and lay undisturbed for hundreds of years, before being brought to international attention in the 19th century and restored with UNESCO's help in the 1970s.
The temples are located in the Kedu Valley, about an hour's drive from Yogya, but if you have the time, try to spend a night in the surrounding region. Called the Garden of Java by locals, it's bucolic beauty at its best, with a sprinkling of remote temples and some lovely rural homestays and guesthouses to stay in. Borobudur is the most visited site in Indonesia, so things can get pretty busy, particularly at peak season. Get here as early as you can to avoid the crowds. You'll have the added bonus of viewing the sun rise over the valley.
Prambanan
Your first glimpse of Prambanan is unforgettable. After driving some time along the route from Yogya, three soaring, intricately carved temples emerge from the surrounding jungle, evidence that you're about to explore the largest Hindu complex in Java.

Just as spectacular as Borobudur, the World Heritage-listed Prambanan complex is made up of six temples in a raised inner courtyard, surrounded by the scattered remains of 240 other minor temples. The three largest and most impressive are dedicated to the three main Hindu divinities: Brahma, Vishnu and Shiva, whose temple Candi Shiva Mahadeva is the tallest of the three at 47m. Lying in their shadows are three smaller temples dedicated to their animal companions: Hamsa the swan, Nandi the bull and Garuda the sunbird.
Prambanan took about two centuries to construct, starting in the 8th century, with the first building completed in the mid 9th century. Not much is known about its early history, but historians speculate that it might have been built to celebrate the return of a Hindu dynasty to sole power in Java. In any case, it was abandoned and slowly deteriorated after the Hindu-Javanese kings moved to East Java in the 930s, and then a huge earthquake felled many of the temples in the 16th century. Prambanan remained in ruins for years and it was not until the 1930s that reconstruction efforts began.
Our top Indonesia Vacation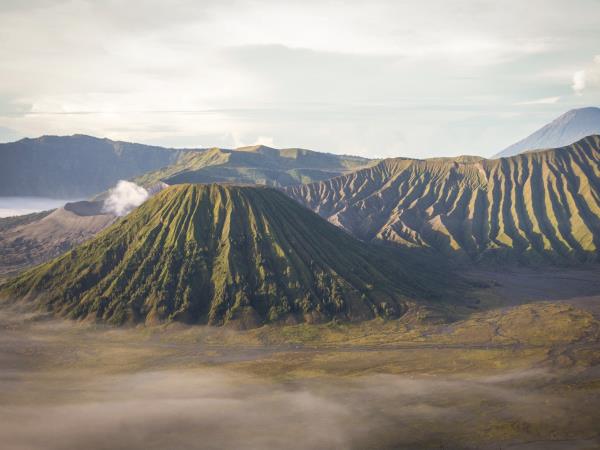 An adventurous tailor-made journey through Java, Indonesia
From
£

1846
14 days
ex flights
Tailor made:
This trip can be tailor made throughout the year to suit your requirements
If you'd like to chat about Indonesia or need help finding a vacation to suit you we're very happy to help.

Yogyakarta Adisucipto International Airport (JOG) is in the city's northwest, some 10km from the town center and close to Prambanan. There are regular international flights from Singapore and Kuala Lumpur, as well as daily domestic services from Jakarta and Bali. Yogyakarta train station connects major hubs across Java and is located in Jalan Malioboro, one of Yogya's main tourist hubs.

You'll need at least a full day to explore Yogya's highlights, plus a half a day each at Prambanan and Borobudur. If visiting on a small group or tailor-made tour, you'll arrive either by train, by road or by domestic flight. You're likely be based here for around three days, exploring both the city and the surrounding countryside and ancient sites, before moving on to explore the rest of Java and beyond. Most tours that include Yogya on their itinerary last between two and three weeks, and explore other islands such as Bali and Sumatra.