Sea kayaking in the Komodo Islands

Adventure in a remote place, cultural immersion, wonderful wildlife and tons of time in the great outdoors – kayaking in Komodo is a brilliantly fulfilling expedition.

Sea kayaking in Indonesia's Komodo National Park might just take the prize for the best kayaking in the world. The sea is clear, the coral abundant and the sea life supremely exotic – think manta rays, whale sharks and dolphins. Then there are the two dozen islands that make up this very special park, sandwiched between Flores and Sumbawa. Here be dragons – literally. The Komodo dragon lives in healthy numbers on Rinca Island, so in between splendid sea kayaking, you can walk to see these 2m-long lizards in their natural habitat – and up seriously close.

Sea kayaking also allows you to reach the parts regular boats can't, paddling to remote beaches, stilted villages and uninhabited islands. The accommodation is pretty immersive and amazing, too, as you'll be camping out under the stars at night, eating around the campfire and sharing stories with your local guide and team. There is plenty of time out of the kayak, too, to rest your muscles and explore in depth, via jungle treks, snorkelling, swimming and village visits to meet the few – and very friendly – people that make these islands home.
Our top Indonesia Vacation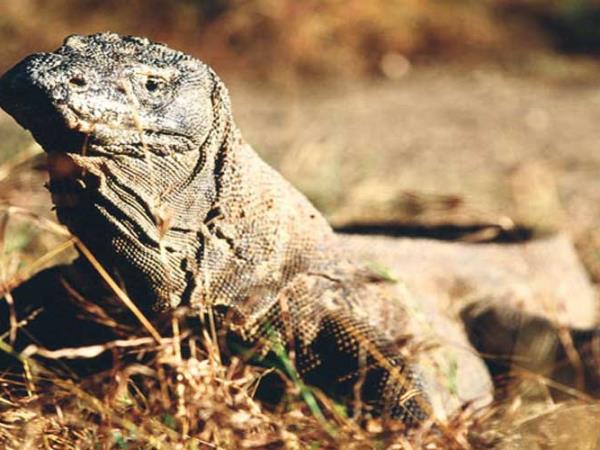 Sea kayaking to some of the most remote beaches on earth
From
£

2395
10 days
ex flights
Small group travel:
2023: 10 Jun, 17 Jun, 1 Jul, 8 Jul, 22 Jul, 5 Aug, 12 Aug, 2 Sep, 7 Oct, 21 Oct, 28 Oct
2024: 23 Mar, 6 Apr, 20 Apr, 4 May, 13 May, 18 May, 1 Jun, 10 Jun, 19 Jun, 29 Jun, 8 Jul, 17 Jul, 27 Jul, 5 Aug, 14 Aug, 24 Aug, 2 Sep, 11 Sep, 21 Sep, 2 Oct, 9 Oct, 21 Oct, 30 Oct
If you'd like to chat about Indonesia or need help finding a vacation to suit you we're very happy to help.

What does sea kayaking in
the Komodo Islands entail?
Sea kayaking vacations in the Komodo National Park typically run on a small group basis, with two to 10 people. They are usually around 10 days long, with the option to extend the trip so you can chill out on the beaches of Bali at the end. Of these 10 days, you'll be kayaking for around five, camping out at night on quiet beaches, often on uninhabited islands.

This is obviously an active adventure, but it's not grueling or extreme, and no previous sea kayaking experience is necessary. Amazing scenery and wildlife usually make up for the aching arms brought on by a day's paddling and the mix of hard work and relaxation is a winning balance. An average day would include about four hours of kayaking, broken up by lunch and snorkelling into legs of no more than 90 minutes.

In fact, it's possible to make the trip as active or relaxing as you choose, and if you don't feel like kayaking, you can simply sit out a section and be transported on the support boat, which accompanies the kayaks at all time. Most kayaks are tandem, but one person kayaks are also available if the group size is odd. The support boat is primarily used for relaxing, for preparing and eating meals, for washing and, occasionally, sleeping. When the kayaks aren't in use, they're tied up to the back of it.
There is a minimum age of 12 on this kind of trip, but no maximum age. Even though you don't need to be super fit and can do as much or as little kayaking as you like, you must be mobile enough to get from the boat into a kayak or at the very least the boat's tender, which can take you to the beach.

Gloves are a good idea to help avoid getting bllisters from paddling. Bring insect repellant and lots of sun cream, too, as you'll be out on the sea most days, close to the equator, exposed to the sun and the reflected UV rays from the water. Ideally choose biodegradable products that won't pollute the sea when they wash off.

The Komodo National Park is an environmentally sensitive region. Responsible trips here respect this unique environment, and commit to a host of environmental standards, including leaving no litter or pollution, minimising water use and making an effort to use local guides and locally run services. You may also get involved in impromptu beach cleans, picking up litter at the beaches where you land, and carrying it away to be properly disposed of.
Komodo kayaking highlights
Flores
The town of Labuan Bajo is something of a tourist hub on the westernmost tip of Flores, and is the main entry point into Komodo National Park. There are several must see sites nearby, including the Cunca Wulang canyon, carved over millennia by tumbling water and featuring a dramatic waterfall at one end – a great spot for swimming. You can hike to the canyon, passing through a traditional village where you can chat with local people.
Goa Rangko Cave
This beautiful grotto, northeast of Labuan Bajo on Flores, is best reached by sea kayak. Inside, a mass of stalactites and stalagmites frame a dazzlingly clear blue lake that you can swim in. It's best visited in the middle of the day, when the sun penetrates and sparkles on the water.
Kalong Island
Lying between Rinca and Papagarang Islands, this mangrove island is officially call Koaba (sometimes Kaaba), but is often called Kalong Island, since kalong means bats. It's inhabited by thousands of fruit bats and if you come at sunset you can see them flying out to feed.
Kelor Island
Kelor has beautiful pale sand beaches surrounded by crystal clear waters. The island is dominated by a hill that you can hike up for great sunset views over the Komodo National Park, and there's good snorkeling just off the beach.
Rinca Island
Komodo dragons live on Rinca (pronounced Rincha) in larger numbers and densities than anywhere else in the national park (approximately 2,000), making this the best place to see them. A trained ranger takes visitors to see them, explaining about the dragons' habitat, and about the other island inhabitants, which include macaques, buffalos, deer and tree snakes. On the west of the island lies Manta Point, where if you're lucky, you'll have manta rays for company when snorkelling.
Warloka
This relaxed fishing village about 21km south of Labuan Bajo was once a key trading port and is peppered with archeological sites. There are numerous stone pillars and dolmens on 10 different spots around the village, with the most impressive being a stone table on the top of Warloka Hill. Weapons and jewellery dating from 2,000BC have also been found here.
The Komodo National Park is remote, so it takes a little while to reach. You can fly into Bali or Jakarta and spend a night here, before flying on to Labuan Bajo at Flores' westernmost tip. This town is the main entry point into the Komodo National Park and a pretty well developed tourist destination in its own right. Kayaking trips depart from here, traveling along the Flores coast and as far west as Rinca. All kayaks, equipment and park fees are included, and typically the majority of your meals will be included, too.
Best time to go sea kayaking in
the Komodo Islands
Although Komodo National Park is one of Indonesia's driest regions, the rainy season, from January to mid March, can be pretty wild with winds, waves and heavy rainfall, meaning few sea kayaking tours run, especially in February. April, May and June are some of the best times to visit Komodo as the islands are green and refreshed after the rains and the temperatures are comfy. Nights are cool and fresh, and the seas are calm – perfect for kayaking. If you're lucky, you may see whale sharks at this time.

July and August are hot and sunny, and as this is peak season, towns such as Labuan Bajo are busier and tour boats will frequent the popular snorkel spots. September, October and November are lovely, with temperatures warm rather than hot and fewer tourists around.
Komodo sea kayaking advice

Laurenne Mansbridge from our specialist vacation supplier, Pioneer Expeditions:
Trip highlights
"Many people come to the Komodo Islands to see the dragons. However, after five days kayaking these islands many people mention other highlights such as manta rays, a walk up a hill for sunset or sunrise, the great snorkelling, or even the crew and the vibe they give off. It's a place of pure relaxation and many people mention that it takes a day to get into it but by day two they feel so far away from everything and totally relaxed. That's really nice to know."
The support vessel
"Our beautiful boat is constructed from ironwood. The hull was handmade in Kalimantan and then sailed to Labuan Bajo where the upper decks were crafted by local carpenters. The lower deck has an eating area and preparation area, two air conditioned cabins, two toilets and showers and a kitchen area. Upstairs is a large eating area for guests, another bedroom with three bunks, a captain's house and a very large sundeck – we only spend one night sleeping on board."
What's cooking?
"The main cuisine on the trip is Indonesian food such as gado, nasi goreng, mie goreng, cap cai, satay, lots of fish (freshly caught) and curries. We also have some Western food such as chips. Breakfast is cereals and toast and occasionally muffins."
Meeting local people
"There are several stops at local island villages. These are very interesting as many of these communities are sea gypsies. Their life is tough but they always seem to have a smile on their faces. We also go to see villages on the walk to Cunca Wulang waterfall on the main island of Flores."
Komodo sea kayaking highlights
from our vacation reviews
"Sleeping under stars on the boat and on the beach, seeing a turtle whilst snorkeling, kayaking across open water and seeing the blow hole of a large mammal ahead of me, the bats, the Komodo dragons, the people, jungle trek, the welcome dance, the school children laughing... everything [was a highlight] really a fantastic and special trip." – Hazel Perrett

"There were far too many highlights to mention, but I'll have a go: sleeping on deserted beaches, a school of dolphins passing just in front of our kayak, seeing a shark while snorkelling, the sound of two very large Komodo dragons running through the undergrowth in our direction, great food and an outstanding local guide." – Liz Kalton