Things to see & do in Bali
Indonesia's premier tourist destination, the pint-sized volcanic island of Bali hasn't escaped the ravages of mass tourism, with congestion, commercialisation and a smattering of ugly beach resorts that pull in party-loving crowds from across the globe all present here. That said, there are still plenty of quiet corners to be found – both on the coast and inland – and the island retains its mystical appeal thanks to its spectacular natural beauty. Think emerald green rice terraces, steep mountain slopes, beaches lashed by pounding surf and waters brimming with lively corals.
The only Hindu society in Southeast Asia,
Bali
is also deeply spiritual and creative. The landscape is scattered with distinctive temples, there are elaborate festivals throughout the calendar and the island has retained the chilled out sense of calm bestowed upon it by its history.
Pump up the adrenalin
You might think of beaches when you think of Bali, but itís also a top destination for
adventure tours
. Lasting around a week, these small group tours take you away from tourist-clogged resorts to inland villages, mountains, hot springs, and peaceful beaches, with plenty of hiking, biking and snorkelling on the agenda. And some are designed for
families
, too.
Cycling
is another excellent way to get to know the country, getting you onto quiet country roads and through out-of-the-way traditional villages. You could either opt for a tour that includes cycling as one of several adventurous activities, or go for a dedicated cycling tour, exploring the island on two wheels. Cycling tours generally start in Ubud and continue through Baliís central highlands past towering hills and glistening rice terraces. Youíll likely take in some coastline, too, perusing the laid-back fishing villages, volcanic sandy beaches and the calm waters of the less visited northern coastal regions, as well as the more popular beaches and temples of the south coast. Youíll need to be fit, though, as there are some steep climbs and distances reach up to 60km a day. Luckily our dedicated cycling trips are all undertaken in a small group, so youíll have up to 12 like-minded travelers with whom to share the adventures, as well as the aches and pains.
If you donít fancy doing the two-wheeled thing, then two feet will do nicely. Hiking will take you to less visited sides of the island, following quiet country lanes leading between rice terraces, fruit orchards and spice plantations to discover pockets of rural life in and around villages like Munduk, just a two-hour drive north of Ubud, or to tackle the slopes of Mount Baturís imposing bulk.
Want to get your kicks under the water? No problem. Diving and snorkelling are superb in Bali, and thereís a string of sites along the north and east coasts showcasing coral gardens flush with tropical fish, barrel sponges and sea anemones, just a short paddle from the shore. Menjangan Islandís coral reef, part of the Bali Barat National Park, delivers sublime snorkelling with sea turtles, white tipped sharks, eagle and stingrays.
Discover Baliís spiritual side
Ubudís position as a spiritual, cultural and artistic center is played up to the hilt by travel guides and tourist boards, but luckily for visitors thereís more than a grain of truth to those depictions. Set amongst the lush greenery of forest and rice terraces, Ubud has been attracting pilgrims for centuries; and where they once arrived to imbibe holy water and bathe in hot springs, these days they come to create art and music, visit holistic healing centers, take yoga classes and sit alongside digital nomads in the townís many (organic) cafes.

While tourists may dominate, thereís still much authenticity to be found here, if you stay away from the tourist traps and take time to wander the backstreets, where shrines and temples are found and life continues as it has done for centuries. Away from Ubud, itís worth checking out Pura Ulun Danu Bratan, a gorgeous Hindu-Buddhist temple set some 1,200m above sea level on an island in Lake Beratan.
Hit the beach
Bali's south coast has been attracting surfers and beach bums for decades, and the southwest coast of the Bukit Peninsula, has some of the island's top beaches and best waves. Although several of Bali's best beaches have succumbed to mass tourism there are still plenty of quiet, safe, sandy spots both to the north and the south of Kuta, including Sanur and Candidasa, so you do have the chance to chill out in peace even if you stick to the south of the island.

On the north coast, around Lovina and Pemuteran, things are a lot quieter with gentle waves, perfect for snorkelling (Lovina is also famous for the dolphins that patrol its coast). Menjangan Island, within Bali Barat National Park, boasts some exceptional coral, just offshore. East coast Bali, around Amed, also has some sublime sands, making it ideal for exploring off the beaten beach track before heading out to the tiny Gili Islands where more powdery sand and coral-filled waters await.
Enjoy the food
Like the rest of Indonesia, Baliís food is rich and aromatic, with Indian, Malay and Chinese influences, thanks to hundreds of years of trade and migration. While there are many similarities with the rest of the country, there are plenty of uniquely Balinese dishes, such as babi guling, a whole roast pig stuffed with spices and traditionally served during cultural performances or ceremonies. Youíll also find plenty of high end restaurants, including those serving international food, but for a true flavour of Bali not much beats roadside warungs (simple local cafes) or a home-cooked meal in a homestay. Some organised tours include a cooking class, too, so you can learn to make tasty Balinese dishes using the freshest seafood.
Balinese coffee is excellent and you could well get the chance to stop off at a coffee plantation as well as trying the local brew in a cafe. Just make sure you stay away from kopi luwak. The worldís most expensive coffee is made from beans that have been partially digested and then pooped out by civets. Unfortunately, due to the high prices that this coffee fetches in the West, many civets are being held captive and fed unnatural diets in order to produce this highly prized commodity. Since thereís no way of knowing whether your coffee came from wild or captive animals, itís better to avoid it completely.
Our top Indonesia Vacation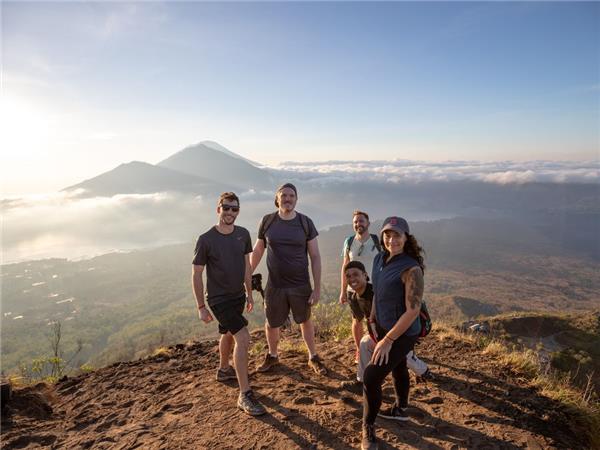 Warm people ornate customs and welcoming culture
From
US $

1020

to

US $

1305
9 days
ex flights
Small group travel:
Departs most Saturdays throughout the year
If you'd like to chat about Indonesia or need help finding a vacation to suit you we're very happy to help.

Our Bali tours usually last between one and two weeks and you can opt for a tailor made tour, tweaked to your preferences, or explore the island along with a small group of like-minded travelers. You could also take the time to explore more of Indonesia, and several of our tours include more than one Indonesian island on their itineraries. You could stick close by, exploring
Lombok and Bali
as a tempting twosome, or go large, taking in the islands of Java and Sumatra, too. Itís also possible to head further east, visiting quiet Flores and stopping on Komodo and Rinca Islands to search for the infamous Komodo dragon. The best time to visit Bali is in April to June and September, when youíll avoid the July and August high season, but still get warm, dry weather.