Things to see & do in
Sulawesi, Indonesia
Sprawling Sulawesi is made up of four separate peninsulas separated by looming mountains and surrounded by reefs and teeming waters, with its northern tip stretching into the Coral Triangle. Unsurprisingly, itís famous as a world class destination for diving and snorkelling, but itís also home to an interior swathed in thick jungle, which hides rare species such as wide-eyed tarsiers and the critically endangered crested black macaque.
Just as fascinating are the islandís traditional animist cultures, which have survived the onslaught of modernity for hundreds of years. The region is split between the upland woodcarving Torajan people and the lowland Bugis, who fish, farm and hunt. The chance to meet them and learn about their history and way of life is a high point for many on a trip to Sulawesi.
Head under the water
Sulawesi
ís position in the Coral triangle makes it one the best places in Indonesia for underwater exploration.
Bunaken National Park
is a renowned dive location rich with marine life such as stingrays, sea turtles and dolphins, though the steep walls and sometimes strong currents here mean itís best suited to intermediate or advanced divers.
The best way to explore Sulawesiís waters is via a small group snorkel safari or dive trip, combining Sulawesi with Borneo or Raja Ampat. Daily short boat trips will take you out to tropical islands and reefs where youíll explore marine life of astonishing diversity. In the afternoons youíll return to stay in island eco-resorts, on a full board basis due to their isolation.
The best time for snorkel safaris in Sulawesi and Borneo is between March and October, with the best visibility around July and August. July in Bunaken National Park is particularly special, as this is when youíre most likely to see whales and dolphins.
Watch wildlife
For those who prefer to experience the wilds above the water, there is plenty of wildlife to spot in Sulawesi. For devoted twitchers, specialist birdwatching vacations take in bird-rich areas such as Lore Lindu and Bogani Nani Wartabone National Parks, but for wildlife spotting, the most popular park is Tangkoko Batuangas Reserve in northern Sulawesi. Here, the biggest attraction is also one of Indonesiaís smallest Ė the tiny tarsiers that live here. Each one is just half the size of an adult human hand, and their future is in serious doubt due to deforestation. These wide-eyed, nocturnal primates live in trees, but come down to feed on insects in the mornings or the dim light of dusk. The park is also home to the endangered crested black macaque, social primates who can be seen in groups of up to 80 individuals.
Get to grips with the culture
Many trips to Sulawesi take in
Lake Tempe
, where fishermen have worked for generations, living in wooden houses floating on the water, and
Maros Pangkep
, a vast forest of limestone caves and karst rock formations, where prehistoric paintings found on cave walls are thought to be some of the oldest stencil art ever created, pre-dating even that of the famous Chauvet cave in France.
Perhaps most famous, though, are the balmy Tana Toraja highlands. The Toraja peopleís rich culture originates from animism, and you can experience some of Sulawesiís most riveting customs here. Death is a big preoccupation, and bodies are often buried in curious hanging graves that are carved into cliffs and watched over by eerie effigies called
tau tau
. If you get a chance to attend a funeral (and for the most part, visitors are welcome to attend) then donít miss it. They can be lavish affairs, accompanied by colourful ceremonies that involve much feasting, drinking and dancing.
Enjoy delicious local food
Sampling the cuisine is a big part of tours to Sulawesi and do to tuck into some of the renowned street food while youíre here. In the captial Makassar, the waterfront area is a good place to start. Once known as the longest restaurant in the world for its vast stretch of food stalls, itís a great place to join the locals at the cityís famous seafood warungs (cafes). On some organised tours to Sulawesi, you might also get the chance to share a meal with a family or even learn how to cook a dish or two yourself. You could, for example, spend an afternoon shopping in Makassarís fish and vegetable market before cooking up a storm in the traditional kitchen of a local home.
Not so pleasant are the food markets in the Minhasa region, where youíll see snake, forest rats and even dogs, often caged in upsetting conditions. Sulawesiís fruit bats are a favourite, and the population is being decimated. Read more about the
bushmeat crisis
before you go.
Sulawesi is also highly regarded for its coffee, with the most prestigious coming from the Tana Toraja highlands. Youíll have plenty of chance to taste the local brew while on a visit here, or you could even take a dedicated Sulawesi coffee tour, spending several days exploring and working on a coffee plantation.
Coffee lovers should steer well clear of kopi luwak. The priciest coffee in the world, itís made from beans that have been expelled from a civetís bum. The high price that kopi luwak fetches in the West leads to many wild civets being kept in captivity, badly treated and fed unnatural diets. As you canít tell whether your cup came from wild or captive civets, itís better to avoid it altogether.
Our top Indonesia Vacation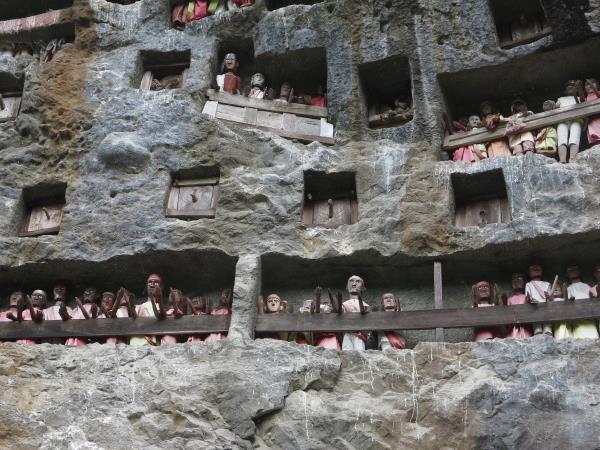 A unique insight into the fascinating island of Sulawesi.
From
£

1899
13 days
ex flights
Tailor made:
This trip can be tailor made throughout the year to suit your requirements
If you'd like to chat about Indonesia or need help finding a vacation to suit you we're very happy to help.

Youíll either be traveling on a tailor-made adventure, where youíll set the pace and itinerary yourself, or on a small group tour, with a band of like-minded travelers for company. In either case youíll be accompanied by expert guides to help you make the most of your vacation. Trips tend to last around two weeks and either focus on exploring the islandís diverse culture and wildlife reserves or on getting to know the underwater world, with time in the waters around Borneo or Raja Ampat as well as around Sulawesi. Most Sulawesi highlights trips include a day to explore the capital Makassar, the gateway to Eastern Indonesia for centuries and a great place to browse markets and enjoy a cookery class.

Itís hot year round here, with average temperatures peaking 32įC in mid October and the rains setting in from November to March. The best time to visit is May to June and September/October. This way, youíll avoid the July and August high season, but still get warm, dry weather. Peak season is May to October, but the best time to visit is probably the shoulder months of April and November, when itís not too hot, wet or busy.