Things to see & do on Lombok
With so many tourist making a beeline for Bali,
Lombok
often gets overlooked, so itís a little known secret that Lombokís sweeping sands are prettier, whiter and a good deal quieter than those of its lively neighbour. Sure, Senggigi can be busy, but the Gili Islands offer a barefoot escape, while the little-visited east coast offers a healthy dose of seclusion.
Yes, the transport links arenít as good as in Bali and there are few international hotels or high-end restaurants, but you get the advantage of less pollution, less crowding, and more wide open spaces. In addition, you get Mount Rinjani. This imposing peak dominates northern Lombok and many travelers come here just to tackle its slopes.
Put on your hiking boots
Looming over northern Lombok, the active Mount Rinjani volcano (3,726m) is the second tallest peak in Indonesia, and as well as drawing tourists in search of trekking nirvana it attracts Hindus and local Sasak people, for whom the peak is sacred, to make pilgrimages to the summit.

Climbing Rinjani requires solid trekking to the crater rim at 2,639m, where you can camp out and then watch dawn break over the misty valleys below and take a dip in the cool crater lakes. Some organised tours take you into the shadow of Rinjani, rathr than up its slopes, visiting Senaru village, the gateway to the mountain lying at around 600m, between the jungle and the slopes. From here, you can hike to the spectacular Tiue Kelep waterfall, passing by Singang Gila waterfall, and splash in the waters considered by the Sasaks to have healing properties.

The fertile volcanic slopes of Mount Rinjani also offer an authentic slice of agricultural life where rice paddies are still ploughed by water buffalo and rustic villages can be found perched on the edge of the tropical jungle.
Head for the Gili Islands
Just off Lombokís west coast, between Lombok and neighbouring island Bali, the Gili Islands are three tiny specs of tropical perfection, each with its own personality. Gili Trawangan is the overcrowded party island, Gili Air has a slower pace and is more family friendly, but for proper relaxation, Gili Meno, the least crowded of all the islands is your best bet. Days here can be spent snorkeling, swimming with turtles, lying on the beach or just strolling around the island Ė you can circumnavigate each of the Gilis in two hours or less. You can get here via pubic ferry or privately run fast boat from in and around Senggigi. Be warned Ė the journey over the Lombok Strait can be pretty rough.
Meet the local people
Although most people on Lombok share the same background as the Balinese, the people of Bali are mainly Hindu, but the Sasak people of Lombok are predominantly Muslim, and the call to prayer can be heard across the island. Some tours offer the chance to visit a Sasak village within central Lombok, such as Pringgasela or Senaru, where youíll gain insight into traditional crafts such as bamboo weaving and learn about the history and culture of the Sasak people, before sampling a ceremonial Sasak feast.
Do the double
Whether youíre going on a small group vacation or a tailor made trip, itís always worth combining Lombok with another Indonesian or even Southeast Asian destination. The most popular combination is
Bali
(reached either via a thirty minute domestic flight or two hour boat ride). Not just Lombok's brasher, bigger brother, Bali also makes for a great cultural comparison, with its sacred Hindu heritage in fascinating contrast with Lombokís Islamic faith, and the whirl of artisan boutiques, market stalls and yoga studios of forested Ubud providing foil to Lombokís slower pace of life. Want to go bigger? You could spend a few days checking out the action in frenetic Singapore before a week of laid-back living on Lombok.
Hit the beach
Senggigi is Lombokís most touristy area and has more than a whiff of Baliís big time resorts about it. If you steer clear of the central district, however, there are plenty of opportunities to watch the sunset from an out-of-the-way guesthouse. For even more seclusion, Lombokís east coast sits firmly off radar. As well as remote beachside bungalows in quiet spots such as Labuhan Pandan and snorkelling trips in the clear, unpolluted waters, you can visit clove and coffee plantations and take guided walks through rice paddies and fields still ploughed by water buffalos.
Our top Indonesia Vacation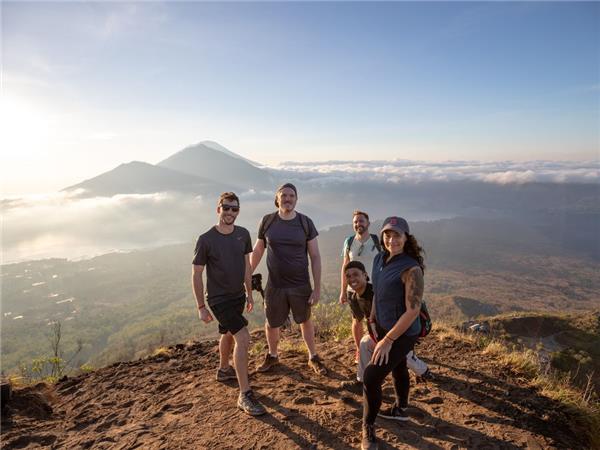 True vacation perfection
From
US $

1984

to

US $

2585
15 days
ex flights
Small group travel:
2023: 1 Apr, 6 May, 13 May, 15 May, 3 Jun, 5 Jun, 10 Jun, 21 Jun, 24 Jun, 5 Jul, 8 Jul, 12 Jul, 15 Jul, 22 Jul, 2 Aug, 9 Aug, 12 Aug, 16 Aug, 19 Aug, 26 Aug, 2 Sep, 9 Sep, 16 Sep, 23 Sep, 30 Sep, 7 Oct, 11 Oct, 14 Oct, 21 Oct, 28 Oct, 11 Nov, 13 Nov, 2 Dec, 9 Dec, 11 Dec, 16 Dec, 23 Dec
2024: 6 Jan, 20 Jan, 2 Mar, 16 Mar, 23 Mar, 27 Mar, 30 Mar, 20 Apr, 27 Apr, 11 May, 18 May, 25 May, 1 Jun, 8 Jun, 15 Jun, 19 Jun, 22 Jun ...
If you'd like to chat about Indonesia or need help finding a vacation to suit you we're very happy to help.

None of our Lombok tours focus solely on the island, so youíll get to explore other parts of Indonesia, or South East Asia, too, whether that be Bali, Java or Singapore. Tours last between one and three weeks, depending where youíre heading, and you can either go for a small group vacation, where youíll have a bunch of like-minded travelers for company, or opt for a tailor made journey designed just for you.

The best time to visit Lombok is from April to June and September/October. This way, youíll avoid the July and August high season, but still get warm, dry weather. Remember to pack some modest clothing in your suitcase so that you can cover up when away from beach resort areas. And make sure you know whatís what when it comes to traditional etiquette and respecting the wishes of your hosts.