Andalucia travel advice
Andrew Appleyard, from our supplier Exodus, shares his Spain travel advice:
"Everyone always heads to the cities of Andalucia – Cordoba and Granada and Seville – but I think if you can get into the heartland of Spain and base yourself in a rural community – as I call it, all the Moorish hinterlands – that area to me is one of the most beautiful, especially during springtime. Photographically it's just beautiful with the almond blossom and the spring flowers – it's just astounding down there. And the local produce is magnificent. I don't think anyone realises the incredible abundance of fantastic, organic food."
Outdoor travel tips
Paul Fellows is the owner of our supplier Walk Andalucia, based in Torrox, eastern Malaga. He shares his Spain travel advice: "Andalucia is almost cut into two halves – one of which is very commercialised with Fuengirola and Torremolinos and Marbella, while our end – the eastern end – is far more Spanish. It's excellent for all kind of outdoor pursuits. Walking, cycling… and at certain times of year you can be skiing by 9:30 for three hours, and be on the beach in the afternoon. It's a fantastic place to be outdoors and we have 300 days of sunshine a year to be doing it all in."
Tips on getting off the beaten track
Tom Powers, from our supplier Pura Aventura, has spent 20 years working in Spain – and says it still surprises him. He shares his Spain travel advice: "Just go. You think you know Spain, you think you've been there – but you don't. You could spend your life in the country, but you'll never know it. There's almost not a town in Spain that you couldn't go and spend a few nights in. Every village has a story, its own wine, its cuisine... the hotels are amazing quality, even in the middle of nowhere, beautiful hotels that belong in the pages of an interior design magazine. But it'll be £100 a night – in the UK it would be closer to £300 and the food would be disappointing!"
Catalonia travel tips
Fiona, from our supplier Mas Pelegri: "People tell us they prefer Catalonia to Tuscany as there are less people. It's like Tuscany with mountains and much more going on. Tuscany is also too cold in the winter, whereas Catalonia isn't. We've had families over for new year they went mountain biking and did walks every day, and had a lovely time."
Vivian, from our supplier Cycle Catalan: "Catalonia is lumped in with Spain as a whole, and parts of Spain have a bad reputation for overdevelopment and being too busy and very commercial. But Catalonia is still very unspoiled and very traditional. You don't get fish and chips here! It's definitely an authentic experience. It's still quite an unknown part of Spain, and very underrated."
FCO advice and Spain
Most visits are trouble free, however terrorism is sadly a reality of traveling in these times. Spain has suffered at the hands of terrorists' activities, such as the dual, fatal attacks at in Las Ramblas area of Barcelona and Cambrils, both in Catalonia, in August 2017. The organisation Daesh (formerly referred to as ISIL), claimed responsibility for the attacks. Before this incident, there were terrorist bombings in Burgos in 2009 and Getxo in 2008, believed to been led by Basque separatist group Euskadi Ta Askatasuna (ETA).There were no fatalities following these ETA attacks. The Madrid train bombings in March 2004 have been the deadliest terrorist attack ever carried out in the history of Spain. The official investigation concluded these to have been carried out by a terrorist group linked to al-Qaeda. Always get up to date information at the
Foreign and Commonwealth Office (FCO)
travel advisory department before traveling to Spain.
HEALTH
EU residents can apply for a European Health Insurance Card (EHIC), which gives you free emergency treatment at hospitals.
The EHIC doesn't replace travel insurance, which covers non-essential treatment along with emergency repatriation and other costly procedures. Ensure you have comprehensive insurance which covers all the activities you are planning to do.
Cool sea breezes and fresh mountain air can be deceiving. Wear plenty of sunscreen, and keep kids covered. The sun in Andalucia is particularly fierce year-round, so hats, sun screen and sunglasses with UV filters are recommended, especially if traveling in Spain with kids.
Carry plenty of water if hiking or cycling – dehydration happens quickly here. Many routes do not have convenience stores or restaurants along the way, so snacks are also advised to keep you going.
Be aware of altitude sickness in areas above 2,500m. This includes the Picos de Europa and the Pyrenees. If you feel ill (dizzy, nauseous, breathless, headache), the best remedy is to descend. Avoid alcohol and keep well hydrated to reduce your chances of feeling ill. Acclimatising for a couple of days in the foothills before attempting any high-altitude climbs is also advisable.
SAFETY
Take note of the universal emergency number: 112. You can also dial 062 for the Guardia Civil (Civil Guard) for mountain rescue services and other accidents.
Most beaches outside of the popular resort areas are unguarded, especially outside of the peak season, although flags are often used to indicate safety. Do not enter the water if there is a red flag, undercurrents can be extremely strong. Keep an eye out for jellyfish as well. The good news is that there are a huge number of blue flag beaches where you can be confident of clean water.
Most of Spain is safe with relatively low crime rates. Pickpockets may act in tourist areas though – particularly in Barcelona. Be careful in bars at night, leave valuables in your hotel and don't leave wallets or mobile phones on show. Be cautious on beaches too – don't leave bags unattended while you swim.
Tap water is safe to drink, so bring refillable bottles to save money and the environment.
The weather is unpredictable and varies greatly from region to region. Keep an eye on the forecast if planning to trek or climb in more mountainous regions, and remember: the extreme heat can be just as dangerous as the cold, snow or fog.
Call the London-based Spanish National Tourist Office for safety and weather warnings on 020 7486 8077. If heading to the mountains for skiing, consult the European Avalanche Warning Services.
Due to the increasing number of climbers and skiers who get into difficulties due to negligence, Catalonia has begun to bill those who do not take adequate precautions and require rescuing.
Forest fires are common in summer months. Be extra cautious when using cigarettes and glass bottles, and never leave them behind. Causing a fire is a criminal offence even if unintentional.
There are numerous rules regarding driving in Spain, be sure to check you have all necessary equipment before hiring a car. The FCO website is a good place to start. Note: it is illegal to use a mobile phone when driving in Spain, even if you pull over. Completely hands-free units are permitted.
Be careful when driving in rural areas, especially in the mountains. Many remote roads are unlit and even unpaved – with switchbacks making driving tough.
Our top Spain Vacation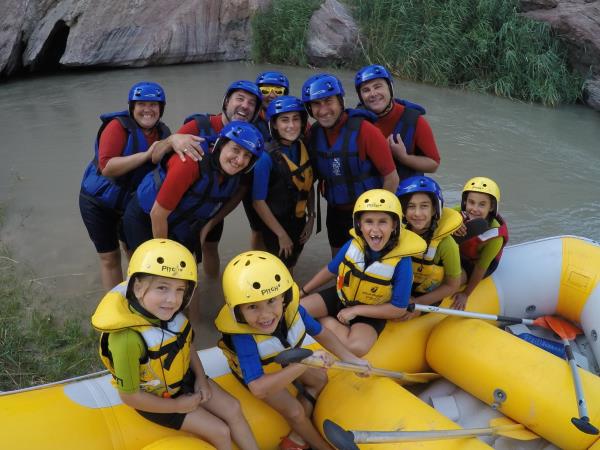 Multi-activity family vacation in the Spanish Lake District
From
€

450

to

€

700
8 days
ex flights
Tailor made:
This vacation is available April to October and can be tailor-made to suit your requirements.
If you'd like to chat about Spain or need help finding a vacation to suit you we're very happy to help.

Spain tips from our travelers
At Responsible Travel, we think the best people to advise our travelers are often... other travelers. They always return from our tours with packing tips, weather reports, ideas about what to do - and opinions about what not to.

We have selected some of the most useful Spain travel tips that our guests have provided over the years to help you make the very most of your vacation - and the space inside your suitcase.

If you are going to seriously botanise - then April or early May would seem to be the best time. Much of the plant life was already burned off in early June.

Book an entrance ticket to the Alhambra on-line well in advance if possible. – Terrie Robinson

Use local services, markets and restaurants. They are cheap, friendly and good quality. - Simon Nicholson

Be ready to experience the real Spain - and practice some Spanish - away from the hordes of UK package tourists. - Kerrie Jopling

Everyone was very friendly and helpful and the old man in the local supermarket even used Google Translate to help us work out what we were trying to ask for! - Jackie Day

Take your walking boots - you can walk all day without seeing anyone.

Be prepared for a simple and relaxed pace of life with little compromise to modern tourism. - Anthony Bullin

The weather was dreadful… However it didn't matter. Being forced to sit in village bars, drink beer and eat tapas chatting with whoever might be around was an absolute delight! We even slept snuggly in the sitting room next to the fire one night as the rain hammered on the roof tiles... excellent. - Anna Fox

Be prepared for the lack of 'los servicios' on the walks (girl thing!). Pack a few cereal bars/oat cakes as back-up's to what's basically a meat and carbs diet! If you don't eat red meat, be prepared for Ham being treated as Not Red Meat! - Ros Perryman

Take day trips early morning or late afternoon as it can get quite hot. - Caroline O

Meals are served at local restaurants or Tapas bars late so young people may be tired after a long and busy cycling day - Susan Levy