Traveling in Spain with kids

Venture beyond the Costas and you'll find a family-sized welcome for little ones - and activities to keep kids and their parents entertained.

Active teenagers will enjoy mountain biking, rafting, kayaking and canyoning, while the more culturally-minded can get stuck into life in the pueblo – shopping at local markets and picking up Spanish words along the way. There are horses to ride, flamenco dresses to gawp at, natural pools to swim in and some impressive wildlife to track down. And at the end of the day, there's also likely to be a swimming pool – or a sandy beach to dig around in. Don't worry about whether there's any British restaurants nearby – Spanish food is child friendly, as are the restaurants; you'll see toddlers out and about at 10pm.
Our Spain family Vacations
Activities for families in Spain
Stay in a cave!
Surrounded by gorgeous natural parks, natural pools, horse riding trails and tiny traditional villages, the cosy cave houses of Granada make an excellent base for adventure or culture vacations for those traveling in Spain with kids. The inside temperature remains pleasantly cool year-round.
Watersports
There's more to Spain's water activities than swimming pools. Try whitewater rafting or open kayaking on the rivers of the Pyrenees, kayaking around the turquoise lakes of the Andalucian Altiplano or even sea kayaking off the coast of Cabo de Gata.
Cabo de Gata
Cabo de Gata, famed as the setting for "Spaghetti Westerns" due to its bizarre desert landscape, is a great choice for families seeking something a little different. Dry weather is virtually guaranteed, but the coastal location keeps it slightly cooler than the rest of the province. As well as exploring Europe's only desert, kids can visit the genuine Western film sets in Mini Hollywood.
Our top Spain family Vacation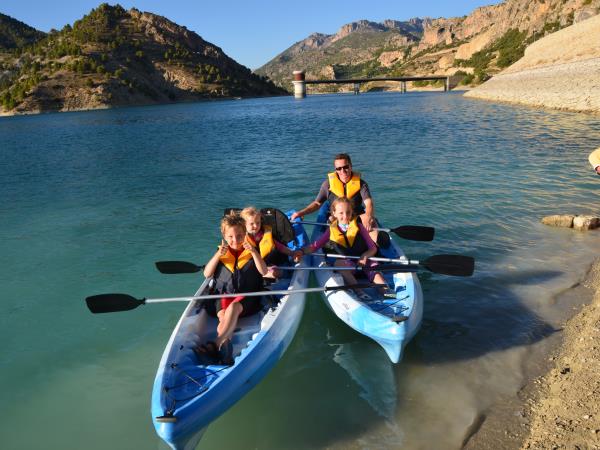 Multi-activity family vacation in the Spanish Lake District
From
€

450

to

€

900
8 days
ex flights
Tailor made:
This trip is available during UK and Ireland school vacations only and can be tailor-made to suit your requirements.
If you'd like to chat about Spain or need help finding a vacation to suit you we're very happy to help.

Responsible Travel asks the experts
Tom Powers, from our supplier Pura Aventura, shares his advice on traveling in Spain with kids:
"Kids being up at midnight in a restaurant is perfectly normal and accepted. When I go to Spain with my young children, within about a day they're on an adult timetable. It can be difficult for parents who think "What do we do – we're feeding the children now, but then how can we go out after – bedtime is at eight o'clock, so they'll be asleep by then…" But in Spain, they do what you do, at the times you do it. So the conflict of trying to make sure everyone's in bed at the right time disappears; everyone goes to bed at midnight or one o'clock. I find that kids step right into that and they love it. The Spanish don't separate the kids from the adults – and that makes it a wonderful stress-free experience as a parent."
Andrew Appleyard, from our supplier Exodus, shares his top tip for traveling to Spain with kids:
"A great area for families is the Picos de Europa in northern Spain. You can get the ferry to Santander which works well, and you've got good accommodation, great cities like Bilbao, wonderful museums... On that coastline there is lots of family-run, small accommodation, all locally owned. So the Picos is absolutely fantastic for families, but also accessible – you can take the car on the ferry so the packing is one less thing to worry about! So that's one of my top picks."