Tips for the first time traveler to Spain
Spain is a magnet for package vacations and city breaks, but that doesn't mean it's just about beaches and Barcelona. Down the coast from the high rises, there are quiet coves and fishing villages. In the interior, hillsides ring to the sound of cowbells and towering mountains rival the Alps for scenery, hiking and cycling. And then there's the wildlife: think whales, bears, wolves, endemic lynx and some of Europe's most spectacular bird watching.

Stunning views, beautiful sunrises and sunsets, crystal-clear night sky, amazing accommodation and great activities (kayaking, rock climbing, horse riding, milking a goat (!) and making cheese and bread).

– Nick Levitsky on our Altiplano de Granada activity vacation
That's not to say that you should shun the tourist draws altogether. This is, after all, your first time in Spain and sights such as the Alhambra and Gaudi's La Sagrada Familia are popular for a reason. Just be aware that high-season crowds can take the shine off. Whatever you go for, getting around won't be a problem. Spain has excellent roads and train links, while tours will get you doing everything from kayaking the coastline to exploring the Catalan countryside on horseback.
Nature & wildlife
Ornithologists know that Spain has some of the best bird watching on the Continent. The high peaks of the Pyrenees are home to the magnificent lammergeier (bearded vulture), while Aragon is popular with birders for its vulture population. Over half of the world's population of nature's heaviest flying bird, the bustard, lives on the Iberian steppes.
For a truly wild adventure, hike through the mountains with a specialist guide in search of wolves. The best places to see these elusive creatures are the mountains of the Sierra de la Culebra, Cordillera Cantabrica and the Picos de Europa.
One of Spain's greatest wildlife spectacles is the pods of whales and dolphins that can be seen along the coastline. Over 30 cetacean species live in or pass through Spanish waters. The best place to see them? The Straits of Gibraltar and around the Canary Islands.
Once upon a time, the sight of Iberian lynx hunting on the plains would have been a common sight. Today, however, this elegant feline is the world's most endangered cat. The population is recovering thanks to a breed and release programme, and you can now see Iberian lynx in the wild at Sierra de Andujar National Park.

A male lynx walked right next to us! To see one of the rarest and most endangered species of wild cats on the planet so close was a truly amazing and memorable experience.

– Marie Aude Danguy on our Iberian lynx watching vacation in Spain
Language & culture
One of the most fascinating aspects of Spain is the diversity of its people. Fierce regionalism prevails, showcased through local festivals, typical dishes, music and dance. At least 90 percent of the population speak Castilian Spanish as a first or second language. Catalan is spoken by about 17 percent of the population, while seven percent speak Galician and two percent speak Basque. Other recognised regional languages include Aranese and Asturian. For truly excellent snacking, tapas or pintxos (the Basque version of tapas) are a must. The best tapas are found in Andalucia, where tapas originated, while San Sebastian's Old Quarter delivers the pintxos crawl of dreams. La Rioja, in the north, is Spain's best-known wine-producing region, while Cava is well-known worldwide as an alternative bubbly. But there's far more besides. Try the regions of Ribera del Duero (in Castilla y Leon), Navarra and Somontano for reds. For white wines, the Ribeiro wines of Galicia are excellent. Take a wine tour if possible; the vineyards are the best places to buy exceptionally cheap yet delicious local wines. Siesta takes place from 2pm to 5pm every day, particularly down south, and many shops close on Saturday afternoons, reopening on Monday. During the height of the Andalucian summer, many smaller shops will only open in the mornings, even in cities. Madrid is a city for art lovers and has one of the best collections of galleries and museums in the world. The Museo del Prado is home to works by Goya and Velazquez, while the Centro de Arte Reina Sofia proudly displays works by Picasso, Dali and Miro.
Travel requirements
At present, citizens from Australia, Canada, UK and the USA can enter Spain without a visa for stays of less than 90 days. From 2022, tourists will need to register with ETIAS (European Travel Information and Authorisation System), a travel authorisation for visa-free visitors similar to the American ESTA.
You need to have at least six months left on a passport to travel to Spain.
Standard primary vaccines are recommended for travel to Spain. You could also consider getting a tetanus jab, depending on the sort of activities you plan to do. Read more about health advice for Spain at Fit For Travel.
Andrew Hawkins on our Spanish course and walking vacation in the Picos de Europa: "All of the walks were spectacular, but my best memory was the day a guide took us round a beautiful local farm and into a cider orchard – an excellent opportunity for me to put my Spanish into practice whilst learning so much more about the local culture than I would in any tourist attraction!"
Our top Spain Vacation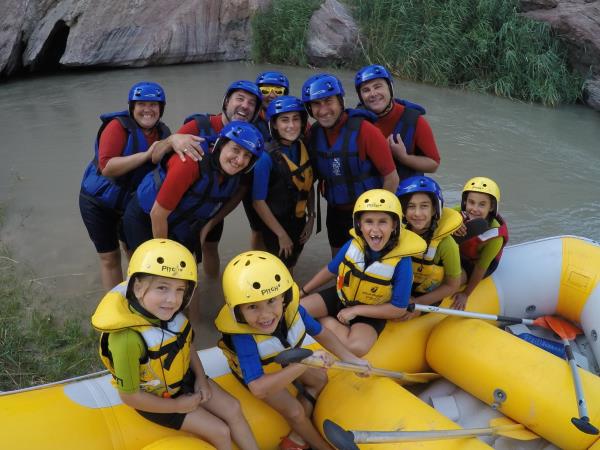 Multi-activity family vacation in the Spanish Lake District
From
€

450

to

€

700
8 days
ex flights
Tailor made:
This vacation is available April to October and can be tailor-made to suit your requirements.
If you'd like to chat about Spain or need help finding a vacation to suit you we're very happy to help.

You're bound to leave Spain feeling like you've barely scratched the surface – there's a huge amount to see and do here. Don't try to race around, seeing as much as possible. Instead, look through our highlights, choose a couple of favourites, and take your time to really enjoy your destination.
Almeria Province
It's rumoured that this balmy corner of Andalucia has the best climate in Europe, with 300 days of sunshine a year. This makes it ideal for off-season walking breaks, where you can wander deserted beaches, vast mountain valleys and semi-desert scrublands. Then there's Nijar National Park in Cabo de Gata – a stunning land and marine park with barren wilderness walks.
Basque country
País Vasco – or the Basque Country – is an enticing blend of tradition and modernity. Culturally closer to the French Basque Country than the rest of Spain, its language is unrelated to any other. Bilbao is a vibrant city with the distinctive Guggenheim; San Sebastian sits on a beautiful bay; and Guernica is immortalised in Picasso's shocking painting. The region is famed for its tasty pintxos, meaty stews and excellent cider.
Balearic Islands
It's easy to escape the superclubs and crowded beaches of this Mediterranean archipelago: just head to the hills or the more remote coastlines for tranquillity and fresh air. Here, you'll find vineyards, traditional whitewashed guesthouses, medieval villages and olive groves. Ibiza may be the jewel in tourism's crown, but Majorca and Menorca are the best islands to explore
Camino de Santiago
The Camino de Santiago began life as a medieval pilgrimage route to Santiago de Compostela. Today, people come from across the world to walk its hallowed trails. Traditionally, nights would be spent in basic hostels along the route, but these days there are more upscale options available. This means you can enjoy the classic landscapes and historic hotspots safe in the knowledge that you have a comfy bed to collapse into at the end of each day.
Catalonia
Catalonian natives see their region as distinct from Spain. This is a country within a country, where Catalan is the dominant language and attractions range from snowy Pyrenean peaks to sun-soaked Mediterranean coves to the lively cities of Barcelona, Tarragona and Girona. Catalonia has its own distinct culinary traditions, and food is simple, seasonal and full of flavour.
Granada
Granada lures thousands of travelers to its Alhambra – a stunning 14th-century palace complex that stands guard over the city and testament to 800 years of Moorish rule. The Islamic stone and tilework are astounding, and the gardens are a tranquil haven away from the noise of the city. Granada's elevated location, tucked into the foothills of the snow-capped Sierra Nevada, make it a cooler prospect in midsummer than its coastal counterparts.
Lanzarote
Plush, eco-friendly digs are the best way to see this spectacularly volcanic island. You can kick back in an off-grid family-friendly finca or a sumptuous yurt with a shared solar-heated pool a short stroll from a quiet beach and a traditional fishing village. Otherworldly lava fields, palm-filled valleys and volcanic vineyards are all there to be explored.
Picos de Europa
Picos de Europa National Park is paradise for hikers, bikers and outdoor enthusiasts thanks to jagged limestone turrets, mile-deep canyons and unexplored subterranean caves. Yet it's surprisingly underexplored. Find isolated yet welcoming villages, fabulous food and the chance to see plenty of wildlife, from chamois goats and bearded vultures to Iberian wolves – and even brown bears.

Roland Cherry, on our wildlife and walking vacation in the Spanish Pyrenees: "We were blown away by the scenery of the Spanish Pyrenees. One highlight was a private vulture viewing: 80 griffin vultures, two Egyptian vultures and nine Lammergeiers. They circled high up above the mountains, scanning the ground below with their keen eyes for the next meal. It was a remarkable sight to behold."
The Pyrenees
The Spanish Pyrenees will leave walkers breathless – and not just because of the steep mountain terrain. There's beauty everywhere you look, including the lush Basque foothills of the west, medieval villages, glacial lakes and cliffside monasteries. The mountains are also ripe for outdoor adventures. There's world-class biking, hiking, climbing, kayaking and rafting, with winter bringing access to hidden snowshoe trails.
Seville
Seville proudly flaunts just about every Spanish cliché – but it's for real. The whitewashed Moorish buildings, streets fragranced with orange blossom, the exquisite Alcazar palace, the sounds of flamenco tapping down from wrought iron balconies, tapas bars on every narrow street corner, and year-round sunshine. It's sultry, seductive and super Spanish.
The cruise industry is polluting much of Spain's coastline with messy mass tourism and fuel, and giant floating hotels spill thousands of passengers onto the streets in a single wave. If you want to take to Spanish waters, stick to a small ship cruise. You'll keep away from massive marinas in favour of small coastal idylls, allowing you to get closer to nature and local people.
Wildfires are a risk throughout the long, hot summer months in forested and countryside areas. Be extremely careful when driving, do not discard cigarette butts and never leave glass bottles lying around, as they can spark a fire in dry vegetation. In some regions of Spain, starting a forest fire – even if it is an accident – is treated as a criminal offence.
All-inclusive resorts scatter the Spanish coastline, but they are best avoided – you'll rarely get the chance to experience the beauty that lies beyond. Their money, too, stays at the hotel instead of making it to surrounding communities – many of whom are in the tight grip of unemployment, recession and urban migration.
We do not support keeping whales or dolphins in captivity. Spain has several dolphinaria with performing dolphins, sea lions, and even orcas. For more information on our stance, and on where to see these marine mammals in the wild, take a look at our dolphin watching guide and whale watching guide.
Regionalism is strong in Spain, particularly in the Basque Country, Valencia and Catalonia. Each of these regions has its own language and unique cultural traditions. Avoiding lumping the regions all together as "Spain" is much appreciated – as is learning a few words of the local language, even if it is just "good morning" and "thank you".
We don't support the idea of killing animals for sport – and anyone taking part in the bull runs is also putting themselves at risk of injury or worse. It is, undeniably, a huge part of Spain's culture and national identity – but if you want to know more, we'd recommend reading Ernest Hemingway's classic 1926 account of San Fermin in The Sun Also Rises or The Story of Ferdinand by Munro Leaf for little ones.
January and February can be very cold on higher grounds and in the north and center of Spain, but in the south and Mediterranean coast temperatures are warm and a lot more bearable than the heat of summer. The Sierra Nevada and Spanish Pyrenees often have snow in March and April. However, lower down the slopes, the rest of the country is starting to warm up, with Andalucia particularly pleasant. April, May and June are considered the best time to visit Spain if you're looking for warmth and fewer crowds along the coast. This is also one of the best seasons for festivals and ferias – from Easter's Semana Santa to flamenco fairs and the castellers human towers of Catalonia. July and August bring the package vacationmakers, as well as all Spaniards escaping the city heat. Avoid the Costa resorts and the stifling warmth of western Andalucia, particularly around Seville. The summer months are lovely in the north of Spain, as temperatures are warm but not scorching. September temperatures are still high, although Catalonia and the north, including Galicia and Asturias, cool down. October finds mild weather in the north of Spain, with temperatures dipping across the country. Andalucia can still be in the 20°Cs, but prepare for sudden downpours. Most tourists are long gone in November and December. If you're looking for a touch of sunshine, then head to Andalucia, where it's still sunny, with the occasional 20°C day.
How long is needed to see Spain?
In two weeks
With a couple of weeks to spare, you could explore in greater depth, perhaps experiencing the best of northern Spain on a
self drive tour
or walking part of the legendary
Camino de Santiago
. Alternatively, cover more ground on a small group exploration of Spain or travel the country
in search of wildlife
.
Three weeks or more
This is where you get to embark on some serious adventures such as spotting whales and dolphins, visiting the Alhambra, and exploring mainland Europe's only desert. If you're up for a serious challenge, then how about three weeks spent punishing your thighs on a
cycling tour of the Camino de Santiago
? Or combine Spain with a neighbouring country or two – perhaps
traveling overland from Madrid to Marrakech
.