Winter vacations in Spain
During World War II, many thousands of people made the risky journey over the Pyrenees from France to Spain to escape the Nazis. They included escaped prisoners of war, downed airmen, resistance fighters and Jewish civilians, and were helped on their way by brave villagers. Living in remote mountain communities, they would share food or hide them for a night at great personal risk. The routes they took became known as the Freedom Trail.

Today, many of these communities, on both the French and Spanish sides of the border, have either been hollowed out or abandoned completely. Residents feel forced to leave their homes and culture in search of better employment opportunities elsewhere in Spain or the wider European Union. It's an old story, but one that really sinks in as you explore underpopulated, sometimes entirely abandoned villages in the Sierra Nevada in Andalucía, or the Spanish Pyrenees.
So beyond promising stunning views and great exercise in fresh mountain air, responsible winter vacations in Spain use local guides, as well as locally owned accommodations and restaurants. This means that they also offer employment and income to many communities that are struggling to survive.

This kind of trip is well-suited to those that like to stay active on their vacations and aren't prepared to let a little thing like snow get in the way. Expect lovely, family run accommodations, guided tours of the mountains led by expert guides that know where all the best viewpoints are found, and plenty of opportunities to sample mountain culture too, most especially the hearty regional cuisine.

The Spanish coast and islands have always been a popular option for sunseekers escaping the cold, grey days back home. But our winter vacations in Spain look upwards instead. Rather than sinking into the sand on beaches that can sometimes get almost as crowded in winter as they can in summer, on these vacations you're encouraged to explore your surroundings on foot or on snowshoe, to drink in that invigorating mountain air, and know you're making a real, positive difference to the communities in which you're staying.
Winter vacations in the Sierra Nevada
Winter walking in the historic Alpujarra region
is about as close to idyllic as you can get in Andalucía at this time of year. You'll explore woodlands, meadows and pastures, almond orchards blooming with pinkish flowers, whitewashed villages, riversides and coastal tracts, all framed against the distinctive backdrop of snow-tipped mountains and plunging gorges characteristic of this part of Spain.
Expert local guides lead small groups along ancient mule paths and footpaths, offering insights not only into Alpujarran nature, but the history and culture of the region. You'll visit remote villages on the Iberian Peninsula, veer off into a little bodega for a spot of wine tasting, have lunch on the Costa Tropical, strap on a pair of snowshoes for the day.
These are week-long tours and every afternoon you'll return to a lovely old guest house that has been carefully restored using traditional techniques. While the in-house chef whips up a gourmet feast to reward your exertions, you can shake off your boots and curl up beside a cosy wood-burning stove with a glass of mulled wine.
Trips usually operate in February, when spring is unfolding in this region, with crisp fresh air and gentle sunshine blowing away the winter cobwebs. You'll stay in a tiny village in a parish known for its artistic activity, particularly pottery, so there will be plenty of opportunities to scout out souvenirs of your stay from local shops. And breakfasts don't come much more local: eggs from the farm, honey from the beekeeper, hams and cheeses from the surrounding area – rocket fuel for your daily walks. In an area where there are not many forms of employment beyond tourism and agriculture, a little spend can go a long way.
Our top Spain Vacation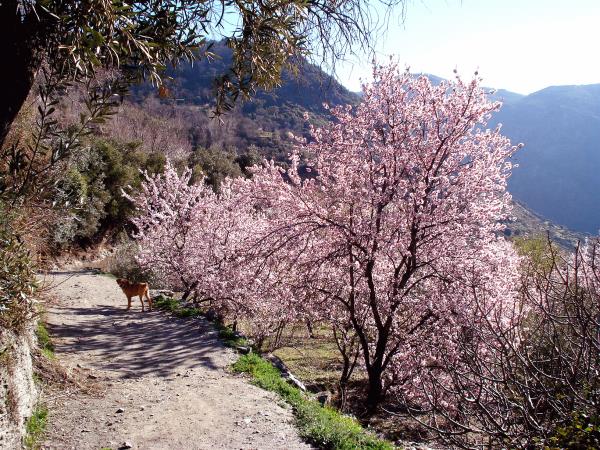 Alpujarra walking vacation: sun, snow, and mountain views
From
€

1395

to

€

1495
8 days
ex flights
Small group travel:

If you'd like to chat about Spain or need help finding a vacation to suit you we're very happy to help.

Winter vacations in the Spanish Pyrenees
The higher reaches of the Spanish Pyrenees are largely closed off to walkers in winter due to snowfall, but that just means it's time to strap on the snowshoes, grip the poles, and head out to explore areas where you can go all day without bumping into anyone else. Small group tours, with numbers capped at between eight and 16 participants, are led by knowledgeable local guides, and accommodated in some lovely traditional guest houses and inns that are usually family owned.
If you're new to snowshoeing then it may look daunting, but if you're a regular walker and reasonably fit you, should have very little difficulty. Essentially, they enable you to walk on top of the snow, sinking down just a few centimetres below the surface, and after a while it will feel completely natural. It can be a little tiring to begin with, so longer snowshoe walks are combined with shorter ones, and some itineraries also alternate snowshoeing with hiking. A few sessions on the cross trainer at the gym before you depart and you'll be flying.
Guided walks range from around three to five hours, perhaps covering 10km or so, and may involve the odd steep sections. But a lot of the time you'll be walking along valley floors or through deep, silent forests of pine and birch. Your guides will be familiar with lesser-known, interesting diversions off main trails and, given that they are usually from the local area themselves, may even introduce you to friends who invite you in for a warming cup of coffee.
In the Pallas Sobira region, much of which is a nature reserve, you'll pass old shepherds' huts, and the remains of villages destroyed in the Spanish Civil War. In the Huesca province you'll hike in the Sierra de Guara Natural Park, up to rocky outcrops overlooking ice-blue lakes and Moorish citadels, and
snowshoe through the Ordesa National Park
, which provides fertile habitat for many butterflies and over 170 species of bird, including golden eagles and rare bearded vultures. And in the
Aisa Valley
, you'll find the last refuge of the Pyrenean brown bear and five quiet valleys that offer a
wide variety of snowshoeing routes.
Avoiding the busier parts of the Pyrenees during the ski season, you'll visit Romanesque churches and monasteries, and cheese producers who will pair their samples for you with traditional wines. On a free day, you might wander round towns such as Sort, which has a fascinating museum detailing stories of those who made their escape to Spain over the Freedom Trail, many of them wearing snowshoes themselves, no doubt.
Family skiing in Spain
Uncrowded lifts and slopes, hearty mountain cuisine, and 70km of pistes ideal for beginners to intermediates can be found in the resort of Cerler, the highest in the Spanish Pyrenees. Known as 'the Hidden Valley', as not many people make it so far up, Cerler tends to be pleasantly quiet and so perfect for families.
Cerler does use snow cannon to produce artificial snow when the real stuff is thin on the ground, which is
not something we support
. But week-long family ski vacations in the Pyrenees typically operate between Christmas and late March, when there is the best chance of natural snow. Moreover, when there are low levels of the white stuff on the slopes, responsible tour operators arrange alternative activities nearby including snowshoeing, husky sledding and Nordic skiing.