Spain is huge and varied - its climate ranging from desert to tropical to downright British.

Year-round, there will be an ideal region for your Spanish vacation. Spring and autumn are generally the best time to visit Spain, with sunshine but not hellish heat, and you'll miss the summer crowds. Parts of Andalucia are blissful in winter – you can ski mountain slopes and sunbathe on a beach in the same day. For midsummer activity vacations, avoid the ovenlike south and humid east – and head north, to Asturias, Galicia or the Pyrenees. Fiestas happen all year and every village has its own celebration – flamenco, (toy) goat-throwing or tomato tossing – so time your trip to see one.
Picos de Europa Weather Chart
Although January and February can be extremely cold on higher grounds and in the north and center of Spain, the south and Mediterranean coast experience temperatures that are a lot more bearable than the frightful heat of summer. The Three Wise Men - known locally as Los Reyes Magos - visit on the night of 5th January, with processions across the country featuring dancing 'Bedouins', floats and sweet-throwing. Children wake up on 6th to find their shoes filled with presents. Traditionally, this day was more important than Christmas; although things are changing, you will still find this is a public vacation and many places will close. So cosy up - and leave your shoes out... The Sierra Nevada and Spanish Pyrenees often have snow covering in March and April however, lower down the slopes, the rest of the country is starting to warm up with Andalucia particularly pleasant, and the fragrant orange blossom emerging. April, May and June are considered the best times to visit Spain if you're looking for warmth and fewer crowds along the coast although northern regions around the Basque Country and Picos de Europa will still find changeable conditions so pack for every eventuality. Spring and early summer is also one of the best seasons for festivals and ferias - from Easter's semana santa to local flamenco fairs and the incredible castellers human towers of Catalonia. Ask your vacation company or accommodation about what's going on - and try and catch a fiesta or two! July and August bring the package vacation makers as well as all the Spaniards escaping the city heat, so avoid the Costa resorts if you can as well as the stifling heat of western Andalucía, particularly around Seville and Cordoba. The summer is actually the best time to visit the north of Spain as temperatures are warm without being too oppressive and you can be walking one moment and then at the beach the next. September temperatures are still up there although Catalonia and the north, including Galicia and Asturian, are starting to soften with the autumn generally thought of as the best time to visit Spain as an alternative to the spring. October finds typical British-style weather in the north of Spain with temperatures dipping across the country. Andalucia can still be in the 20s at this time of year - but do brig a brolly. Downpours can be sudden and fierce. November and December allows Spain to return to normal without the tourists and if you're looking for a touch of summer sunshine then head to Andalucía, where sunshine is abundant and while temperatures can dip, you'll still get the odd, glorious, 20-degree day. Siesta time takes place from 2pm – 5pm every day, particularly down south, and many shops close on Saturday afternoons - reopening on Monday. During the height of the Andalucian summer, many smaller shops will only open in the mornings - even in cities. To be fair, shopping will be the last thing on your mind once it tops 40.
Our top Spain Vacation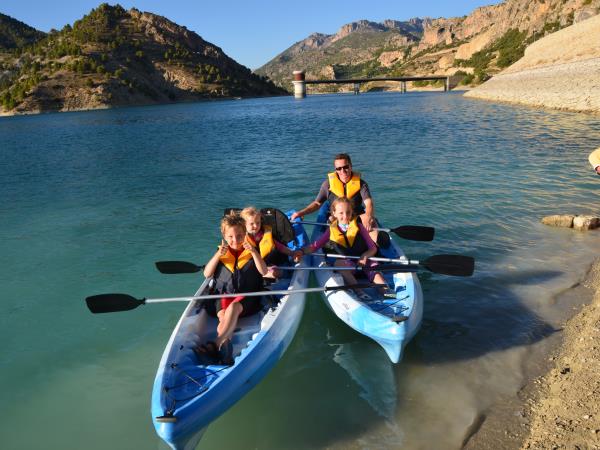 Multi-activity Family vacation in the Spanish Lake District
From €396 to €607 8 days ex flights
Tailor made:
This trip can be tailor made throughout the year to suit your requirements
If you'd like to chat about Spain or need help finding a vacation to suit you we're very happy to help.

Responsible Travel recommends
Paul Fellows, from our supplier Walk Andalucia, shares his best time to visit Spain – especially the south: "For walking in Andalucia, we'd recommend coming between September and May, this is when we run our tours as it's too hot between May and September. December and January are the coldest months, but worst case scenario you'll be down to seven or eight degrees. But if the sun is out during the day, it can get up to 20 or 25!"

Andrew Appleyard, from our supplier Exodus, shares his best time to visit Spain for bird lovers:
"The best part about going to southern Andalucia is sitting down and watch the bird migration. All the birds get up into the thermals above Africa or above Spain, then they just glide the seven miles across the Strait of Gibraltar in May on the inbound, and September to October on the outbound. You'll see all the big birds of prey going up, then they just glide all the way across and land on the beach on the other side. It's quite beautiful."
Festivals & events in Spain
Easter Week
During Semana Santa (Holy Week), elaborate floats containing holy figures are paraded through towns across Spain. Some weigh over a ton; those carrying them train throughout the year. Penitentes bear crosses, and nazarenos wear robes with disturbing conical hoods. Seville has the most famous displays – but these result in horrendous crowds and its main attractions being closed off. Choose a smaller town with more intimate celebrations – people enjoy the processions for the spectacle as much as for the religious aspect.