Winter vacations in Italy
"The Dolomites is the single most attractive mountain range in the world." David Kay, from our partner Ramblers Walking Vacations, speaks with confidence. "For a start, you have these spectacular and unique rock formations like the famous Tre Cime di Lavaredo. And it's so easy to get around, with a fantastic transport infrastructure and paths, and mountain huts where we'll often stop for a cup of tea."
A UNESCO-protected landscape, the Dolomites range feels distinct to other parts of the Italian Alps: brimming with South Tyrolean culture but still with a host of winter activities to enjoy in forests and valleys blanketed in thick snow, from snowshoeing to cross country skiing. Vacations here are typically small group affairs. These are landscapes where you really want to get out exploring in remote wildernesses and to do that, you need an experienced professional guide. One who can keep you safe and plot the best routes every day based on what the weather is going to do. Itineraries have been honed over the years to ensure that routes are manageable for anyone with reasonable fitness, with rest days often factored in.
Our
winter vacations in Italy
depart from eco-unfriendly downhill skiing and the raucous après-ski culture that usually comes with it. They are also rarely for families with children under 12, as most activities require a fair bit of exertion to keep up with the rest of the group. But if you want fresh Alpine air in your lungs every day, pristine natural surroundings to roam, and small, traditional communities to accommodate you, then you'll be in your element.
When to take a winter vacation in Italy
The inverno season runs from December to April, with most small group trips taking place between January and March when the snow carpeting the Alps is thickest and the choice of activities at their peak. Our Italy vacation experts recommend layering up, as although temperatures can drop as low as -10°C the air is nice and dry. You'd be wise to pack sunglasses and sunscreen too, because the Dolomites get 8-10 hours of sunlight every day.
Where to go on winter vacations in Italy 
The Italian Western Alps form a natural barrier along the French and Swiss borders, while those in the east – of which the Dolomites are a part – border Austria, as well as the Bavarian Alps in Germany and the Julian Alps in Slovenia. Some trips, such as ski touring expeditions, will take you across borders.

St. Zyprian is a great base for winter walking and showshoeing. In just a few minutes you can be off-piste and immersed in tranquil wilderness, the only tracks in the pristine snow left by birds and foxes. "I love the way snowshoeing slows you down: the better to embrace the stunning views," says David. "You know you're the first person to see them that day because the snow is completely untouched. It's a great feeling."
And it's easy to reach flight-free. "You can get to Verona in two days from the UK," adds David. "Paris to Verona, then it's just up the valley. We're happy to help with all the advice anyone needs on coming by rail. Then once you're here we always prioritise accommodation that has excellent access to routes with minimum travel required. And in St. Zyprian, our local guides get you onto routes directly from the hotel so there is no waiting around, though we will sometimes jump on the public bus, carrying our snowshoes with us."
As with every trip that Ramblers Walking Vacations offer, their winter Dolomites trips provide funds for the Ramblers Association to help with trail maintenance, education and improving access for walkers around the UK.
Dobbiaco, close to the magnificent Val di Landro, is an internationally renowned hub for cross country skiing with no end of trails (loipes) available. Your guide might lead you off to the iconic peaks of the Tre Cime di Lavaredo one day, the Plaetzwiese plateau the next, or to the famous town of Cortina d'Ampezzo – 'Queen of the Dolomites' – which hosted the Winter Olympics in 1956. This is a lovely spot, with a coffee or a classic bombardino in hand, to watch the spectacle of enrosadira as the rocky cliffs surrounding you take on beautiful pinkish hues in the sunset.
Snowshoeing is also popular in beauty spots such as Val Badia and Val Pusteria, where the old trails were in use during World War I, and around Fanes-Senes-Braies Nature Park, where the mirror-like surface of Lake Braies reflects the serrated peaks encircling it.
Our top Winter Vacation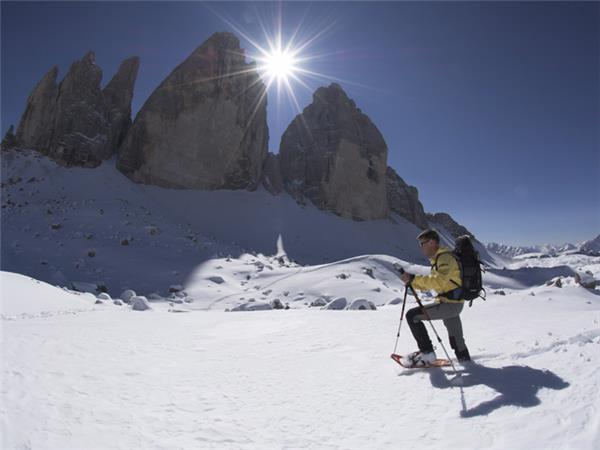 Michelin recommended cuisine & inspiring walks
From
US $

2349

to

US $

2679
8 days
ex flights
Small group travel:
2023: 19 Dec
2024: 20 Jan, 27 Jan, 3 Feb, 10 Feb, 17 Feb, 24 Feb, 2 Mar, 9 Mar, 16 Mar, 23 Mar
If you'd like to chat about Winter or need help finding a vacation to suit you we're very happy to help.

Winter vacation activities in Italy 
If you've never gone snowshoeing before then you may be under the impression that it still involves plodding along with a pair of old tennis racquets strapped to your feet. In fact, on arrival at your accommodation you'll be handed a set of lightweight aluminium footwear (though still recognisably tennis racquet-shaped!) and poles that will allow you to traipse across even the deepest of snow with ease. In many cases there will be trails right on your hotel's doorstep, so you can go for a wander at any time. Beginners are more than welcome and it takes very little time to get used to walking in snowshoes on the flat "with a John Wayne-style gait", as David puts it, but it won't hurt to put in a few hours on the cross trainer before departure.

Cross country skiing is another popular winter activity in Italy. Also known as langlauf, it sees you equipped with long, narrow skis and lightweight boots that allow your heels to move freely. It's an eco-friendly alternative to downhill skiing in that it doesn't require either vast areas of piste being flattened, or vast quantities of water being consumed to produce artificial snow, which is a growing concern.

Cross country skiing usually follows flat routes through forests and valleys that are hiked in the summer months, taking you well off-piste. It's less about building up a head of speed, and more about getting a full cardio workout. Again, your body will thank you if you double up your gym sessions in the month before you go.
More adventurous skiers can also opt for a ski touring trip, taking in the Austrian and Slovenian Alps as well as the Dolomites. These are tailor made vacations, so routes can be adapted for beginners and families just as well as for more advanced practitioners.
Easy on the après-ski – on winter vacations in Italy your evenings will be spent at your hotel or guesthouse in small traditional communities a world apart from the major resorts. You'll sometimes have the option to eat in or dine out at a locally owned restaurant. And given that you'll have built up quite the appetite every day, you can dig in with no guilt whatsoever to South Tyrolean mountain cuisine typically composed of local game, dumplings, speck ham and delicious apfelstrudel (yes, they make it here too). Indulge yourself; those calories will come in useful the following day.