Winter vacations in Finland
In the northerly reaches of Finnish Lapland, and with zero light pollution once you leave your village, your chances of witnessing the Northern Lights (aurora borealis) are very high. "Everyone knows this is a wonderful place to see the Northern Lights, but there is so much more to Finnish Lapland than just that," says Riitta Kiukas, founder of our Finland specialists Skafur Tour. "We have eight seasons here, and what that means is there is a constant sense of change: nature, light, colours, and animal behaviours – and, of course, activities for travelers."
Long a favourite for
family winter vacations
, Finland is where you come if you'd rather round up a team of huskies than a bunch of last-minute gifts on the high street. It's where you can watch the aurora borealis race across the night sky instead of spending hours unspooling a string of Christmas tree lights. And where the chance to meet Santa Claus in his grotto might just be the least exciting part of your trip.
If you can't stand being confined in the winter months, you'll adore the sense of space you can find in Finnish Lapland and how easily you can leap into complete wilderness. There's a veritable
smorgasbord
of activities to enjoy up here: snowshoeing through forests where the tree boughs droop with snow, fishing through holes carved in frozen lakes, and thrilling snowmobile safaris are just the start of it. Cross country skiing is practically ingrained in the culture, with generally flat landscapes making this a perfect place for beginners to learn the ropes.
Travel with our responsible tour partners and your introduction to Finland in the winter goes well beyond simply getting your kicks in the snow. The population is sparse this far north and that makes encounters with local people warmer and more valuable. "A lot of guests have told me that the further into the wilderness you go, the more friendly the people get," says Riitta. "Part of that, I suppose, is that in more commercial places like big ski areas, the locals just don't have the time to connect with visitors as much. It's a different experience."
Visiting a reindeer farm, perhaps combined with a sleigh ride, is a popular activity for visitors, and the only people allowed to herd reindeer here are the indigenous Sami.
Riita Kiukas prides herself on the local connections she has established: "I have a handful of very good contacts with Sami people in places like Inari and Ivalo. One has a reindeer farm but also an art gallery. She's wonderful and offers my guests a really unique experience, teaching them to sing joik and about Sami beliefs, gods and holy places. There's also a young family of reindeer herders I know who live in a beautiful wooden house by river, and they give us private tours to explain about Sami culture and herding."
Our Finland winter vacations ensure that Sami communities benefit financially from your visit while you gain authentic insights into ways of life, culture and traditions in this remote region.
When to take a winter vacation in Finland
The long winter season means that trips here can run from November all the way through to April; head to our
Finland winter vacations travel guide
for more detail. Finns themselves head north from March onwards when it's warmer, the days are longer, and as Riitta points out, "You can be active all day from 6am until 10pm." Winter temperatures in Finland can drop as low as -35°C, with December to mid-January the coldest, darkest months. Activities really hit their stride between then and late February.
Where to go on a winter vacation in Finland
Want to know where to base yourself for a winter vacation in Finland? Ask a local expert, like Riitta Kiukas, who can recommend just the place depending on your travel dates, the type of activities you want, and the sort of atmosphere you're looking for.

If you want to go north then head to Ivano. "Ivalo is a key Lapland destination, with the northernmost airport in Finland, and there you have important Sami communities in Saariselkä and Inari. There are a lot of lovely wilderness hotels by Lake Inari and in the hills, and it's one of the best places for observing the Northern Lights as your chances are better the further north you get."

Salla in south-east Lapland is loved by families, with log cabins, reindeer farms and husky safaris within walking distance. Kilpisjärvi, where Finland, Norway and Sweden meet, is very far north but an entirely different landscape, with higher mountains and vast expanses. "It's ideal for adventurous couples and families, and has snow until the end of June."
South of the Arctic Circle and Lapland, and closer to Helsinki, Hossa National Park has cross country skiing loipes that take you through ancient pine forests, from one wilderness hut to another, many of them invitingly equipped with saunas. Ski touring is also popular in Kalevalsky National Park, on the border with Russia, while there is a fab range of winter activities in the Oulanka and Riisitunturi National Parks, where you'll see barely another soul for the duration of your trip.
If you want to experience authentic Finnish culture then you will want to avoid Rovaniemi. The Santa Claus village is just outside the city center and visits to the benevolent bearded one are often a part of whistle-stop Christmas trips that pack in a number of other classic activities such as husky sledding, sometimes in just a long day trip. Environmentally friendly and culturally enriching, these trips are not.
Our top Winter Vacation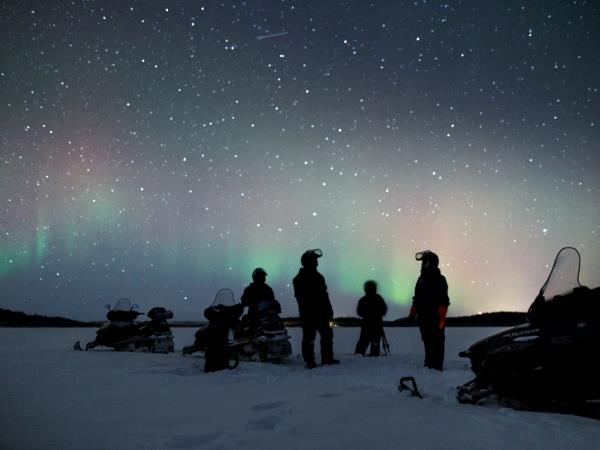 Winter activities & Aurora hunting in Finland
From
£

1785

to

£

2010
5 days
inc UK flights
Small group travel:
2023: 28 Nov, 5 Dec, 12 Dec, 19 Dec
2024: 2 Jan, 9 Jan, 16 Jan, 23 Jan, 30 Jan, 6 Feb, 13 Feb, 20 Feb, 27 Feb, 5 Mar, 12 Mar
If you'd like to chat about Winter or need help finding a vacation to suit you we're very happy to help.

Winter vacation activities in Finland
If you want to see the Northern Lights, then a stay in Finnish Lapland will improve your chances greatly. An evening in a wilderness cabin is a popular activity – if you go early on in your trip you can visit again if the lights don't make an appearance. In the depths of winter when it's dark most of the time, you could head out just a little way from your accommodation on skis or snowshoes to try and see them. You won't need torches because the snow is so bright.

Snowshoeing, if you've never tried it, is as easy as it is fun. It will take you around 10 minutes to get the hang of it, after which you can follow your guide through pristine expanses of snow. As with cross country skiing – another ever-popular activity here – a few hours on the cross-trainer in the gym before you go, or a bit of hill-walking, won't go amiss.
Husky safaris tend to be one-day experiences, during which you'll learn to pilot and mush your own team of sled dogs. There are also some amazing longer trips – you'll journey between wilderness cabins and lodges, taking responsibility for your team and, in all likelihood, learning enough about their distinct personalities to give them all their own nicknames. If you tear up when it's time to say goodbye, blame it on the wind.
These – along with activities such as learning to fish through holes cut in frozen lakes, reindeer sleigh rides, and wilderness skills taught by expert guides – tend to be the classics on most trips. But there's plenty more for those who are interested: exploring Sami culture; snowmobile safaris; ice swimming – brrr; and sampling local delicacies such as fried lichen can all feature on a tailor made itinerary.
And while the temperatures can plunge to well below zero in the Arctic winter, you don't need to worry about bringing stacks of cold weather clothing with you – vacation companies keep a good supply of the essentials to hand out on arrival.