Winter vacation destinations
---
SNOW GLOBE
The wonderful thing about winter vacation destinations that are not all about downhill skiing is that you immediately tie in with local traditions and culture. Getting back to nature in winter is what people in Norway, Sweden and Finland, for example, have been doing for generations. Enjoying winter is not about adrenaline kicks for most people, it's about seeking wellness in a winter wilderness. Breathing in the beauty of stillness. Seeing wildlife in their winter habitats. And shedding our digital distractions for snowy paradises and ancient cultural traditions, from the Cairngorms to the Carpathians, Finland to the French Alps, Lapland to Iceland.
Map key
---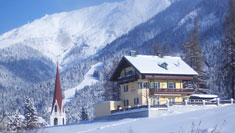 Cross country skiing, Austria
The love their spa hotels in Austria, and you'll sink into their saunas with gusto after a day of cross country skiing in the Seefeld region, with over 300km of trails. This region has hosted the Winter Olympics twice, so they have the X-factor when it comes to X-country. Head even more off piste further south, with snow blanketed meadows and chocolate box beauties in the Stubai and Zillertal mountains.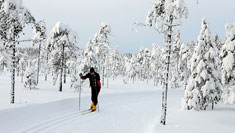 Cross country skiing, Finland
Finland is far out. So far out it feels frozen in time, particularly the untouched heathlands, icy lakes and crisp white forests of the Hossa NP, superb for serious ski touring along the Russian border. Or Pallas-Yllästunturi NP where 350km of hiking trails through forests and fells transform into sublime cross country skiing trails for several months of the year. All glistening under the Northern Lights.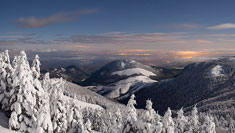 Cross country skiing, France
Head away from the downhill skiing brigade into the Pyrenees NP, a veritable cross country skiing Shangri-La. Known for having some of the sunniest winter days, you will certainly be beaming as you traverse the 100km of trails around the 1400m-high plateau of the Cerdagne and Capcir regions. This is blissful, snowy solitude. The UNESCO site of the Cirque du Gavarnie is perfect for serious ski touring expeditions.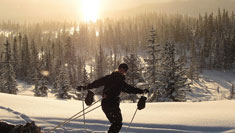 Cross country skiing, Norway
Norwegians take cross country skiing seriously, nowhere more so than Lillehammer, home to the 1994 Winter Olympics. From here,spread out into a land full of cross country trails, with a plethora of highly trained guides to lead you through the likes of the 70km Peer Gynt Trail, the exquisite Espedalen Valley, and the neverending Rondane and Jotunheimen NPs. Nordic skiing. Welcome to its birthplace.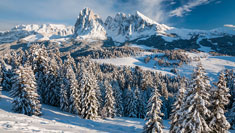 Cross country skiing & snowshoeing, Dolomites
It won't be your ski goggles that make the Dolomites look rose tinted against winter blue skies. Especially when you traverse them on cross country skis or snowshoes, taking on the Alta Pusteria region where trails take you through the Three Peaks Nature Park and UNESCO site. Or snowy shadow of jagged peaks such as Tre Cime de Lavaredo, Strudelkopf and Durrakopf. This is #nofilter nirvana.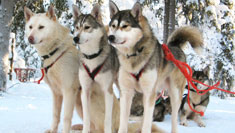 Husky safari in Finnish Lapland
Arctic wilderness is crisp and crazy fun in Finnish Lapland, with Pallas-Yllas National Park home to some of the most magical mushing you will find. This is a dog lovers' dream, being whisked through snowy meadow, woodlands and frozen lakes by your own team of 4-6 huskies, covering distances between 25-40km daily, staying in wilderness cabins along the way. Lapland is not just for Christmas. It's for life. Because this is living.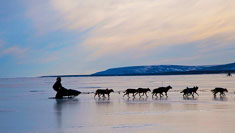 Husky sledding in Canada
Also known as 'mushing', head to Yukon way up north to get a really authentic experience of this tradition, where you can dip your paws and just do a four-day expedition, or follow what novelist Jack London famously called 'The Call of the Wild' and head off for a couple of weeks, staying in lodges or winter tents. Ontario's Algonquin Provincial Park is another popular spot and not quite so far out there.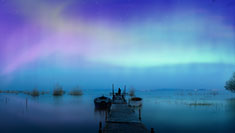 Northern Lights in Finland
Finland flickers furiously with these ravishing rainbow rods in winter. Such as in the Sámi territories of Lake Inari and Menesjärvi where, if you catch them reflecting off the lake, you'll understand why they are spiritual for this indigenous people. Go cross country skiing to see them through the far out forests of Oulanka NP or, just 90 minutes from the Arctic Circle, Luosto is the leaping-off point for tripping the light fantastic.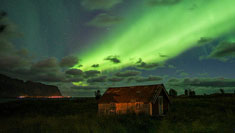 Northern Lights, Norway
Although Tromsø is the "Arctic capital" and leading lights destination, escape the coachloads following the lights by heading into remote Sámi territory, such as Karasjok. Combine the natural awesome of the Aurora with the cultural awesome of indigenous villages. More wonders await in the Lyngen Alps, flanked by two fjords, or the Dividalen NP where, if the lights don't shine, nature is still resplendent.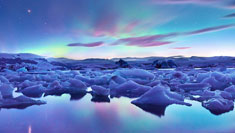 Northern Lights & snowshoeing, Iceland
You get three for the price of one in Iceland. First, the clarity of the skies makes it one of the best Northern Lights viewing places. Second, some of the world's most spectacular volcanic terrain, such as Kirkjufell Mountain, rises up in perfect juxtaposition to the Aurora. And third, the coastal snowshoeing trails alongside geysers, glaciers and geothermal pools are unique. The Northern Lights are just the icing on the cake.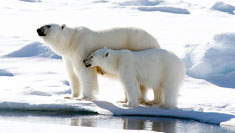 Polar bears
The beginning and end of our winter is best time for this ultimate winter experience, in Churchill, Canada, just south of the Arctic Circle. Around end Oct/beginning Nov, polar bears move from land to sea in search of seals in Hudson Bay. Come in March for the once in a lifetime treat of seeing newborn cubs and mums emerge from their snow holes. Book early for this winter awakening. It's a rare treat.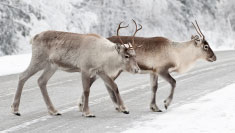 Winter activities in Swedish Lapland
The Northern Lights are the big pull in Swedish Lapland, but other highlights include tucking up in a cosy tree hotel overlooking frozen woods, horseback riding through boreal forest or cross country skiing across frozen lakes, staying in wilderness huts along the way. Winter wildlife watching is sublime in Sweden, with moose and wolves, reindeer and Arctic lynx showing off their glories against the pure white background.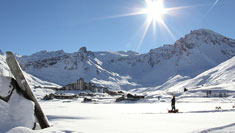 Winter walking, French Alps
Far from the world of downhill resorts, head to two very unknown Alpine national parks, where winter walking and snowshoeing are the most wonderful wake up to the senses to start off your year. Ecrins NP is superb for high mountain snowshoeing, guided by mountain leaders up to white heights such as Plateau de La Coche. In Mercantour NP in the Alpes-Maritimes, ancient shepherds' trails circumnavigate frozen lakes and valleys.