Winter activity vacations
Northern Lights
Green is the most common colour of the Northern Lights, one of the most popular responsible tourism vacations right now. There are ways in which you can make Northern Lights vacations even greener: staying in small, rural communities; traveling the low carbon way while you are there, such as cross country skiing or snowshoeing; and taking part in indigenous activities en route – including reindeer sledding, husky mushing or visiting Sámi villages. Several countries which lie between the Northern Lights zone of latitudes of 65 to 72 degrees are now competing for light lovers during the season from late November to March, as the Aurora Borealis goes viral. Norway, Swedish and Finnish Lapland, Iceland and Alaska are top places to see the light. See our
Northern Lights travel guide
.
Husky sledding
Once you get on board a sled being pulled by huskies, you will feel t hat you could go anywhere. And indeed, there are a growing number of places hosting dog sledding and husky safari vacations, where you can get that buzz of slicing through cold, fresh air, with o nly the sound of sled runners on snow, and the pant of eager huskies leaping through the wilderness. Precious packs await in equally precious landscapes, such as Swedish and Finnish Lapland or the Arctic arcadia of Norway. For longer mushing expeditions, the Yukon Province in Canada and Alaska in the USA host races and challenges across their vast white wildernesses. No matter where you go, however, mushing is mega. See our
husky safari travel guide
.
Cross country skiing
If you have always resisted snow vacations because, for whatever reason, downhill depresses you, then cross country skiing vacations may well tickle your frozen fancy. Because this sport is all about freedom. Using a different type of ski with a free-moving heel, you roam through wild places that are free of crowds, congestion and the competitive chalet-chic brigades. It is tough work, using both arms and legs to propel yourself through snow-blanketed meadows, over hills and sometimes, with ski touring (a more advanced form of back country skiing) uphill. But it is worth it. And it is easier to learn as a skill, without having to undergo the humiliation of resort 'baby slopes'. The French Pyrenees, Dolomites and Austrian Alps have superb trail networks, and of course the Nordic countries are experts at it, which is why it's also called Nordic skiing. They also gave us the sauna, a compulsory addition to any cross country skiing vacation. See our
cross country skiing travel guide
for more details.
Snowshoeing
Snowshoeing vacations are all about plodding through powder rather than posing on pistes. They are about letting landscape lead the way and embracing wilderness in winter. No longer the tennis racket-style gadgets that you stuck on your boots in the past, snowshoes are now made from lightweight aluminium with crampons for extra grip. Attach them to waterproof walking boots, grab some poles for extra leverage and follow your mountain guide into the likes of the Dolomites, the Ecrins or Mercantour National Parks in France, the Carpathians of Romania, or Finland's upper northern wilderness. Snowshoeing is the perfect way to ensure that your boots are made for walking all year round. See our
snowshoeing travel guide
.
Our top Winter Vacation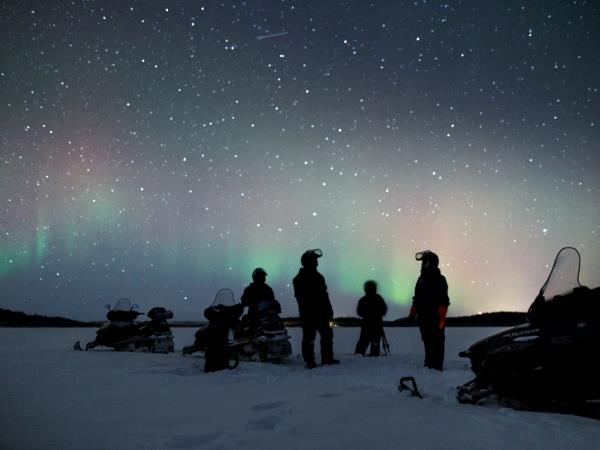 Winter activities & Aurora hunting in Finland
From
£

1785

to

£

2010
5 days
inc UK flights
Small group travel:
2023: 28 Nov, 5 Dec, 12 Dec, 19 Dec
2024: 2 Jan, 9 Jan, 16 Jan, 23 Jan, 30 Jan, 6 Feb, 13 Feb, 20 Feb, 27 Feb, 5 Mar, 12 Mar
If you'd like to chat about Winter or need help finding a vacation to suit you we're very happy to help.

Winter walking
You can still get your fix of the mountains in winter, even if you don't want to cross country ski or snowshoe, by seeking out a winter walking vacation. Milder winter walking paradises, such as the mountains around Andalucia in Spain, or the Carpathians in Transylvania, are often devoid of other hikers at this time of year. And, rather surprisingly, hiking vacations in some of USA's desert national parks in December or January are also a great winter treat. Beauties like Zion, Bryce and the Grand Canyon national parks are near-empty, still exquisite, and catching the canyons all dusted with snow is a very special experience. If it is snow you are after but not skis, then head to Scotland where you can learn to use crampons and ice picks to take on the crispy white Cairngorms National Park. Now that's a way to do Hogmanay. Especially with a hipflask of your finest malt whisky. See our
winter walking vacations
.
Winter wildlife watching
When there are so few humans about to invade habitats, many animals come out to play. And there is nothing quite so arresting as seeing a deer against the snow covered Cairngorms, or a chamois leaping over white Alpine wonders. Wolf-tracking is easier in the snow of the French Alps, especially early or late in the season, and tracking wolf packs in Yellowstone National Park during winter is an incredible experience. And for the wildlife watcher who has everything, there are winter wildlife watching vacations out there that will take you to places you have only ever dreamed of. Such as to see polar bears on the hunt in Churchill, Canada. Or the elusive snow leopard in Ladakh. Track down our
winter wildlife vacations
for inspiration.