Aurora travel tips
Ali McLean, from our supplier, Activities Abroad, shares his Aurora travel tips:
"A couple of years ago I was at a place called Lake Inari, standing on a frozen lake waiting for the Northern Lights it was -27°C and the kids were sitting inside a hut under blankets and next to a fire. About midnight the lights came out and I ran in asking them to come and see the display. My daughter looked at me and said, 'nah dad, we've already seen them.' Kids have to be a certain age to appreciate them; I'd say anyone below their teenage years doesn't have enough of a grasp of what they are and gets too tired and too cold for the hunt. It tends to be a trip for the older generation while the kids get stuck in to all the great winter sports."
Packing tips
Chloe Knott is Mont Blanc and all round alpine expert at Exodus, one of our leading winter activity vacation suppliers: "On all trips, you need to take comfortable shoes for the evening , when you will really want to just put on some jogging bottoms and comfortable shoes. Take a good book. If you have a metal water bottle, at the end of the season when it is getting colder, you can fill it with hot water at night, put it in a sock and use it as a hot water bottle in."

Tom Wilkinson, Exodus: "Pack a drinks bottle/flask. Just because it's cold doesn't mean you don't get thirsty. Also I'm also a mega snacker, so need things to eat to keep me going."
Training & preparation
Chloe Knott at Exodus:
"Always read the trip notes that accompany your trip, as they will give good guidance on how fit you need to be. We find that women tend to underestimate and men overestimate their abilities"
Cross country skiing advice
Tom Wilkinson, cross country skiing expert from our supplier, Exodus:
"Don't compare cross country skiing to downhill! It's smooth, often peaceful, and a wonderful way of experiencing the landscape. Also, if you are a downhiller you often forget your heel is not attached particularly when doing a snowplough. It's not about going 100 miles an hour. It is however more of a full cardio workout."
Snowshoeing
Xania, co-founder of our relaxingly active vacations partner, WearActive:
"If you can hike, you can showshoe. Obviously the length of the hike and the ascents involved matter. But do some cardio in the gym before you come, get on a stairclimber or anything that takes you uphill, and you'll be fine. Because we can tailor our walks to groups' abilities, we can either take you on four-hour, 1,000m ascent trek, or a flat riverbed trek that would be just a little more strenuous than a short walk at home."
Highlands walking
Andy Bateman, co-founder of our Scottish Highlands walking vacations partner, Scot Mountain Vacations:
"People often ask me what my favourite season is for walking in the Highlands and it would have to be winter, with the snow on the pine trees, and views that on clear days can go on forever. You can see Ben Nevis fifty miles away from the high Cairngorms. I know a lot of the other guides up here feel the same way."
Sleeping in snowholes
Andy Bateman, co-founder of Scot Mountain Vacations, and expert guide:
"Snowholes are actually safer than a tent, as you're in naturally sheltered areas. You could have a raging storm outside but the snow would muffle it completely. It's about zero degrees but because there's no wind chill factor, you're actually warmer than you might be in a tent on an exposed hillside in summer."
Wolf-tracking
Sally Guillaume, founder and director of our activity vacation partner Undiscovered Mountains:
"My husband and I run wolf-tracking vacations in the French Alps just two or three times each year. Timing is important in winter, when their enormous territory has been reduced by snowfall so you're more likely to find them, and tracking becomes easier, but it's not such heavy snow that you can't get around easily."
Our top Winter Vacation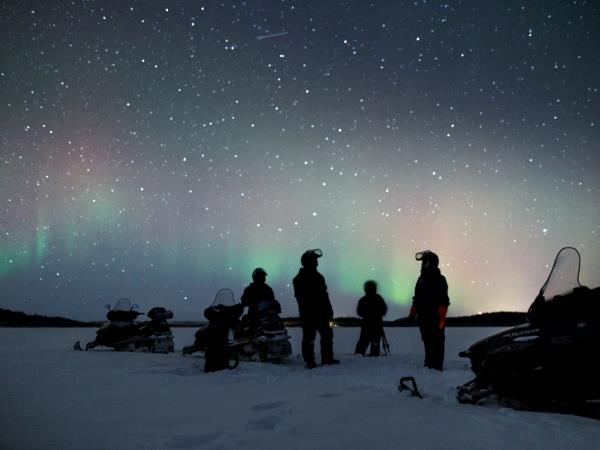 Winter activities & Aurora hunting in Finland
From
£

1785

to

£

2010
5 days
inc UK flights
Small group travel:
2023: 28 Nov, 5 Dec, 12 Dec, 19 Dec
2024: 2 Jan, 9 Jan, 16 Jan, 23 Jan, 30 Jan, 6 Feb, 13 Feb, 20 Feb, 27 Feb, 5 Mar, 12 Mar
If you'd like to chat about Winter or need help finding a vacation to suit you we're very happy to help.

HEALTH
It may seem obvious, but stay warm. You heat up quickly on a winter activity vacation but you cool down quickly as well. So always have layers, not cotton, but proper breathable, thermal layers. Your tour operator will advise on this, and it is always worth following their tips.
Always wear sunscreen, hat and good IV protecting sunglasses when necessary.
Stay hydrated. Cross country skiing and snowshoeing, for example, can be full on aerobic activities.
Bring any medications you might need with you– winter activity vacations can take you into fairly remote spots.
SAFETY
Nearly all winter activity vacations require expert leader guides to hand, such as an International Mountain Leader (IML) or one recognised by the International Federation of Mountain Guides Association (IFMGA) . A responsible tourism company should give details of all their guides on their website, their experience, qualifications and so on.
Wear a helmet when necessary. In cross country skiing you often carry them, for example, and only put them on when heading downhill.
Always know the local emergency number just in case. The emergency number in Europe is 112.
Keep weather aware, even if you have an expert with you to lead the way. If you are heading into back country in the mountains, a responsible winter activities company will teach the group how to use an avalanche transceiver and other emergency procedures during their introductory sessions, so that everyone is au fait with the safety procedures.
Winter vacation tips from our travelers
At Responsible Travel, we think the best people to advise our travelers are often... other travelers. They always return from our tours with packing tips, weather reports, ideas about what to do - and opinions about what not to.

We have selected some of the most useful winter vacation travel tips that our guests have provided over the years to help you make the very most of your vacation - and the space inside your suitcase.

Go if you want to spend time in amazing nature with few distractions and get away from it all. If you want to hang out in cafes, walk out to shops etc, it is probably not for you!

- Adrian Porter on a snowshoeing vacation in the Mercantour National Park, France
"It was easy to put too many layers of clothing on when doing sporting activities such as skiing. Take your own balaclava or two and glove liners. You can rinse out your clothes it you get too sweaty and dry them in electric dryers that each hotel has. So you don't need to go over the top with too many winter clothes. The warm winter clothes they supply are excellent and all you need are some thermals for a couple of days" - Thomas White on a Northern lights short break, Finland

"Get as fit as you can before you go. Take layers of clothes for skiing and lighter clothes to wear indoors - Austrian hotels are very warm!" – Amanda Ariss on a cross country skiing in Austria

Stay as long as you can, both on the vacation and in the wilderness cabin - it is amazing. Be interested in what the guides can teach you, if you are willing to ask they know so much about everything it is fascinating

- Kathy Agashi on a Swedish Lapland winter activity & Northern Lights vacation
"I thought that "winter equipment provided" meant snowshoes, skis & boots etc but all clothing (plus thermos, head torch, rucksack) was also available to borrow, no need to pack anything other than a few baselayers & something comfortable for the evening. Having said that, it was nice to wear my own ski gear but don't buy things if you don't already have them....except maybe a balaclava/buff for the minus 30 days!" - Pauline Hawes on a snowshoeing vacation in Finland

"Take a tripod for your camera! An essential item" - Russell Needham on a Northern Lights vacation

"Don't be worried if you are going alone - I made some great friends on the trip that I'll keep in contact with and no doubt plan other trips together" - Sarah Daly on a Scotland winter walking vacation