Wildlife vacations in Europe
Even though in Britain we appear to insist on killing our larger wild mammals, such as beavers, foxes, badgers and wild boar, due to the threat to livestock, farmland or grass verges, on the continent it's often a different matter.

From rewildling projects in the forests of eastern Europe to research and conservation programmes involving wolves, lynx and brown bears, although Britain is known as a nation of animal lovers sometimes we need to cross the Channel to find a better way.
Undertaking wildlife vacations in Europe in the company of an expert is essential for being able to understand the habits and habitats that keep animals and birds alive and well and ultimately hidden from the outside world.

Sometimes luck will play a part in spotting an animal on vacation but if you can lessen the odds and listen to local tour operators and conservationists who make it their business to keep animals out of harm's way then you'll be far more likely to achieve success, with little or no disturbance to an animal's existence.
Below are just some of Responsible Travel's exciting and unique wildlife vacations in Europe and if you're hoping to become enveloped within the mountains, forests, lakes and rivers that are way beyond the tourist radar then tread carefully and proceed with patience as this is where you place your first tentative foot into the wilds.
Whale watching
That first fist of water expelled from a blow hole or the deepest, richest, fish breath ever inhaled, whale watching tours will leave you in humbled awe as to the size and grace of this barnacle crowned king of the open ocean.

The Azores, off the west coast of Portugal, is one of Europe's key whale watching locations with sightings practically guaranteed from April through to September. The sight of a Blue Whale, in particular, is just astonishing with the spring migration signalling the start of whale watching season with the likes of Baleen, Sperm, Humpbacks and Orcas soon to follow. Aside from the Azores, Norway is another important European country to watch whales with Orcas, Humpbacks and Fin whales following shoals of herring through the fjords around Tromsø from November through to January, in addition to Humpbacks, Pilots, Minkes making appearances throughout the summer season.
Searching for browns bears
There can be few more thrilling wildlife vacations in Europe other than bear watching and if you've got the patience and the strength of spirit to follow a guide into the depths of Eastern Finland then you'll find fortune certainly favours the brave. After the freezing temperatures of winter, Finnish landscapes, on the borders with Russia, wake up to melt waters and spring flowers but spending a night in a camouflaged bear hide is probably going to paint a picture that's a tad more exciting than the prospect of picnics on lush, green meadows.

Romania and northern Greece are two more European regions where brown bears are known to exist and finding out more about conservation, tracking techniques and where and when to spot one of the world's most endearing animals is the only way to approach from a safe and successful distance.
Bison tracking in Poland
Thanks to an on-going rewildling project it's now possible to see European bison in Poland's Bialowieza Forest. Catching an initial glimpse of this massive beast is just mind blowing and not something that you'll forget any time soon. As with most land-based wildlife vacations in Europe tracking is an essential part of the process which makes the winter a far more likely season to warrant success.
The crisp and clear crunch of a recent snow fall provides a temporary trail of hoof marks and following an experienced ranger into the wilds of Poland's primeval forests is pretty much the only way to ensure a safe and successful outcome. When you do finally get to observe steam surrounding snout, eyes and frosted beard you'll be left in no uncertain terms as to the vital part bison continue to play in preserving some of Europe's most precious and historic wilderness areas.
Our top Wildlife Vacation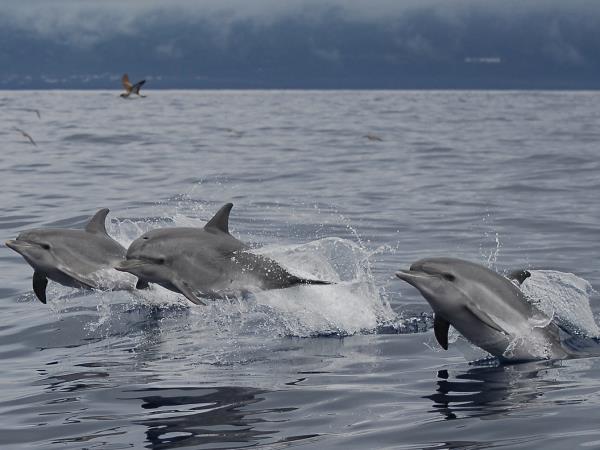 Live a dream and swim with wild dolphins
From
£

925
8 days
ex flights
Tailor made:
This is a set itinerary with flexible departures through April - September.
If you'd like to chat about Wildlife or need help finding a vacation to suit you we're very happy to help.

Wolf tracking in Europe
Wildlife vacations in Europe always promise the thrill of spotting an animal in its natural habitat but sometimes hearing a primeval cry in the dark is just as exciting a prospect.

Wolves have long been fated as the bad guy of fictional tales and farming folklore however, cut aside the lazy stereotypes and assumed fear factor and you'll discover a creature that holds just as many charming characteristics as it does predatory instincts.

Tracking wolf prints through the forests, mountains and national parks of France, Poland, Slovakia, Romania and Sweden is an incredibly rewarding experience and if you're lucky enough to actually see what is an extremely shy and elusive animal then you'll soon begin to realise that man's perception has only been created purely to further his own end.
Birding vacations in Europe
Long gone are the days when bird watching vacations were considered boring and if you're feeling motivated to head to Hungary in search of Honey Buzzards or Spain in search of Sandgrouse then right here is where you get twitching. Imagine hiking high into the Pyrenees to find Golden Eagles wheeling overhead or training your binoculars on thousands of Common Cranes ascending across a lake in the Ebro Valley. Bird watching vacations in Europe release you from the shackles of overcrowded hides and noisy nature reserves and thrust you into the natural habitat of some of Europe's most captivating countries.

From Barcelona to Zaragoza, Bukk National Park to the Tisza Floodplains, if you're still inclined to think of birdwatching as a pursuit of pensioners then think again as this is where things really start to take off.
Go wild in Sweden
Just a few miles west of Stockholm you'll find one of the best places to watch wildlife in the whole of Europe, especially when it comes to moose, beavers, wolves and brown bears.
Basing yourself amongst the forests of Bergslagen, Dalarna and Hälsingland provides a perfect place to explore both on land and over water with hiking, canoeing and nocturnal boat safaris offering ample opportunities to come into contact with wild animals in their untouched natural habitats.
Patience and silence are two key ingredients for watching wild animals in Sweden and accompanying an expert is just as important for understanding the habits and the hunting grounds that will hopefully lead you to within a close, yet safe, proximity to some of Sweden's most exciting wild animals.
Swimming with dolphins
If you had to hazard a guess at most people's bucket list ideas then swimming with dolphins is probably going to come out pretty close to the top.

As with all animals that we love the only place for this sort of activity to take place has to be in the wild with the warmish waves of the Mediterranean setting the scene for a safe and sensible experience to make your heart leap with adulation. Playful? Yes. Friendly? Yes. But something to be captured, trained and put on show? No way! Swimming with dolphins is an activity to be enjoyed in the wild where pods communicate with each other and tricks are performed for fun and pleasure rather than for performance fees and an uneducated audience.
Lynx tracking vacations
There can be few other creatures in Europe quite as reclusive as the Lynx and if you think seeing them in a zoo counts as an encounter then you really need to get out more.

Slovakia's Carpathian Mountains are one such location to get your Lynx experience started on the right foot with winter often the best time to track those elusive paw prints captured in the snow.

Scat, scent and radio signals are all used by the experts to help research and follow these cautious cats and if you're planning on getting to grips with snow shoes and cross country skiing then Slovakia's snow-covered terrain is an excellent environment to get started.

Montenegro is another essential Lynx stomping ground with no more than 50 Balkan Lynx known to inhabit parts of Prokletije National Park with the rugged peaks of the Dinaric Alps a well known hiding place for one of Europe's most hard to spot big cats.