Best time to go on a wildlife vacation
There is no straightforward answer as to when is the best time to go on a wildlife vacation, as wildlife will always keep us guessing. That is part of the attraction. Some countries such as South Africa or Botswana have such an array of habitats that there is always something for us to marvel at, although the dry seasons are very popular, as wild animals are drawn together at waterholes for sustenance in solidarity. Other countries have very strict seasons such as India where, although tigers are present all year round, many national parks close all access to tourists during the monsoon. And whales favour cooler regions during the summer months, migrating to warmer seas when it gets too cold. Here are our nuggets of wild and worldly wisdom.

WHALES SWIM AROUND THE WORLD, THEIR MOVEMENTS FOLLOWING THE SEASONS AND AVAILABILITY OF FOOD, SO YOU NEED TO BE SURE YOU'RE IN THE RIGHT PLACE AT THE RIGHT TIME.

Gorilla safaris & chimpanzee tracking
Mountain gorillas live in the mist-draped forests of Uganda, Rwanda and the Democratic Republic of Congo. You can track them all year round, as long as you book far enough in advance to secure a sought-after permit. November and March are the wettest months, so avoid these if you don't fancy trekking for hours in the mud, but permits will sell out slower – and may even be cheaper. You can see chimps in Uganda all year round, too.
Lowland gorillas can also be seen throughout the year in Cameroon, Central African Republic, Gabon and DRC.
Tigers
Tigers are always present in the national parks of India and Nepal, but weather extremes – particularly in India – affect the best time to see them. In India, monsoon closes the parks from July until early October. Sightings are more common in March to June as the heat soars, vegetation dies back and the creatures seek water – but be prepared for temperatures over 40°C. Nepal is pleasantly cooler.

Siberian tigers are best observed in winter, when you can follow their tracks in the snow. February is one of the best months.
Whales
You can see up to ten different whale species off the Sri Lankan coast, including fin, Bryde's, minke, humpback, sperm, and a plethora of dolphins, between late November and mid April. However, mighty blue whales are most likely to be seen between February and mid March.

Dolphins and sperm whales can be seen in the waters around the Azores all year round, while March is best for blue whale sightings. Up to 10 other whale species are present from February to October, with April to August the peak months.

Mexico's Baja California Peninsula is the place to see grey whales in Baja. They migrate here from mid January to late March to give birth in the lagoons, and are known as the 'friendly whales', thanks to their keenness to approach tour boats.
If that's still not enough of a close encounter, head to Tonga from late July to early October. This is when humpback whales migrate to these tropical Tongan waters to give birth and suckle their calves – and if you're lucky, you can snorkel with them.
Whales head to the Arctic waters of Northern Norway – including the Lofoten Islands – in the winter months. Come in November, December or January to seek humpbacks. Orcas migrate here at this time too; if you're feeling brave – thanks to the icy fjords as much as the orcas – you can book a tour which allows you to swim with them. Winter trips here combine beautifully with the Northern Lights.
Canada has whales on both coasts – as well as within the Hudson Bay. Head to the Bay, in Manitoba, in July or August to look for rare beluga whales; this is also peak polar bear season. Off Vancouver Island you can see orca pods in spring and summer when they follow the salmon into the Pacific waters.Humpback and grey whales are present here too, as well as dolphins and porpoises. Some tours have the option to kayak amongst the orcas.
Antarctic cruises run from November to March, with February and March the best for whale sightings, although they can be seen here throughout the Antarctic summer season.
Snow leopards
November to March is the time to head to Ladakh in India to see snow leopards prowling the Himalayas. The snow makes it easier to see their tracks, and the icy weather forces them down to lower altitudes.
Orangutans
You can see orangutans in Borneo and Sumatra at any time of year – especially in the many sanctuaries in Malaysian Borneo If you're hoping to see them in the wild, however, you may want to come in the drier months of May to September.
Polar bears
Cruise around Spitsbergen in the Arctic summer months of May to September, when the pack ice begins to melt, to see polar bears on these northerly Norwegian islands.

Late October into November are the best months to see these creatures in Canada's polar bear capital, Churchill.
Our top Wildlife Vacation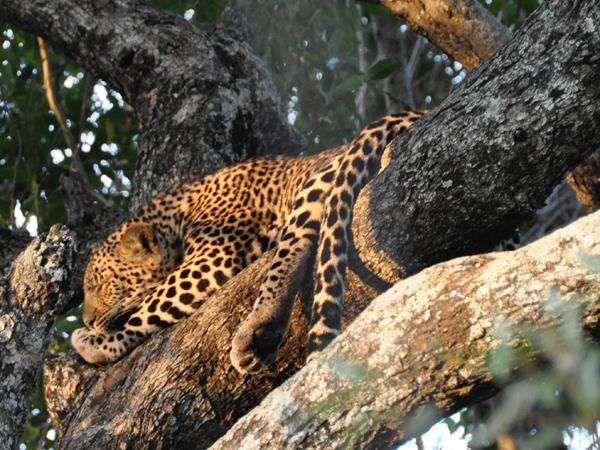 7 Day Safari with wildlife conservationists
From
£

1995

to

£

2105
7 days
ex flights
Small group travel:
2023: 7 Oct, 14 Oct, 21 Oct, 28 Oct, 4 Nov, 11 Nov, 18 Nov
If you'd like to chat about Wildlife or need help finding a vacation to suit you we're very happy to help.

Dolphins
Unlike whales, dolphins are not generally migratory. Choosing when to go on a dolphin watching vacation, therefore, is more about the weather and water conditions. Take boat trips out to see them all year round in Egypt's Red Sea – although December to February may be a little too chilly for swimming and sunbathing. Being in the open Atlantic can mean choppy waves and strong wind, so come to the Azores in May to September for the best conditions. The Ligurian Sea, part of the Mediterranean north of Corsica up to Italy, is more sheltered; March to October should be fine.
Bears
Bears hibernate, of course – so you'll need to seek them out in summer. May to September are when you'll find all your bear necessities in Finland, Romania, Northern Greece and Yellowstone National Park in the United States. Canada's bear season extends through to October, while the Arctic state of Alaska is best for brown and black bears in June to August.
African safaris
You can see wildlife roaming the deserts of Namibia and Botswana at any time of year, but in the dry months of May to September, the vegetation dies back, and animals cluster around the remaining waterholes, making them easier to observe. July to August have the best combination of shrinking waterholes and cool temperatures, before the heat starts to kick in by October and November.
Similarly, in Kruger National Park in South Africa, wildlife is easier to see in greater numbers in the cool, dry season from June to September. April and May are also good months if you'd like your pre-dawn game drives a little less chilly.
Kenya and Tanzania's mighty wildebeest migration is most famous for the dramatic Mara River crossing from the end of June to September. Come towards the beginning or end of that period to avoid the heaviest crowds of safari vehicles. You can see the herds moving through the Serengeti in May and October, too; they'll just be more dispersed. Tanzania's Ngorongoro Crater is bursting with wildlife all year round. Generally, you want to avoid the soggy months on March and April, when more remote parks, such as Ruaha, close, and animals disperse amid the abundant vegetation and water sources.
Bird watching
With migrants heading here from both North and South America, there is always something to see in
Trinidad and Tobago
– and November to April are peak nesting months. Trinidad's national bird, the scarlet ibis, is present all year round but most numerous in January to March. In Tobago, look out for red-billed tropicbirds offshore in November to March, along with northern migrants. Southern migrants will appear from May to September. Read more in
our guide
.
Hungary
is a haven for birdlife in summer – with late April to early June the best time to see visiting migrants and nesting species.
Some 236 of
Sri Lanka's
400 species of birds are resident on the island, meaning that you can take bird watching vacations here all year. For winter migrants, October to April are the best months. It's a similar story in
India
, whose varied landscapes and climates mean that you can see birds all year round – so perhaps time your trip based on the best time for hiking, tiger safaris or avoiding the monsoon, for example. Winter, again, is best for migrants.
Russian Far East
Kamchatka and Chukotka are bursting with wildlife, usually observed via expedition cruises. You'll need to come here in the short summer season from May to September; May and early June are best for bird watching while September is when brown bears lounge along the shoreline. Look out for walrus, whales and orca, too. If you're lucky, you may spot polar bears on remote Wrangel Island in July and August.
Lemurs
Endemic to Madagascar, lemurs can be seen throughout the year, but in October to December you're most likely to see ring-tailed lemurs with their babies. On Ile Sainte-Marie, babies are born in June and July – which are also the best months to see humpback whales around this offshore island.
Costa Rica
December to April are the best months to visit Costa Rica for cooler – but still warm – temperatures and drier weather. Look out for abundant birds, monkeys, iguanas and sloths at any time; August to October is when sea turtles nest on Tortuguero National Park's beaches.
Responsible Travel recommends
Kate Tyler, from our supplier Odyssey World, on when to see orangutans in Borneo:
"If you are looking to go to the Kinabatangan River area, I would avoid going earlier than about March or April, or in December, because the weather is atrocious. The rain is so heavy. It can be a year-round destination but when the rain is at its heaviest it can really hinder your experience. It can be really humid. Peak is probably from end of April through to October, so it's perfect for a summer vacation destination – but it does get really busy."
Rupert Calcott, from our supplier Exodus, is South African. He tells us about the best time to go on a wildlife vacation in South Africa: "The colder months of July through to September are our winter, but that's a fantastic time to come out and do the game viewing. As the country gets drier there are fewer leaves on the trees and less grass available so the animals are concentrated at waterholes. There's greater visibility; it's a really good time for wildlife. April to June are also wonderful because it's not too hot and there's less chance of rain, but we get fewer travelers."