How to choose a wildlife vacation
There are so many ways to see wildlife, and not all by jeep. Safari on a bike? You got it. Whale watching from a kayak? Done. Over the years, niche wildlife companies have realised that wildlife has a worldwide appeal - you don't have to know all the Latin names or breeding habits of species to get your wildlife badge. You just need a love of animals, and a love of the outdoors. And if you don't have that before you go on a wildlife vacation, seeing a polar bear on the prey in the Arctic or a cheetah on the chase in the Mara, will convert you to all things wild. So, you might want to upgrade your usual hiking vacation to one that includes gorillas, or your cultural trip to the heart of India to include tigers. Here is our short guide on how to choose a wildlife vacation.
Pick your animal
If you have a burning desire to see a certain species in the wild, then we have a fine array of specialist tour operators who can answer everything you need to know about lions, tigers, bears, and so much more. Such as mountain gorillas in Uganda and Rwanda, birds in Ethiopia, orangutans in Borneo and whales in a wide range of places on their long migratory route. These trips are very much animal focused, with early starts or all nighters in a hide. They are usually with expert guides, and may have lectures in the evening, as well as plenty of reading material to inspire you before you go. They vary in style from trekking up a mountain to see gorillas, to trailing across the tundra in a 'polar rover' to see polar bears from a safe and warm perspective. But of course, this is just one way of choosing a wildlife vacation. Nowhere is habitat to just one species, and many African countries, the Galapagos and Costa Rica are veritable cacophonies of creatures, so you can always choose the place you want to visit, and then suss out the wildlife.
Pick your place
Wanderlust and wildlife lust work well alongside each other. You might have a yearning for Madagascar or Costa Rica, the Galapagos or South Africa, but you also want to ensure that wildlife watching plays a big part of your trip. Few people go to Madagascar just to see lemurs, for example, but by choosing a wildlife vacation company, you are ensuring that you will not only enjoy everything that the country has to offer, but also have the best possible experience of seeing its wide array of animals when you're there. And not just have it thrown onto the end of your package vacation.

It is also worth noting, when that you don't always have to travel long haul to see great wildlife. If Scotland or Spain are on your travel list, for example, then wildlife experts can show you a whole other side to these popular vacation destinations. A wildlife vacation company will often be able to offer, or indeed create from scratch, an itinerary that will tick all the boxes for you. They might also be able to include a couple of countries for you too. So, for example, if you go and see gorillas in Rwanda, it is easy to add on a trip to the Serengeti in Tanzania. Or you can combine a wildlife expedition to the Galapagos with a cultural expedition in Peru. And a tiger watching vacation in India will nearly always incorporate visits to some of the cultural highlights, such as the Taj Mahal, the Red Fort or a boat trip down the Ganges.
Our top Wildlife Vacation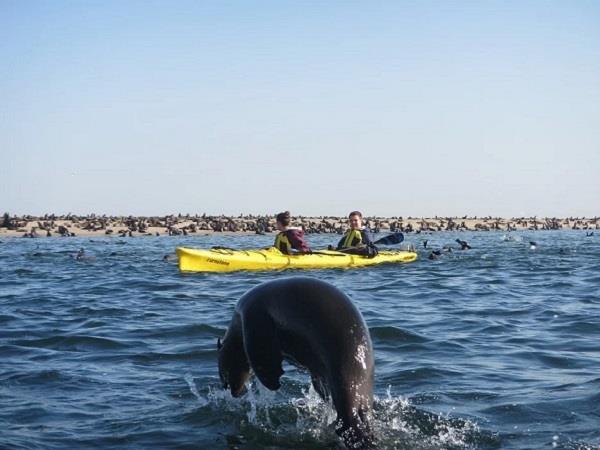 Self drive trip taking in Namibia's highlights
From
£

2650

to

£

4900
14 days
ex flights
Tailor made:
This trip can be tailormade throughout the year and can be adapted to suit your interests, budget and requirements as necessary
If you'd like to chat about Wildlife or need help finding a vacation to suit you we're very happy to help.

Jeep safari
This is the traditional mode of transport on African and Indian safaris, driven by expert guides who are in walkie-talkie communication with other jeeps in the event of a sighting. The jeeps themselves vary greatly, some are open and some are closed, and if they are open, be ready to get dusty and cold on the early morning starts. Closed jeeps or minivans often have a pop up roof for better observation and photography.
In Churchill, Canada, the jeeps are upgraded to tundra buggies or polar rovers designed to cope with the remote frozen tundra, keep you safe and warm, but also have elevated, exterior observation decks. A good tour operator will ensure that you are not overcrowded on a jeep tour, and that you are sure to get a window seat.
Hiking & biking
There is wildlife watching, and then there is adventurous wildlife watching. For some, sitting in a jeep on a traditional safari to search for the Big Five is the dream come true. For others, a walking safari is even dreamier, trekking and tracking with expert guides. For example, walk through Tanzania's Silela Forest following elephant and buffalo trails to secret waterholes, or walk 10km per day along Zambia's Mupamadzi River in search of lions, buffalo and extraordinary birdlife.

You can also see wildlife from a saddle, with cycling becoming a growing trend on safari vacations, particularly in Kenya and Tanzania. You will probably go on a traditional game drive as well, but heading off on your bike around the borders of the national parks, spotting zebra or giraffes as you go (remember there are no fences) and staying with Maasai families along the way, will allow you to see not only a wide variety of wildlife, but also the real face of Africa.
Wildlife cruises
The most popular wildlife cruises are to the Poles, or the Galapagos Islands. A responsible wildlife cruise is not a traditional 'cruise', as guest numbers are small, they are very wildlife orientated and have more of an expedition feeling about them really. The Polar Regions and the Galapagos Islands are all remote, ever changing and consequently, extraordinary. The big pull of the Arctic cruises are whales, narwhals and polar bears, and they tend to take place on smaller boats, with regions like Norway's Svalbard banning big bruising cruising. In Antarctica, penguins abound, as do whales, leopard and elephant seals. Cruises vary greatly, with Antarctica being the most remote as it often involves a two day crossing of the Drake Passage, and shore time is usually a little longer in the Arctic. Most wildlife cruises include lectures, libraries and well equipped observation decks, inside and out.
Other water based wildlife
Apart from traditional wildlife cruises, the opportunities to see wildlife from the water are sometimes quite wild in themselves, such as kayaking in Indonesia to see the Komodo dragon, as well as a hive of other animals in its eponymous national park. A lot of bird watching vacations take you out onto waters and wetlands, such as the extraordinary Chiloé Island off Chile or along the coastal bird havens of Tobago. One form of grizzly bear watching can be water based, from a boat in Alaska's spectacular Katmai National Park, where you sleep, watch and dream about these Kodiak bears, the largest of grizzlies, as they head to the estuary to feed on migratory salmon.
Volunteering & conservation
Why not try a
wildlife conservation volunteering vacation
and help collect data for wildlife research or help with other conservation efforts to protect endangered species? Vacations range from rhino monitoring in South Africa to data collection on India's tigers, volunteering with exploited bears in Romania to monitoring of wolves and lynx in Slovakia. All vacations which enable you to become more involved at the heart of conservation efforts around the world.