Where to go on a wildlife vacation
---
Map & highlights
The world is your oyster when it comes to where to go on a wildlife vacation. It is also your gorilla, bear, lion, tiger and bear. Of course, it is impossible to pinpoint everywhere in the world to see great wildlife, but we have picked out a collection of our top recommendations of where to go on a wildlife vacation - the ones that our responsible travelers review with the words 'I am reborn' when they come back. The ones that our expert suppliers pick out again and again as being pure natural gems, and whey know exactly what to see and when. And the ones that we need to support, to show the world that wildlife tourism is worth so much more than poaching or habitat destruction.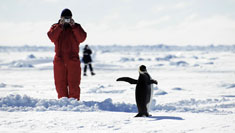 Antarctica
Whales frolic in the rough seas, enormous elephant seals bark and scrap and vicious, shark-mouthed leopard seals dive into icy waters to hunt penguins. Much like the Galapagos, the wildlife here is not afraid of humans – you may find yourself stepping over penguins. On the Subantarctic Islands, otherworldly forests of megaherbs flourish across the windswept land, creating fantasy scenes of giant leaves dotted with seals and seabirds.
See our Antarctica guide here
.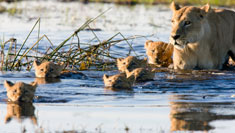 Botswana
Botswana is one of Africa's last great wildernesses. The preservation of ancient migration routes – free from fences and farmland – has created a significant wildlife haven and space for one of Africa's greatest wildlife spectacles: over 100,000 elephants, more than anywhere else in the world. You'll see lions paddling across rivers or thundering herds of Cape buffalo. Bring your zoom lens – and a sense of adventure.
See our Botswana guide here.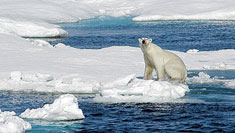 Canada
Canada is bear central. Head north to Churchill for a trip of a lifetime, to see polar bears crossing the land en route to Hudson Bay as it starts to freeze. Or head west to British Columbia to watch grizzlies doing their thing in many locations, such as the Coast Range Mountains, home to the Great Bear Rain Forest. No prizes for guessing who eats the porridge in those woods.
See our Canada guide here.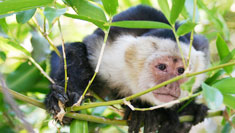 Costa Rica
Plenty of countries have astounding wildlife, but rarely have they preserved it so carefully for decades – and few offer so many ecosystems in such a tiny space as Costa Rica. Sightings are so superb here as there is simply nowhere for the creatures to run. Turtles, quetzals, howler monkeys, sloths, caiman, otters, dolphins… take your pick of iconic species, and don't forget your binoculars. Great for family wildlife vacations too.
See our Costa Rica guide here.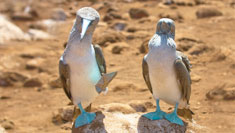 Galápagos
The world is filled with wonderful wildlife – much of it bigger, fiercer or more unusual than that of the Galápagos. But nowhere else is it as fearless and friendly, which is what lures people to this isolated archipelago, nearly 1,000km out into the Pacific. It's this extreme isolation that has shaped and conserved the beaks, shells and wings of its unique species, in this living exhibit of evolution.
See our Galápagos guide here.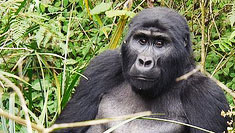 Gorillas
This is one of the most spectacular up close and personal wildlife experiences: encountering our distant cousins in mist-draped forests. Volcanoes (Rwanda) and Bwindi (Uganda) are the two main national parks for gorilla tracking, but be sure to secure your permit months in advance. Explore more of Uganda's varied wildlife with chimp treks, game drives and river safaris in Queen Elizabeth National Park – tree-climbing lions are a speciality.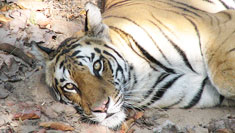 India
Seeing tigers in the wild is rare. Only 3,000 remain in world, and India is home to half of these. The best places for viewing are Bandhavgarh, Bandipur, Kanha, Periyar and Ranthambore National Parks, Corbett Tiger Reserve and Pench Tiger Reserve. India's other wildlife is superb too, however, with Asian lions, leopard, elephants, buffalo, rhino, monkeys, wolves and a veritable fiesta of birdlife. And, in Ladakh, the super elusive snow leopard.
See our India guide here.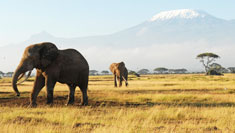 Kenya
Whether you're watching a million wildebeest attempting to cross the Mara River without getting eaten by crocodiles, tracking the huge elephant herds of Amboseli against the backdrop of Kilimanjaro or visiting endangered black and white rhino, Kenya's game drives are world renowned. Maasai-run camps are also now springing up on community-owned land, which is a huge development in embracing truly responsible tourism.
See our Kenya guide here.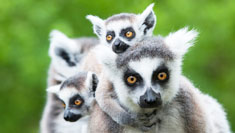 Madagascar
The biggest attraction is the lemur, believed to have floated here 60 million years ago, and now evolved into over 100 species, all unique to Madagascar. Favourites include the panda-faced ring-tailed lemur, the "dancing" sifaka and the metre-long indri, which "sings" like a whale. However, you can also kayak the north coast to spot dolphins and whales, or hike through its many habitats, from rainforest to savannah.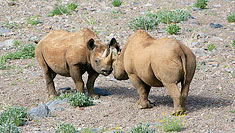 Namibia
Etosha National Park is the big pull as, during the dry season, animals cluster around its numerous waterholes - with elephant, zebra, jackals, springbok and giraffe jostling for drinking space. By night, floodlights reveal lions, leopards and endangered black and white rhino. This is also the country for doing some serious rhino tracking, with a chance to see Namibia's very rare desert-adapted black rhino and elephants in the Kunene wilderness.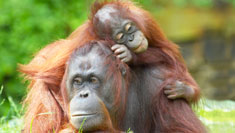 Orangutans
Having only opened up to tourism over the last few decades, the Malaysian states of Sabah and Sarawak are now well equipped for visitors, boasting exotic wildlife that is world renowned. Long-limbed orangutans are the huge draw, but proboscis monkeys, only found here, are perpetual crowd pleasers, as are the elusive clouded leopards, tiny tarsiers, slow lorises, sun bears and pygmy elephants.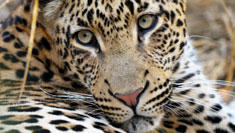 South Africa
South Africa is brimming with bestial beauties. Kruger National Park is one of Africa's oldest, largest and most diverse with over 500 bird species and more mammals than any other park on the continent including, of course, the Big Five. Check out alternative safari options, such as walking or cycling safaris, or combining it with some whale watching. South Africa has it all.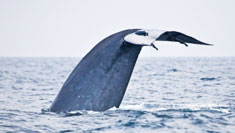 Sri Lanka
As well as its cultural highlights, another of Sri Lanka's wonders lies in the world of whale watching, with huge numbers of sperm and blue whales arriving in to party off the southern coast in February. As if this isn't enough natural wonder for one trip, you can combine this with a visit to Yala National Park which has an impressive population of leopards and a beautiful bevy of birdlife.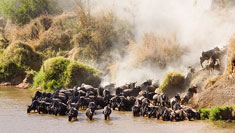 Tanzania
From the epic expanse of the Serengeti to the self-contained basin of the Ngorongoro Crater, a Tanzanian safari is as close as you can get to playing a starring role in the Lion King. The Big Five can be found here – the crater being the most likely place to tick them all off – but it's the Great Migration that draws so many to this part of the world.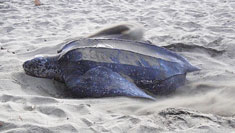 Trinidad & Tobago
The two islands offer vastly different landscapes, from Trinidad's tropical rainforests to Tobago's coral reefs. And with these habitats come 600 species of butterflies, 470 species of birds as well as beach bliss for magnificent leatherback turtles. Both islands have a plethora of fine naturalist guides to show you all other fauna, including wild hogs, armadillos, iguanas and the comical agouti – a kind of giant guinea pig.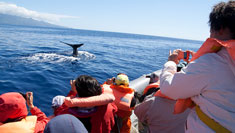 Whale watching
You can't really say you've been to the Azores until you've hung out with the locals – the local cetaceans, that is. Many Azoreans used to earn a living from hunting whales, but over the last three decades this cluster of islands, an autonomous region of Portugal, has reinvented itself, rather brilliantly, as one of the world's best, and most responsible places to see whales and dolphins.
Where to go on a wildlife vacation
---
RESPONSIBLE TRAVEL'S SUPPLIERS RECOMMEND

Paul Callcutt at our leading supplier of gorilla trekking vacations, Natural World Safaris gives some good tips on where to see gorillas:
"Rwanda is generally viewed as somewhat easier trekking in order to see the gorillas. They tend to be out in the open a bit more and along easier hiking trails than in Uganda, where things can be a bit steeper and the undergrowth is thicker. So it can be a little more challenging. It also depends which families you go to see. The Nkuringo gorilla family in Uganda's Bwindi Impenetrable National Park is known as being a slightly more difficult in terms of the hiking you do there. In Uganda, the longest you could trek is eight hours, but even this is unlikely. However, it is not impossible. When I have done it, I haven't walked for more than two or three hours in both Uganda and Rwanda. But if you have mobility issues, I would probably recommend Rwanda first."
Paul Goldstein , top tiger safari guide and expert at one of our leading suppliers, Exodus: "The best parks for seeing tigers in India are Ranthambore, Karna, Bandhavgarh and Tadoba. For tiger safaris, it is important to give yourself more time in one or two places than just a tour that ticks of four or five reserves, because there are big distances between them."

Daniel Waters, from our supplier Wild Frontiers:
"I would recommend seeing orangutans in Danum Valley. It's one of the best national parks in Borneo, incredibly rich in plant and animal life. There is a lodge in the middle of the jungle, it's eco friendly, they've got on-hand naturalists and tour leaders and there's a pretty good chance of seeing orangutans there as well as things like pygmy elephants, proboscis monkeys, hornbills... it's one of the richest areas for the range of animals and plants you can get in the world so it's a brilliant place to go to."
Sue Grimwood, is a whale watching expert from our supplier Steppes Travel. She shares her best place to watch dolphins: "In the Azores we saw five species of dolphins, there are plenty out there. Some species can be quite shy. Risso's dolphins are really unusual because they are really deep divers and you don't normally see those unless you're on a deep sea crossing. But the Azores have really good population, and they're the only group of Risso's that have been studied continually for about 15 years. The operator in the Azores is part of the local research team. They photograph a lot of the whales and dolphins that they see, then they upload photos and track them. It's very much hands on research – you can just go and watch the dolphins but if you're interested in the research and helping then you can do that as well."