Top 10 Blue Planet-inspired vacations
---
experience the ocean & see the sea differently
Watery, wondrous Blue Planet is back. 13 years since the BBC's landmark series was first broadcast, Blue Planet II dives even deeper to reveal the diverse, sometimes bizarre creatures living beneath the waves. Through ingenious photography, including 6,000 hours of underwater footage, the series celebrates oceans, and inspires us all to respect and protect them. It's something responsible tourism has long sought to do, through the kind of firsthand ocean adventures found in our Top 10 Blue Planet-inspired vacations.
1. Researching whale sharks, Mexico
---
2. Volunteer diving project, Indonesia
---
3. Blue whale tour, Azores
---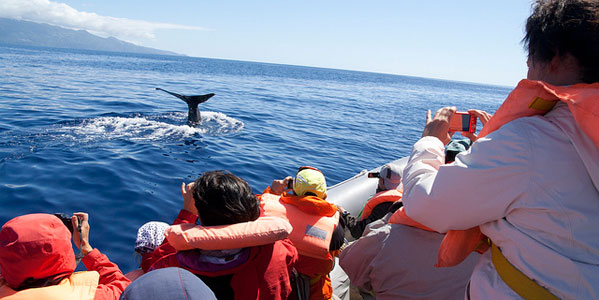 Take to the seas off the Azores to spot the world's largest animal: the blue whale. In spring, a phytoplankton bloom attracts huge gatherings of hungry blue whales on their way to feeding grounds further north in the Atlantic. These giants of the ocean are joined by fin and sei whales, and often sperm whales, too, along with orcas, seven dolphin species, manta rays and sea turtles.
When to go: April and May
Our top selling trip:
Blue whale tour in the Azores
See all our trips:
Whale watching vacations
Read more:
Whale watching travel guide
and
Azores travel guide
4. Turtle conservation, Greece
---
5. Family scuba diving, Red Sea
---
Colourful coral, abundant fish and safe diving make the Red Sea ideal for a family vacation. Learn to dive here (children from 10 can do their PADI Junior Open Water Diver Course), continue your dive education or just enjoy guided dives. Other activities such as quad biking, camel rides and dinner with Bedouins round out the experience.
When to go: Throughout the year
Our top selling trip:
Family scuba diving vacations in the Red Sea
See all our trips:
Diving in the Red Sea vacations
Read more:
Scuba diving vacation guide
6. Lionfish spearing, Belize
---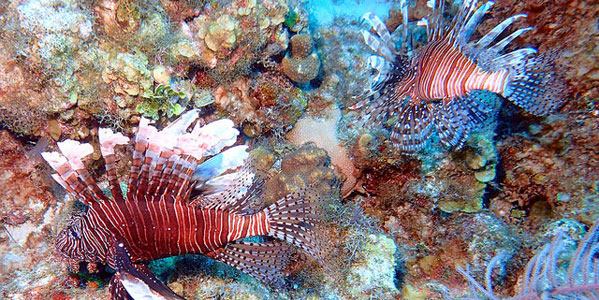 A fishing vacation with a conservation twist; head to Belize to hunt and help eradicate lionfish, an invasive species that threatens the healthy reef ecosystem. Volunteer to spear the lionfish and get stuck into other conservation initiatives, too, such as monitoring lobster and queen conch, swimming with whale sharks and surveying the reef and its fish.
When to go: Throughout the year
Our top selling trip:
Lionfish spearing marine conservation in Belize
See all our trips:
Marine conservation vacations
Read more:
Marine conservation travel guide
and
Belize travel guide
7. Great Barrier Reef cruise, Australia
---
8. Polynesia cruise, South Pacific
---
9. Diving and sailing, Greece
---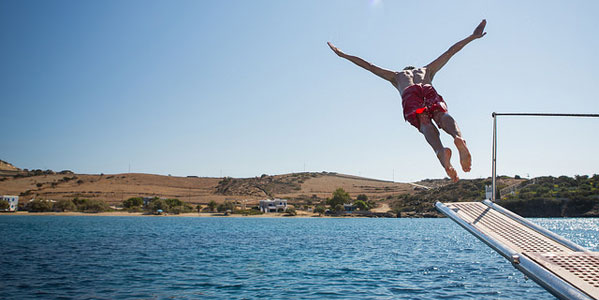 A liveaboard diving and sailing vacation is about total immersion in the marine world, with a journey through the Cyclades Islands a chance to explore remote islands, dive around shipwrecks and spot barracuda, octopus and parrot fish darting between the sponges and sea anemones. Relax on deck when sailing, keeping an eye out for dolphins, turtles and even the odd sperm whale.
When to go: April to October
Our top selling trip:
Liveaboard diving and sailing vacation in Greece
See all our trips:
Scuba diving vacations
Read more:
Cyclades travel guide
and
Scuba diving vacation guide
10. Family volunteering with turtles, Costa Rica
---
And one suggestion a little closer to home…
---
Responsible Travel's Chris Kearney volunteers with
Surfers Against Sewage
, an environmental charity tackling plastic pollution and protecting the UK's coastline. He's a beach clean organiser, and runs volunteer clean up session on the pebbly shores of Brighton and Hove, raising awareness of the marine plastic pollution crisis, too. Visit Surfers Against Sewage's website to join a beach clean near you, or learn about
other ways to support
this superb cause.