China is a massive country, with huge, sprawling cities, yet it's often the little things that will stay in the memory the longest.

For instance: smouldering incense, downtown dumpling houses, honest to goodness friendly folk who will rush to your aid as soon as you mention a map, bamboo scaffolding, face masks (worn for the protection of others as the wearer may have a cough or a cold), and city parks filled with fresh faced OAPs practising Tai Chi, Chi Gong, speed walking, fan dancing or rockíníroll jiving.

It's so easy to get around, to experience life where eggs are boiled in tea and a short walk can take you out of busy, built up, urban areas, and place you in a tranquil temple oasis where nothing exists other than peace, pagodas and the gentle trickle of a fountain.

Cities can become smoggy and hazed in the heat of summer. People clear their throats and spit in public (better out than in, I guess) and global coffee chains, corner stores and fast-food outlets have certainly made their mark on high streets – but that's what you get for coveting capitalism, right? You can buy anything in China, anything. A quick trip to an open market, by day or night, unveils an array of animal intestines, livestock and gigantic silver pots, stirred by mean looking chefs wearing grubby aprons, permanent scowls and ubiquitous fags drooping from pursed lips.

This is, for me, China: the streets, the parks, the temples, the people. It's amazing. You should go. Read on to find out which cities in China, from north to south, to head to first.
Starting with Beijing
The capital is often the
best place to kick off an introduction to China
as it's easily accessible by plane and train (last stop on the Trans-Manchurian and Trans-Mongolian Railways) and located close (under two hours' drive) to one of the greatest landmarks on the planet: the Great Wall.
Getting around is pretty straightforward with a modern, subterranean metro system offering an affordable alternative to taxis and a safer choice when compared to risking life and limb crossing the road. Once you've mastered the metro, Dongcheng district contains the main highlights, including Tian'anmen Square, Tian'anmen Gate (which features the huge picture of Mao), Mao's mausoleum, and the carefully considered courtyards of the Forbidden City.
There are also Tibetan Buddhist temples, such as Yonghegong and Zhihua, and beautiful public parks surrounding the Temple of Heaven. Queues snake across squares outside many of the main attractions (especially the free ones), so start sightseeing early. Or opt for a more authentic alternative by heading to the hutong district in Gulou, north of the Forbidden City, near the Drum Tower, for a slice of life in old Beijing without the shiny bits.
Xiían Ė the home of the warriors
Getting to Xiían from Beijing is best achieved by overnight sleeper train or, if pushed for time, the bullet train or an internal flight. Itís around 1,200km southwest of the capital and generally considered the start of the ancient Silk Road that stretches all the way to Europe.

The main reason most travelers head to Xi'an is to see the terracotta statues of Qin Shi Huang, the first emperor of unified China who, even in death, presided over a mighty army. He died after his search for the fabled elixir of life ironically led to his demise through mercury poisoning. The four main pits which contain Qin Shi Huang's Terracotta Army can be found next to the emperor's mausoleum, about a 40-minute drive east of the city. Once you're there you can get up fairly close and also discover several additional exhibitions that put the pottery into perspective. Away from the warriors, Xi'an is a major metropolis with a metro system and international airport allowing access to a vast collection of heritage sites, including the preserved city walls, the Giant Wild Goose Pagoda and Xi'an's bell and drum towers. Check out the mosques and food markets in the Muslim quarter, north of Parkson shopping center, or, if you've got time, head out of the city for about 25km for hot springs at Huaqing, which are well worth a visit if only for the fabulous gardens at the foot of Mt Li.
Step into old Shanghai
An overnight sleeper train from Xi'an to Shanghai takes around 16 hours; alternatively, you'll find yourself spoiled for choice when it comes to domestic and long-haul flights as the city has not one but two international airports.

Despite being the most populous city on earth, Shanghai is relatively easy to get around with the world's lengthiest metro network, oldest trolleybus system and almost 1,000 public bus routes – another world-beater – allowing the city's 24 million inhabitants to get from A to Bund. Shanghai is a shining example of contemporary China where capitalism has been less embraced, more married with great grandkids. It's possible to trace the history of finance and trading by following the Bund – a one-time center of commerce that now provides a promenade along the western bank of the Huangpu River. Art Deco architecture and numerous historic international merchant, banking and trading houses align the Bund with the Waldorf Astoria (formerly the colonial British Shanghai Club), Sassoon House, the former HSBC building and the traditional Chinese Customs House, all to be found on an evening's stroll.
One of the best views in Shanghai is from the observation deck of the Shanghai World Financial Centre – although watching the SWFC, and the other shimmering monoliths along the Pudong panoramic skyline, switch on at night is equally, if not more, impressive. For a taste of old Shanghai, disappear into the labyrinth of longtangs (interconnecting lanes), aligned by shikumen townhouses, where you'll discover the inner workings of the city: the rat runs, the open kitchen doors – like peeping behind a theatre curtain.
Our top China Vacation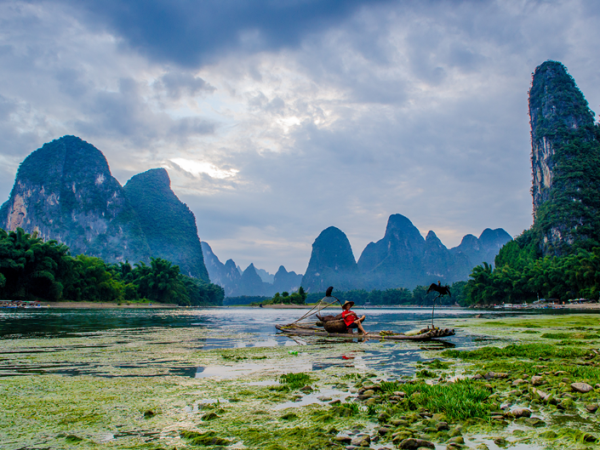 Walk along the Great Wall and relax in the stunning LiRiver
From
US $

2319

to

US $

2819
11 days
ex flights
Tailor made:
This trip can be tailor made throughout the year to suit your requirements
If you'd like to chat about China or need help finding a vacation to suit you we're very happy to help.

Meet the stars of Chengdu
Some 2,000km west of Shanghai, Chengdu, in Sichuan province, has its own international airport, although the high-speed train will deposit you closer to the city center.

Come for the pandas, stay for the hotpot. The imaginatively titled Chengdu Research Base of Giant Panda Breeding has been pulling in the punters for over 30 years but without the profit-first philosophy of a few Chinese zoos we could mention. The panda research center in is just 10km outside of Chengdu and is a non-profit organisation responsible for over 120 panda cubs, as well as releasing some animals into the wild, or at least providing a safe and authentic natural habitat from where they can grow up.

On your return to Chengdu, hotpots will inevitably be on the menu; just make sure you're not sitting opposite the restaurant front door as this means you're volunteering to pick up the bill. Chengdu is considered one of China's cultural capitals, with Sichuan Opera as integral to the city as red chillies and peppercorns are to the regional cuisine. Buddhism and Taoism appear everywhere you turn with numerous ancient monasteries, including Wenshu, Baoguang and Qingyang, to be found close to the city center. For more examples of ancient architecture, explore around Wenshu Monastery, on pedestrianised Jinli Street, where wooden gables, shutters and balconies adorned with red lanterns showcase quintessential Qing dynasty-style housing, although mainly as souvenir stores and restaurants.
Get to grips with Guilin
Sleeper trains and speedy trains can get you to Guilin from Beijing (11 hours) and Shanghai (seven hours) or domestic flights into the city's international airport cut travel times still further.
Double-decker buses make a surprise appearance around the main streets of Guilin only to be matched by the tour boats ferrying tourists around its waterways. Although much of Guilin's charm lies within the surrounding countryside, a visit to Jingjiang Princes' City will leave you in no doubt as to how much history and tradition plays within the local psyche. Ancient arches, the Gooncheng Confucius Temple and the restored Examination House will all feature within a sightseeing tour, although the views from Solitary Beauty Peak steal the show. Folded Brocade Hill is another great spot to take in the scenery of Guilin, although viewing the full moon through Water Moon Cave, under Elephant Trunk Hill, is equally as enlightening. Alternatively, head underground into the illuminated limestone Reed Flute Cave that, if the ancient graffiti is anything to go by, has been entertaining tourists since the Tangs were in power.