How to visit the Great Wall of China
"The most surprising thing about the Great Wall of China is how much it changes depending on where you look," says Karen Zhao, the China travel specialist at our partner Intrepid. "You can almost say that at every bend you'll see a different view."
Karen believes that everyone should visit the
Great Wall of China
, but says there's no need to be surrounded by crowds. In fact, in some areas, you might even feel like you're the only ones on the wall.
"That's really quite a surreal feeling to experience," says Karen. "We usually take groups somewhere like Gubeikou or Jinshangling which are less visited, offer much more space, great nature and really interesting hiking – an overall much more holistic Great Wall experience."
Once at the Great Wall, there's no rush to get back to the city. Local family-run guest houses offer rooms just a short distance away, so you can wake up early and take a sunrise walk along the wall. In spring and summer, some tours offer camping in the foothills, out among the wildflowers or in the shade of blossom-filled almond trees.
Great Wall walking vacations
One of the best ways to explore the Great Wall of China is on a
walking vacation
. These range from remote treks over rugged mountain passes to shorter hikes along fully renovated sections of the wall. Most travelers will only require a reasonable level of fitness to walk the well-maintained stretches at Badaling and Mutianyu, which attract a lot of day-trippers from Beijing. But in areas where the wall is well-worn and crumbling away, or incredibly steep, you'll need to be an experienced, sure-footed walker who's done some scrambling before.
The best sections of the Great Wall of China
Gubeikou
Gubeikou is a wild and crumbling section of the wall that clambers along the Yan Mountains, about a two-hour drive north of Beijing, and is divided into two parts by the Chao River. What it lacks in spectacular scenery it makes up for in historical importance. Its construction first began in 556, during the Northern Qi Dynasty, as a crucial defence against the many northern invasions to come. More than a hundred battles were fought here beneath its watchtowers. It has remained untouched since 1567 and is a popular stretch for hikers heading east to Jinshanling and Simatai.
Huanghuacheng
The section of wall at Huanghuacheng skirts the edge of beautiful Haoming Lake, a tourist resort popular for hiking and boating. Its name, which translates as "Yellow Flower City", comes from the summer wildflowers that bloom across the surrounding mountainside. At its foot, a 500-year old chestnut orchard planted in the Ming dynasty shades the spot where soldiers once stood guard. In the warmer months, walkers can camp here in the valley. Although this section of the wall only attracts a small number of visitors, the views are unique, with some stretches submerged beneath the risen waters of the lake.
Jiankou
The Jiankou section of the wall is even wilder than the Gubeikou section and clings to the often mist-drenched mountain ridges 80km north of Beijing. This is neither a walk for the inexperienced nor the unprepared. Dangerously steep and disintegrating paths lead up seemingly vertical ascents before disappearing over a peak. Watchtowers cracked by creeping tree roots provide panoramic valley views. If you buy a postcard showing the Great Wall of China, it's likely that photo was taken here. Snaking along more than 20km from west to east, Jiankou links the lakeside Huanghuacheng section with much-visited Mutianyu.
Our top trip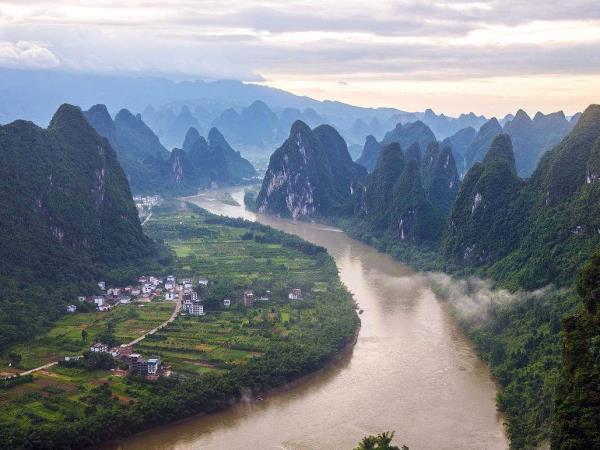 A wonderful experience of real China
From
US $

2937

to

US $

3712
14 days
ex flights
Tailor made:
This trip can be tailor made throughout the year to suit your requirements
If you'd like to chat about China or need help finding a vacation to suit you we're very happy to help.

Jinshanling
Jinshanling – or the "Gold Mountain Ridge" – is often considered one of the most beautiful sections of the wall. Mostly built during the Ming dynasty in the 14th century, it is particularly well-preserved and retains many of its original features – including 67 watchtowers and various structures that functioned as weapon stores and soldiers' quarters. Poems and writing tablets dating from renovations in the 16th century can be found set between the stones of the walls. In spring and autumn, early risers can hike the wall above the cloud sea that pools in the green valleys below.
Mutianyu
Mutianyu is the longest fully restored section of the wall and is made easy to access by cable cars and its proximity to Beijing. For these reasons, it is also one of the busier sections of the wall and can be very crowded during Chinese public vacations, which are best avoided. But the scenery, mountains topped with forests of pine and cypress trees, is beautiful all year. If you have limited time to spend at the Great Wall, or you are traveling with young or old family members, then Mutianyu makes a great day trip when traveling with a tour guide who knows all the quietest times.
Simatai
The Simatai section of the wall is characterised by its variety, both in its scenery and architecture. It has changed little since its completion in the 16th century, with some parts dating back to the Ming dynasty. There are some steep and challenging sections, but it's easier going than the wall at Jiankou and thickly dotted with 39 watchtowers. This section of the Great Wall is divided in two by Simatai reservoir, which visitors can cross by the connecting chain bridge, zip line or boat. Parts of the wall are illuminated at night and some tours lead visitors on sunset walks.