Many people who have eaten in Chinese restaurants in western countries might think they know what to expect when they arrive in China, but there are a lot of misconceptions. "When I was a tour guide, one of my travelers said she thought of Chinese food as being fast food – that really surprised me," says Karen Zhao, China travel specialist at our partner Intrepid. "I would never think of Chinese food that way."

The thing about Chinese food is that it's actually quite difficult to define, simply because China is so big. When asked about her favourite Chinese food, Karen says: "I'm a northerner, so my answer will be very different to someone who comes from the south. And even if they're from the south, depending on whether they're in the Canton area or Shanghai area, their answers will be very different as well."

Learning about the many different local cuisines across China helps to get an understanding of both China's history and culture, and creates a richer experience when traveling. For Wendy Xue, from our China vacation specialists China Adventure Tours, the best tip she can give travelers is: "If you see something different, try it."

Booking a small group tour led by local experts provides travelers with an inside guide to Chinese cuisine, as well as the chance to eat and stay in small village guest houses run by families that wouldn't normally benefit from international tourism.
Hot pot
An all-round popular choice, hot pot is a big pot or wok filled with broth and served with sides of fresh vegetables, tofu or meat. "Or you can go for the hardcore version and try it with duck intestines or tripe," says Karen. First, you dip your meat or veggies into the boiling broth and then in a dipping sauce. It's less stew, more fondue bourguignonne.

"My absolute favourite food is hot pot," says Wendy. "Some people might be familiar with the spicy Sichuan hot pot, but in different parts of China you'll find many kinds. In Yunnan, for example, the hot pot is made with a prized mushroom that can only be found in the large forests there."

Broths might be spicy, mild, mushroom or tomato-based. Each dipping sauce varies from region to region; it's mostly sesame-based in Beijing, while it'll be spicy garlic and sesame oil in Sichuan.

"Obviously, you can't eat that on a daily basis – it's a bit of a feast," says Karen. "But it's perfect for people getting together and having a big meal, catching up with each other."
Peking duck
Peking duck is a regular feature on the menu of Chinese restaurants around the world, but nowhere does it quite like Beijing where it is considered the city's signature dish. Here, it's roasted until crispy over fruit tree wood-fuelled fires, and served with pancakes, spring onions and fermented bean paste.
Breakfast
"While I was in university, or when I started working and going into the office, I would usually grab a pancake on the way," says Karen. "They make the pancake, add some vegetables to it and a bit of sauce and then wrap it up. That's a very common breakfast, especially in the northern part of China."

Other breakfast dishes include congee (Chinese rice porridge), steamed buns and dough sticks called youtiao which are fried until they turn golden brown.
Dumplings
You can't miss trying dumplings while you're in China. And not just fried dumplings – although you'll find those too – but a whole range of steamed and boiled dumplings, sweet and savoury. "You can have a hundred different kinds of dumplings in China and you won't be bored," says Karen.
Vegetarian dishes
Both Karen and Wendy assure that it's easy for vegetarians to eat in China. "It's very easy to order a vegetable dish," says Karen. "Vegetable noodles are very common. I'm based in Xi'an and one of my favourite noodles here is a type of spicy white noodle – it's very tasty."

You'll find a growing number of vegetarian restaurants in any of the main cities in China, but even out in the most rural areas your small group might be traveling with cooks who can prepare something to suit you. Wendy just advises that travelers declare any dietary requirements in advance.
Our top China Vacation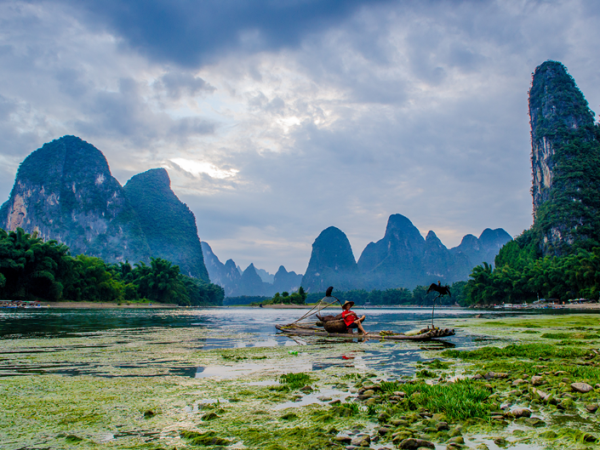 Walk along the Great Wall and relax in the stunning LiRiver
From
US $

2319

to

US $

2819
11 days
ex flights
Tailor made:
This trip can be tailor made throughout the year to suit your requirements
If you'd like to chat about China or need help finding a vacation to suit you we're very happy to help.

When it comes to alcohol, beer is the most popular beverage. Lots of different towns have their own breweries – Tsingtao is the best-known – and there's a growing market for craft beers.

"In China, we also have baiju; it's quite famous," says Wendy. Although it's described as a wine, baiju is actually a spirit, which can lead to some misunderstandings. "We don't normally recommend it to our travelers because it's quite easy to get drunk!"