China map & itineraries
---
Make the most of your time
In case you weren't aware, the country is massive - absolutely vast. To experience some of the best places to visit in China you'll need a decent pair of walking shoes – you'll clock up mileage simply seeing the sights, especially in Beijing where the traffic is horrendous and taxi hops will only add to the pollution. Otherwise, getting from A to B is reasonably straightforward: the collective mileage of China's well-conditioned roads is over two million miles and the country's super speedy bullet train has become a tourist experience itself. The only problem you might face is the language barrier, so brush up on your basic Mandarin before you board.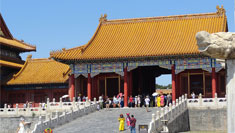 Beijing
Beijing is not a beautiful place. It's chaotic and stiflingly smoggy, but if you're brave and open-minded it represents an adventure of history, of power, and of the future all rolled into one. The Forbidden City, its main attraction, is a mammoth compound of almost 1,000 palaces, museums and pavilions and was the former home of China's emperors from the Ming dynasty to the end of the Qing.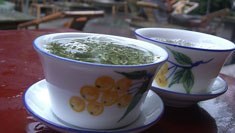 Chengdu
You don't go to Chengdu for its natural beauty; it's a modern city with mediocre weather and a lot of traffic. But it just has a laid-back cheeriness about it that can't fail to delight. Its urban parks are clean and colourful and the locals, in a decidedly un-Chinese twist, think nothing of kicking back with a cuppa enjoying the teahouse culture that is central to life in the city.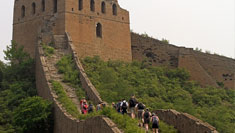 Gubeikou
The Gubeikou section of Chinaís great wall stretches for about 20km and is marked by 143 beacon towers; an historical nod to its great military significance. Unlike other, more tourist-heavy sections of the wall, Gubeikou hasnít been restored and retained its atmospheric blend of steep steps, uneven rocky surfaces and centuries-old pass gates.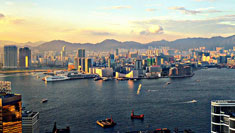 Hong Kong
Hong Kong is a little bit fur coat and no knickers: it has an unrelenting drive for money and status powered by its moneyed elite, but many locals work very long days and live in cramped conditions. The flipside? An infectious energy, a surprisingly traditional culture and a cooler, more sophisticated outlook than its mainland contemporaries.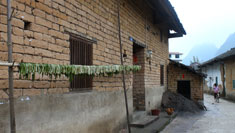 Huang Yao
Huang Yao is an incredible ancient village characterised by a karst landscape gnarled by primal trees and primitive dwellings made from blue bricks and black slate tiles. The locals are known for their friendliness and their inherent belief in the good luck carried by numbers: odd numbers distinguish commercial streets and houses are fronted by a number of slates determined by wealth.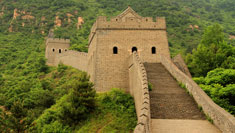 Huangyaguan
Huangyaguan is a representation of the entire Great Wall, but in miniature, and is a series of quirky castles and tall towers built on a 700m-mountain ridge. It jumps up and down between ridges, cliffs and crags and is built against an amazing backdrop of lush mountain scenery. It has been repaired, but sympathetically, and has more architectural variety than anywhere else along the wall.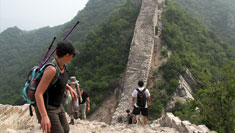 Jiankou
Apart from danger, what do you get if you cross wild disrepair with a mountain ridge and steep cliffs? Jiankou – the higher, steeper and more winding, bad boy section of the Great Wall of China. Typically it's also a photography hotspot with a mean looking enemy observation tower and steep steps that ascend heaven bound. Photographers and experienced hikers need only apply.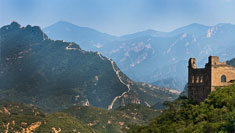 Great Wall
The Great Wall at Jinshanling is one of the best-preserved parts of the entire wall, but itís really remote and isolated. There are rocks and loose stones as you would expect from anything that hasnít undergone a repair since 1570, but if youíre looking for a peaceful walk with incredible views across the Greater and Lesser Jinshan mountain ranges then look no further than this.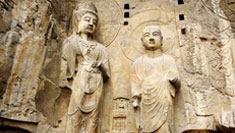 Luoyang
Luoyang served as the capital city of 13 different Chinese kingdoms for over 4,000 years and is a cradle of Chinese civilisation, peppered with historical and cultural treasures. The Longmen Grottoes are an unbelievable example of Chinese Buddhist art made up of over 2,000 cave clusters, thousands of hand-carved statues of Buddha and 40 intricate Buddhist pagodas.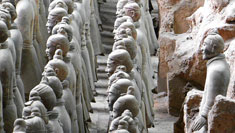 Terracotta Army
Xiían of yesteryear was the beginning and end of the Silk Road, a thriving and sophisticated city of commerce, religion and creativity. Marked by an impressive wealth of important sites and relics, notably the Terracotta Army that still stands guard, modern day Xiían is more traffic and pollution than pomp and procession, but well worth a visit nonetheless.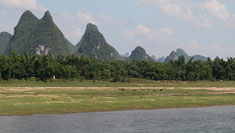 Yangshuo
A world away from Chinaís built-up cities, Yangshuo is a village flanked by exquisite countryside and jutting karst pyramids carved into the elements by the lapping green waters of the Li River. It can get busy during peak season, but there really arenít enough superlatives to describe the surrounding scenes of water buffalo grazing and local farmers working their fields wearing conical hats.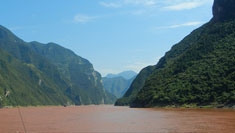 Yangtze River
The aquatic equivalent of China's Great Wall, the Yangtze is a twisting, turning hotbed of scenery and culture that stretches from remote mountain plains through canyon gorges and into fertile regions where other lakes connect. It's most hair-raising stretch, the Three Gorges, was once unnavigable. Now though, thanks to a dam, it is a beautiful lake for ferrying and cruises.


China itineraries
---
For families:
Beijing ► Great Wall: Jinshanling ► (sleeper train) Luoyan ► (bullet train) Xi'an ► Yangshuo ► Hong Kong

Great Wall walking:
Beijing ► Mutian Yu ► Jiankou ► Gubeikou ► Jinshanling ► Taipingzhai ► Huangyaguan ► Beijing


Photography tour:
Guilin ► Longji ► Sang Jiang ► Yangshuo ► Putao village ► Huang Yao ► Yangshuo ► Xing Ping ► Guilin

Travel times in China
---
The following times give you a rough idea of the travel times between the main attractions in China
Beijing – Xi'an: 5hrs 45 (high-speed train)
Beijing – Hong Kong: 23hrs 45 (sleeper train
Beijing – Chengdu: 4hrs 25 (flight)
Beijing – Gubeikou: 1hr 30 (by road)
Gubeikou – Jinshanling: 15mins (by road)
Jinshanling – Beijing: 1hr 30 (by road)
Beijing – Yangshuo: 13hrs (by road, train)