Italy has left a big old footprint on world culture: the Romans, the Renaissance, the Pope and Prada exert influence today far beyond their city limits. Perhaps because of this, people think they know what to expect on their first trip to Italy. They might even think that they can see it all in one visit.

Whilst pizza and pasta are exported worldwide, Italy has also kept many of its treasures to itself. Pasta is only the primi (first) course on the menu – there's a whole list of secondi to try. Though many artists tried to capture it, you can't export the scenery.

The photos, TV and films never do justice to just how beautiful the Amalfi coast is in reality. I think it must be one of the most beautiful places on the planet

– Wendy Pillar, discovering the Amalfi Coast for the first time on a Cilento and Amalfi Coast cycling vacation
Despite its small size, you can't see all of Italy's highlights on one trip. This is a country with more UNESCO sites than anywhere else in the world except China. Before unification in 1861, Italy was made up of diverse city states, and each requires more than just a passing glance. The best thing to do on your first trip to Italy is acquaint yourself with one region. Then plan your next trip – Rome is eternal; it will always be there next time.
Eating & drinking
Italian breakfasts are pretty light. You should jump on the chance to order a cappuccino – it's considered a breakfast drink. Italy's croissants taste different from France's – they're softer and less buttery, but delicious. If you want to pay less, drink your caffe standing up at the bar – it's normally between one and two euros this way. Look out for indulgent but inexpensive street food too, like Rome's pizza bianca – stuffed flatbreads, and Sicily's arancini – stuffed risotto balls. Pasta isn't the be-all and end-all of a meal. In fact, it's normally the first course – the primi – followed by secondi – a meat or fish dish. You should expect a small coperto or cover charge to be added to your bill at a restaurant – this is usually a couple of euros on top of the price of your food. The wonderful concept of aperitivo means that most bars provide free snacks with your drink in the evening.

Italians call Italy the
bel paese
– the beautiful country – sometimes ironically, but often completely legitimately. It is, after all, a factually correct description.

Tourism
Italy had its first modern tourism boom in the 1960s and is well versed in receiving visitors. You'll find most cities are well set up.
Like many Mediterranean countries, Italy's peak tourist season is in the summer, especially around coastal resort towns and the Italian Lakes.
In recent years, Italy's old cities have been really struggling to cope with the amount of visitors they get. Rome and Venice are overrun with tourists in the summer – if you've had friends who visited a few years ago, they might tell you it's not that bad, but the problem of overtourism has got a lot worse in a short amount of time, which means probably since they last went, too. The best way to see these cities is out of season – avoiding the summer.
History & culture
There was life before the Romans. In Tuscany you can learn about the Etruscans, a society that we know most about from its elaborate funerary art. The Renaissance started in Italy in the 15th century. Da Vincis and Botticellis get flown from museum to museum but lots of the art, commissioned by wealthy churches, has stayed put above their altars, where it can be seen for free. Opera originated in Italy before spreading to the rest of Europe. Many cities have historic opera houses. Few are as old as Verona's, a Roman amphitheatre where you can watch outdoor performances – whether that's Verdi's tragic La Traviata, or Rossini's rollicking Barber of Seville. The country has a north/south divide. Like many countries, Italy has seemingly arbitrary geographical biases. The north of the country is considered its industrial heartland and its business head – Milan, especially. Southern Italy is poorer, and generally has worse infrastructure. Italy is a Catholic country and many towns observe lots of spring events, starting with Carnivale in February and March, followed by Lent, then Pasqua – Easter, when you might see religious street processions.
Getting around
The train is one of the best ways to see the country. Italy's train network is pretty good value and services are fairly frequent – though not always on time. Italy's drivers have a bad rep, and drive very fast on the autostradas (motorways).
The long, mountainous coastline and good weather means that sailing and cruising vacations are popular and there's a wide and beautiful cruising area – especially around Sicily, Sardinia, Venice and the Amalfi Coast.
Italy is a brilliant cycling destination – as the Giro d'Italia shows, Italians are cycling mad. You can have a very relaxed pedal in the wine regions, on the Istrian peninsula, or around the Italian Lakes.
Our top trip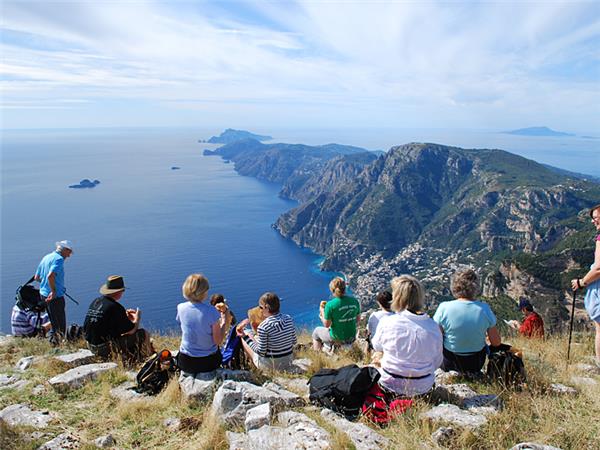 Walk in lemon groves and hillside villages
From
US $

1680

to

US $

2625
8 days
ex flights
Small group travel:
2023: 23 Dec, 30 Dec
2024: 10 Feb, 17 Feb, 24 Feb, 2 Mar, 9 Mar, 16 Mar, 23 Mar, 30 Mar, 6 Apr, 13 Apr, 20 Apr, 27 Apr, 4 May, 11 May, 18 May, 25 May, 1 Jun, 8 Jun, 15 Jun, 22 Jun, 29 Jun, 6 Jul, 13 Jul, 20 Jul, 27 Jul, 3 Aug, 10 Aug, 17 Aug, 24 Aug, 31 Aug, 7 Sep, 14 Sep, 21 Sep, 28 Sep, 5 Oct, 12 Oct, 19 Oct, 26 Oct, 2 Nov, 9 Nov, 16 Nov, 21 Dec, 28 Dec
2025: 8 Feb, 15 Feb, 22 Feb, 1 Mar, 8 Mar, 15 Mar, 22 Mar ...
If you'd like to chat about Italy or need help finding a vacation to suit you we're very happy to help.

You cannot see all of Italy on one trip, but a week-long break in a single region can give you a really good taste of the bel paese – the 'beautiful country' – the name Italy has given itself. Pick from the areas below, which are all as great as each other.
Amalfi Coast
Italians have been vacationing here since Roman times, so it must be good. The Amalfi Coast is a short stretch of dramatic cliffs south of the city of Naples. There are beautiful towns and posh villas with sea views and lemon terraces. A walking vacation, getting the bus between towns, is a really nice way to see the hills behind the busy coast.
Dolomites
In the far north of Italy you'll find the Dolomites. These astonishingly steep limestone peaks have long skirts of scree sweeping their feet, and rise thousands of metres high. Enjoy tackling via ferrata – climbing up some of the rocks with the aid of steel cables, or try cross country skiing and hiking. Winter or summer, the views are very cool up here.
Istria
Italy's easterly neighbour is Croatia and the two countries share the Istrian peninsula, a foodie heartland near Venice. The towns on the coasts have steep walls lapped by sparkling sea, whilst the hill towns hold frequent truffle festivals. The cycling is lovely, and lets you take in both the coast and the country.
Italian Lakes
Whilst the area has a reputation for A-listers and their accompanying paraphernalia of pastel-hued villas and glossy speedboats, there's no reason that a humbler traveler can't enjoy the blessed natural surrounds of the Italian Lakes, walking around Lake Como and Lake Maggiore – both just a short trot from Milan – or Lake Garda, close to Venice and Verona.
Piedmont
Northerly Piedmont, on the French border, is home to Italy's portion of the Maritime Alps. Its towns and cities, like Turin, the capital, tend to have muscular mountain backdrops. Bagna cauda – a dangerously creamy anchovy and garlic dip – originated here. Tempting though it is to sup dip by the ladleful, try the wine instead. The UNESCO-listed Barolo wine region is a glorious setting for hiking.
Puglia
The heel of Italy is famous for its curious trulli houses with conical roofs, which are so old that no one knows exactly why they were built. It's sunny and quiet here, cycling from sun bleached beach to whitewashed town. You can even cross over to Albania by ferry. Sometimes, a good way to get to know a place is to compare it to somewhere very different.
Rome
Eternally interesting, Rome wasn't built in a day, and you can't see it in a day, either. Not only does it have some of the best Roman monuments, but Baroque and Renaissance sights too – from its surfeit of extravagant fountains to Bernini's sculptures and Michelangelo's Sistine Chapel ceiling. It's also right in the middle of the country – easy to get to Naples in the south or Tuscany in the north.
Sicily
Italy's wonderful southern island wasn't always particularly Italian; there are Greek ruins, and lots of dishes use saffron and sultanas – vestiges of the Moorish occupation. The landscape seems hot, barren and volcanic – especially the Aeolian Islands – but plenty of things grow in Sicilians' gardens, making it a real foodie destination.
Tuscany
If it's quintessential Italy you're looking for, the rolling Tuscan hills, town-topped and vineyard-clad, are a lovely place to walk – in the footsteps of Renaissance artists, viticulturalists and Pinocchio. North of Florence, Lucca and Pisa, the Garfagnana area surprises people with bigger hills and fewer crowds. And the Ligurian Sea, between Tuscany and Corsica, is great for dolphin watching.
Umbria
The only landlocked region of Italy, Umbria gets overlooked – just a load of farmland, isn't it? It's true that these green hills support many an attractive agriturismo. You can reap the benefits on your plate on a cooking vacation. And it's not all farms – there are historic towns like Assisi, where pilgrims come to the birthplace of Saint Francis.
People visiting Tuscany are generally a little disappointed by Pisa, which, leaning tower aside, is a small and slightly shabby city – and Livorno, which offers little beyond the port where cruise passengers disembark. Naples, which has a 'gritty' reputation, divides opinion; not many visitors stay long in the city. Rome and Venice can be disappointing if you were expecting to have the sights to yourselves, and both should be avoided in the summer – and people should be wary of overpricing and scamming. Speaking of cons, 'Juliet's balcony' in Verona has no link to Shakespeare.
Italy enjoys a Mediterranean climate, and some of its resort towns are very seasonal. Parts of Sicily pretty much batten down the hatches, or at least close the restaurants, in winter, whilst in high summer the south – and especially Rome – can be unbearably hot and busy. Go north in December to March for winter sports in the Alps and the Dolomites. In the spring, the weather is fantastic across Tuscany and Umbria for walking and cycling vacations, and the Amalfi Coast is quieter and great for hikers, and you can catch the lemon harvest.