Every month offers something beautiful or exciting somewhere in Italy.

Soaring temperatures in July and August mean this isn't the best time to visit Italy for cycling or hiking, particularly in the south, Sicily and Sardinia. Summer also sees crowds in popular cities and some coastal destinations. But often you can avoid the melee simply by heading off well-worn trails. April-June and Sep-Oct are good for active vacations, with comfortable temperatures and reasonably dry weather. Sardinia, Sicily and southern Italy are warm from May-October, and also get more intense summer heat. Winter is excellent for snow-activities in the Alps, Dolomites and Apennines.
Italy in January can be all about making the most of the early snow in the Dolomites and Apennines or revelling in a darker, moodier side to the country's tourist bereft cities such as Venice, Bologna and Florence. The further south you go and the warmer you'll find it with several sites in Sicily and Sardinia certainly worth visiting in the 'off peak' months of February and March. Easter is a major calendar event in Italy with everywhere from Rome to Milan recognising religious ceremonies and cultural traditions in some form of procession or another. April and May are certainly the best time to go to Italy if you're looking for ideal temperatures for hillside hiking and steep cycling although there's still every chance of rain, especially in the north. June, July and August are heating up no matter where you are in Italy and it's probably too hot for cyclists and hikers hoping for lengthy treks and too crowded for couples looking for secluded romance. September and October are also considered the best time to go to Italy as the harvest brings the freshest market produce imaginable as well as a flourish of colour from the forests and characterful images of farmers and pickers working the undulating agricultural landscapes. November can be bleak and regions such as Tuscany take on a much more sombre mood ahead of the religious festivities and brazier warmed Christmas markets that help to make December a dark horse but well worth a punt on a city break.
Our top Italy Vacation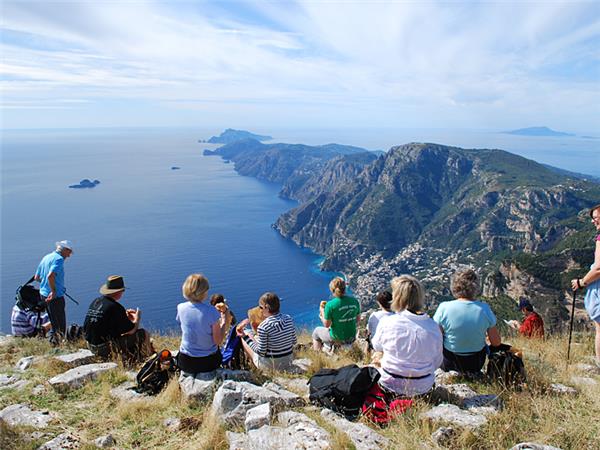 Walk in lemon groves and hillside villages
From US $1599 to US $2399 8 days ex flights
Small group travel:
2022: 19 Feb, 26 Feb, 5 Mar, 12 Mar, 19 Mar, 26 Mar, 16 Apr, 14 May, 4 Jun, 18 Jun, 2 Jul, 9 Jul, 16 Jul, 23 Jul, 30 Jul, 6 Aug, 13 Aug, 20 Aug, 27 Aug, 3 Sep, 17 Sep, 24 Sep, 1 Oct, 8 Oct, 15 Oct, 22 Oct, 29 Oct, 5 Nov, 12 Nov, 19 Nov, 24 Dec, 31 Dec
2023: 11 Feb, 18 Feb, 25 Feb, 4 Mar, 11 Mar, 18 Mar, 25 Mar, 1 Apr, 8 Apr, 15 Apr, 22 Apr, 29 Apr, 6 May, 13 May, 20 May, 27 May, 3 Jun, 10 Jun, 17 Jun, 24 Jun, 1 Jul, 8 Jul ...
If you'd like to chat about Italy or need help finding a vacation to suit you we're very happy to help.

What happens when in Italy
Etien Veeman from our walking supplier 46 Degrees explains why she believes spring and autumn are the best time to visit Italy: "In spring and autumn nature offers different faces every day! Skies can be deep blue and it's not too warm for a good hike. Spring mountain hikes are like walking through the seasons: in lower areas, especially lakeside, summer seems to have arrived with flowering camellia and bougainvillea next to palms. Heading upwards, primula colours the path yellow, while on shady mountain ridges crocuses still peek through snow - all on the same day! In autumn, mushrooms pop out, leaves colour and migrating birds can be spotted. Plus there's much more chance of encountering wild animals like deer, wild boar or chamois."
Festivals & events in Italy
Ferragosto (August 15)
Now the Feast of the Assumption, this sprang from the pre-Christian Roman festival Feriae Augusti, offering a fun break after harvest exertions – hence the continuing decoration and parade of work animals like ox and mule. Each region parties differently: outdoor dancing (Rome), effigies and fireworks (Liguria and Abruzzo), historic pageants (Tuscany), climbing poles (Campania) and giant candles (Sardinia)!