Best places to go on vacation in May
Arctic cruises begin in May. The earlier you get there, the more pristine the snowscapes will be – and the bigger the icebergs. Central and Northern Europe are warming up, too, reeling in sun-seeking hikers. Further south, towards the Balkans, it's a great time to be out on a small ship cruise or kayaking vacation. It's the final bell for cherry blossom in Japan; meanwhile, safari season in some African countries is just beginning.

Keep reading to discover the best places to go on vacation in May.
Our where to go when Vacations
Africa
This is your last call for Egyptian Nile cruises in temperatures below boiling point.
Madagascar is lush and green following the recent rainy season.
This is also your last chance to visit Morocco before the summer heat really kicks in.
Namibia and Botswana's landscapes are still fresh from the rainy season, but you'll have clear skies and plenty of wildlife. It's chilly at night, though, especially in the desert.
The Americas & Caribbean
Despite the greater chance of rain, the Galapagos Islands shelter under calmer seas and warmer weather. You'll also miss the busy family vacation season.
May is the start of the dry season in Peru, but the winter chill hasn't yet kicked in; we think this is a great time to travel. Plus, it's still outside the school vacations, so there will be more Inca Trail permits available.
Asia
Borneo can be visited year-round, but this is the driest season, making it the best time for visiting the orangutan rainforests and Mount Kinabalu.
You'll catch the best of the weather in China in May. The north has thawed from the winter chill, while the summer heat and humidity hasn't yet kicked in in the south.
This is peak season for tiger safaris in India and Nepal. The climate may be unpleasantly hot, but this is the key, as the tigers search in the open for water.
Most of the cherry blossom might've dropped in Japan, but it's still going strong on northerly Hokkaido island. Just watch out for Golden Week, when the Japanese vacation books out hotels months in advance.
May is a great time to travel the Silk Road through the 'Stans, especially for photographers after green hills and wildflowers.
This is the best all-round month for Sri Lanka. You'll miss the summer and winter monsoon seasons, and there's plenty of wildlife visible in Yala National Park.
Europe
Some Arctic cruises begin now.
Croatia, Italy, Greece, southern Portugal and Turkey have great weather for cycling, hiking or water-based activities, and you'll avoid the summer crowds. Small ship cruising really gets the wind in its sails in May, too.
Norway has some lovely mild weather in May, along with very long daylight hours and few other visitors.
Whale watching season in the Portuguese Azores islands is well underway, coinciding with the baleen whale migration. Spring flowers have officially sprung, too.
In Scotland, birds are showing off for their prospective partners, so you've got a better chance of spotting them. The mozzies (and other tourists) are only just starting to emerge.
This is a gorgeous time to visit Catalonia in Spain – you'll avoid the summer heat, humidity and crowds, and bag some deals on flights. The weather is also great for more active cycling and walking vacations. There's still time to get active in Andalucia before the summer heat kicks in, too, and the Picos de Europa gets pleasant weather for exploring.
Head to Sweden or Finland for long days, warmer weather and lower prices. May is a great time for activities such as walking, cycling or kayaking. You'll skip the summer mosquito season, too.
Our top where to go when Vacation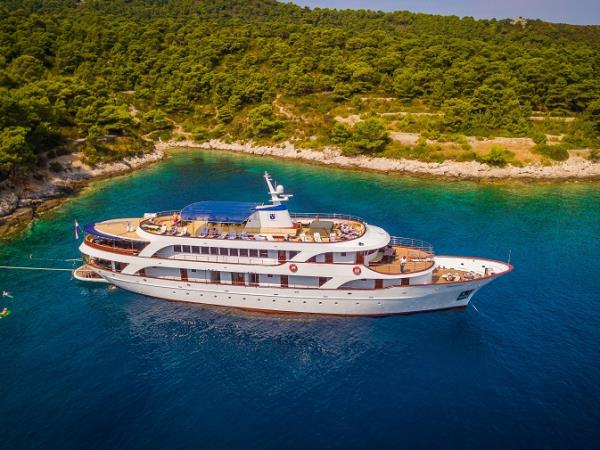 Cruise Split to Dubrovnik in luxury via Croatia's islands
From
£

1335

to

£

1899
8 days
ex flights
Small group travel:
2023: 7 Jun, 10 Jun, 14 Jun, 17 Jun, 21 Jun, 24 Jun, 28 Jun, 1 Jul, 2 Jul, 5 Jul, 8 Jul, 12 Jul, 15 Jul, 16 Jul, 19 Jul, 22 Jul, 23 Jul, 26 Jul, 29 Jul, 2 Aug, 5 Aug, 6 Aug, 9 Aug, 12 Aug, 16 Aug, 19 Aug, 20 Aug, 23 Aug, 26 Aug, 30 Aug, 2 Sep, 3 Sep, 6 Sep, 10 Sep, 13 Sep, 16 Sep, 20 Sep, 23 Sep, 24 Sep, 27 Sep, 30 Sep, 4 Oct, 7 Oct, 11 Oct, 14 Oct, 18 Oct
If you'd like to chat about where to go when or need help finding a vacation to suit you we're very happy to help.

Where not to travel in May
This is peak rain in Kenya and Tanzania. Wildlife disperses, some lodges and roads in remote areas will close, and it's a bad time to attempt to climb Mount Kilimanjaro or Mount Kenya.
This is the cyclone/monsoon season across mainland Southeast Asia. Some regions are also unbearably hot and humid, and the Mekong Delta may flood, causing travel disruption.
More about where to go when