Cooking and food vacations
in the Mediterranean
Hundreds of millions of tourists hit the Med every year, drawn by bombshell beaches, storybook ruins and cultured cities, but for many it's the food that's the true knockout. Whether you're into picnicking on fresh bread and cheese brought from a local market or dining out in one of the region's top restaurants, Mediterranean food is fresh, delicious and – even better – famously good for you.

By joining others on a small group tour or booking a tailor made vacation, you'll be led to the very finest producers, restaurants and markets well beyond the tourist trail, with the added bonus of discovering traditional and modern Mediterranean delicacies alongside knowledgeable local guides.
Where to go
Food helps you get to the heart and soul of a region and the Mediterranean is no different.
France
and
Italy
are the heavy hitters in this respect and no wonder - they are jam-packed with foodie offerings, from gourmet restaurants to Provencal markets and Tuscan trattorias, but each country has its own culinary specialities. You could head to Portugal for a walking and wine tour, tour the markets and vineyards of Croatia and Slovenia, get creative with tapas on a cooking break in Spain, explore spice bazaars and sample street food in Turkey or get hands on with the olive harvest in Greece.
Small group or tailor made
Cooking and food vacations can be either small group tours which depart on set dates, or tailor made itineraries allowing you to travel at any time of year. On small group food vacations, you'll trypically travel with around eight to 12 fellow foodies, along with expert guides, spending between six days and two weeks on the road. That said, some food vacations re super flexible and can run with just two people, making them ideal for couples of a small group of friends. Other tours are tailor made, and last from four days up to two weeks, though you'll have the flexibility to tweak your itinerary as you please, including upgrades to accommodation and transport.

Whichever way you choose to go your vacation will be as varied as it is delicious with typical itineraries including visits to restaurants, cafes and vineyards, taking hands on cooking lessons or eating traditional meals in local homes. You could be center based, spending your entire visit at the same hotel or guesthouse and going on excursions, tastings and taking cooking lessons during the day, or go point-to-point, moving on to a new destination every day or so, allowing you to soak up the energy, culture and cuisine in several different cities or regions.
Learning to cook
A food tour wouldn't be complete without getting creative in the kitchen, and many of our vacations have cooking lessons at their heart. You could go hardcore and spend your entire break honing your chef skills, or take a gentle approach and mix cookery lessons with visiting producers and markets, dining out in restaurants and just exploring the region. Options include whipping up
tapas in the Pyrenees
or perfecting your pasta in
Umbria
.
Wine tours
It goes without saying that wine plays a big part in our food and cooking vacations, whether that's choosing the perfect pairings for your meals or getting to know the grape in greater depth. Some trips will have a full-on wine focus, with the bulk of your time spent touring vineyards and wineries as well as meeting the producers themselves. Others will build in an afternoon or two of wine tasting along with other foodie pursuits. Either way, you'll brush up on your history and practical knowledge as well as improving your palate and getting a few extra bottles for your wine collection, too.
Combinations
While you might love to spend a week just stuffing your face around the countryside, most foodie trips allow at least a little time to focus on cultural or indeed physical activities. You could, for example, choose to walk all that food off a little by alternating days spent cooking and tasting with days spent out on the trails. Or, you could mix your foodie fix with time spent cycling, doing yoga or taking to the waters around Sicily, the Amalfi Coast or Croatia's Dalmatian Islands, pulling into harbours to sample fresh Mediterranean produce and to meet the local people and artisans who make it.
Vegetarian and vegan vacations
For some people a food vacation in the Mediterranean wouldn't be complete without a hearty dose of Iberico ham, oozing French cheeses or fresh seafood, but our operators can cater for vegetarians and vegans, too. You could learn the secrets of Mediterranean vegan cooking in Greece; or spend a week indulging in wine and vegetarian cooking in Portugal.
Classic Mediterranean cooking
The fertile, sun-kissed lands of the Mediterranean have produced a ingredients and a diet that's famously healthy, thanks to plenty of fresh fruit, vegetables, pulses, olive oil and a smattering of fish, meat and cheeses. Food and dining rituals are hugely important. Meals are to be shared with family and friends, lingered over and savoured, and dining out Mediterranean-style is a highlight for many travelers, with laid-back, friendly atmosphere and many families out until late.
Our top Europe Vacation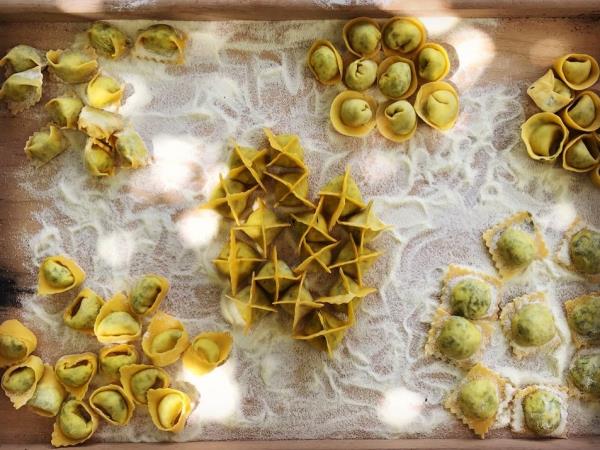 A Tuscan food adventure, learn to make pasta
From
£

825
4 days
ex flights
Small group travel:
2023: 16 Jul, 20 Sep, 19 Oct
If you'd like to chat about Europe or need help finding a vacation to suit you we're very happy to help.

Italy
Food is central to life in Italy, but it's about far more than pasta or pizza. Not that we're suggesting you skip these. Try fresh pesto in Liguria or a pizza in Naples and you'll never be satisfied with poor substitutes again. Proper Italian food is diverse, distinctive and big on regionality and seasonality.

Piedmont is the birthplace of the Slow Food movement, where specialities include arborio rice, white truffles, Castelmagno cheese and Barolo wine. In Umbria, try norcineria (cured pork produce) or hearty spelt and barley soups, delve into cucina povera (peasant cooking) in the backstreets of Rome, or try Arab-influenced dishes or unique, nose-to-tail street food in Sicily.
Spain
Spain's sunny climes, lush hills, forests and oceans produce excellent fish, fruit, vegetables, olive oil, and free-range meat – often organic, frequently local, and all cooked to absolute perfection. Fish here is excellent. Andalucíans are famous for their pescaito frito (fried fish) but this is also the heartland of Iberico ham. You can get paella just about anywhere in Spain, but if you're looking for authenticity then head to its true homeland – Valencia.

You'll find tapas that are a world away from the often lame offerings found outside of Spain. Simple and varied, typical tapas includes olives, tortilla de patatas, croquetas, sardines and a huge array of cheeses and cold meats. In less touristy areas, you'll still get tapas as they were intended: free of charge with your drink.
France
The French have come to be defined by their cultured way of life and love of eating and drinking. Bread, cheese and charcuterie form the backbone of any French spread and markets in Mediterranean France are a feast for the senses, with local specialties such as Camargue salt and saucisson d'Arles holding court next to wonderfully fresh Provençal fruit and vegetables. This being the Med you'll find a plethora of tantalising seafood, with hearty fish stews and simple grilled fish dishes a highlight.

Then there's le vin, such an important part of French culture that you can plan an entire itinerary around it, particularly among the never-ending vineyards of the Languedoc. A vacation that combines culture, wine and cuisine will allow you to experience the region in all its delicious, multifaceted glory.
Turkey
Skip tourist menus and dodgy kebabs and instead chow on real local cuisine at simple diners (lokantas), içkili restoran (licensed restaurants) and taverns (meyhane), or amid the fire and smoke of street stalls, and you'll discover a vibrant culinary tradition. Turkey is justly famous for its meze, which you'll find throughout its Mediterranean region. Well loved dishes include patl?can salatas? (aubergine mash), sigara böre?i (cigar shaped cheese pastries), and imam bay?ld? (aubergine stuffed with onions and tomatoes).

Grilled meat is found everywhere and usually served simply with flatbread and some kind of salad. Arab influenced adana kebap, and ?skender kebap, which comes with a hefty dollop of tomato sauce and yoghurt, are highlights. Vine leaves stuffed with rice and spices, sarma, are popular as is Lahmacun: flat break baked with ground meat, tomato, peppers and onion. This being the Mediterranean the seafood is almost as dazzling as the coastline, with sardalya (grilled sardines) and sar?göz (black bream) both great value and delicious. Try the wine, too, and meet small local producers.
Greece
For the best of Greek goodness head straight to the source, making for coastal villages for fresh fish, up into the mountains for lamb and pork, or into fertile farmland to taste the freshest of olive oil. Greeks serve up fabulous grilled and spit-roasted meats and souvlaki is a revelation if you're used to standard kebab shop fare. Fish is often grilled whole and drizzled with ladolemono (lemon and oil dressing).

Mezedhes (small dishes) or meze for short are the best dishes for vegetarians, since many are meat-free. Best shared amongst friends they include classics such as tzatziki (yoghurt, cucumber and garlic), melitzanosalata (aubergine) and saganaki (fried cheese). You'll also find Greek salad everywhere. True to form, it's made with tomatoes, cucumbers, onions, feta and olives, though it's often given an extra twist with local greens, capers or nuts.