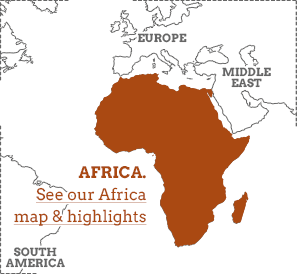 Think Africa, think golden sunsets silhouetting the long necks of giraffes picking leaves from trees, and wild landscapes extending as far as the eye can see. As much as this is Africa, today's Africa is so much more, and is a continent undergoing a huge transition: local people – both in terms of the centuries old tribes that live their lives steeped in tradition and of those who live more modern lives in the cities, now play as much a part in African tourism as its extraordinary world of wildlife.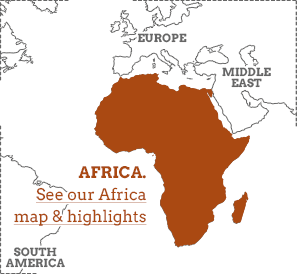 No one can return from the Serengeti unchanged; for tawny lions will forever prowl our memory and great herds throng our imagination.

– George Schaller, US conservationist and author
From the exotic madness of Morocco's souks, to the ancient wonders of Egypt, the endless rippling dunes of the Sahara, or your first eye-to-eye sighting of a gorilla in Uganda, Africa is an intoxicating melting pot of experiences. While the past is very present in the lives of many Africans, a visit to South Africa's modern cities will show that many are embracing the future too; whatever you choose to discover, arrive with an open mind and you will leave with an unforgettable memory of just how amazing Africa can be.

Read more about Africa's diverse vacation options in our Africa travel guide
Africa is…
a truly special place of unparalleled nature and of welcoming people, but is a much more modern and forward-thinking continent than many might first think.
Africa isn't...
an unhappy continent blighted by famine and drought.
What we rate & what we don't
Selous Game Reserve
A remote and expansive slice of East Africa, Tanzania's Selous is larger than Switzerland, dwarfing its Serengeti counterpart yet receiving far fewer visitors. Animals far outnumber tourists here and the reserve's geographical location means both Southern and Eastern African game roam its grasslands, lured to the peaceful waters of its rivers and lakes where elephants and hippos bathe.
Harar, Ethiopia
Measuring in at just one square kilometre of eastern Ethiopia, Harar is a walled citadel packed to bursting with colourful mosques and labyrinthine alleyways dating back hundreds of years. Islam's fourth holiest city, it is an intriguing place of elegant Islamic architecture and ancient markets, which have done very little in the way of changing as time has ticked on.
Cycling in Morocco & beyond
You don't instantly pair Africa's vast terrains with two wheels, but Morocco's combination of mountains and desert dirt roads make it a playground for mountain bikers and thanks to a better network and tarmacking, road cycling there is on the up. Cycling safaris are now a thing in Kenya too, increasing the chances of an up-close wildlife experience and covering more ground than you can on two feet.
Living Culture Museums
A series of five "museums" across Namibia, these fantastic culture centers are where indigenous San, Mafwe, Kavango and Damara communities recreate traditional villages. You can learn how to hunt, fish, dance and weave with the locals using age-old methods, plus the tours and lessons contribute to local incomes and community projects, so your money is reinvested wisely.
Okavango Delta
Originating in the highlands of Angola and shaped over thousands of years, the Okavango Delta is a waterhole of epic proportions that floods life into Botswana. Flowing through sands, swamps and forested islands, the Delta is a lifeline for huge herds of elephant, plus 121 other mammals including lions, antelope, buffalo. Over 440 species of bird also flock there to fish, nest and breed.
The Masai Mara
Synonymous with one of wildlife's greatest annual spectacles and indigenous Maasai tribes, the Mara stages the most nail-biting section of the Great Migration from Jun-Oct, when some two million wildebeest and zebra each attempt to survive the risky Mara River crossing – packed with Nile crocodiles. The surrounding Maasai conservancies give you the opportunity to bushwalk with the fascinating local people.
Gorilla safaris
The biggest and most powerful of the great apes, when viewing a gorilla you are only granted a one hour sitting with them, certainly In Uganda and Rwanda, where primate permits are like gold dust. During this hour though, you're able to get very close to this fascinating creature, an experience that will leave you with a profound understanding of what it means to be a part of the primate family.
Local culture
Whether it's through hiring a local guide – the people with the most accurate and enthusiastic knowledge about their country; staying at a Maasai-owned camp in Kenya; sampling street food in South Africa; or learning the history and taboos of 'fady' in Madagascar, getting under the skin of African culture doesn't just mean taking a tour; the options are as endless as they are enriching.
Canned hunting
A particularly nasty hunting practice,
canned hunting
is a prevalent problem in South Africa. Organisers breed lions to be sold on to canned hunting farms – tourist facilities where the rich can come in, shoot themselves a lion, and keep the pelt and an offensive picture as a souvenir. It's an expensive, distasteful and disgusting way to guarantee a dead lion.
Super luxury lodges
As tempting as it may sound to choose your feather count from a comfort menu, by staying in a super luxury lodge in Africa (we're talking gold taps and grand pianos…), all you're doing is cutting yourself off from what is really special about your surroundings. You'll have a far more memorable experience if you swap your flatscreen TV for a spectacular sweeping view across the open wilderness.
The Nosy Be bubble
There's no denying Nosy Be is a beautiful tropical island – it's widely considered the 'capital' of Madagascan vacations, but its jumble of all-inclusive resorts, expensive yacht trips and flashy restaurants have little or no local identity. Step away from your sun lounger and branch out and you'll get to know the landscapes, cuisine and local culture that make this country so enriched.
Tunisia resorts
Off-the-beaten-track Tunisia can be staggeringly beautiful and its reinvented dars and vibrant souks are pretty cool too. However, so much of Tunisia is packed with all-inclusive resorts that many people going wouldn't know a Berber village or an ancient medina if it jumped up and bit them – the resort beaches are a sea of plastic loungers so thick you can barely lay a beach towel. Not fun.
If you'd like to chat about Africa or need help finding a vacation to suit you we're very happy to help.

Eating & drinking
Tanzania's cuisine varies with its culture and landscape. The Asian influence is strong on the coast, with curry, coconut and delicious seafood featuring highly.

Bobotie is a typical Asian-influenced South African dish of curried, minced meat, dried fruit and an egg topping.

Namibians have inherited beer, bread and cakes from Germany. They also snack on mopane caterpillars, fried and heavily spiced.

Ghanaian food is rich and spicy, and based around sauces, soups or stews featuring plenty of tomatoes and chillies - nutty groundnut soup, served with pounded cassava, is very popular.

Southern Africa's San (also known as Bushmen) are believed to be the ancestors of all the world's human beings, due to their high genetic diversity.

People & language
Africa is a place of huge linguistic diversity – there are an estimated 2,000 languages spoken across the continent, which are divided into four large language families: Afroasiatic, which spreads throughout the Middle East, North Africa, and the Horn of Africa; Niger-Congo, which is spoken in West, Central, Southeast and Southern Africa; Nilo-Saharan and Khoisan – southern African languages famous for their clicks.

Around 100 of Africa's languages are used for inter-ethnic communication and include Arabic, Berber and Swahili. There are more than 90 million French speakers in Africa, 100 million Swahili speakers and 170 million Arabic speakers;

English takes pole position with over 700 million speakers.
Gifts & shopping
Apparently, our hair, skin and nails are nothing without Argan oil. 'Versions' of it are everywhere now in Europe, but you can buy the real deal in Morocco's marvellous souks

Bombolulu in Mombasa works with over 100 craftspeople – many of whom have disabilities. Their gorgeous products include bags, jewellery and wood carvings.

Tanzania's beautiful, bright Tingatinga paintings were originally created using bicycle paint, which was cheaper than traditional art materials. The paintings depict stylised wildlife and local flora in a burst of African colour.

One capital city was not enough for South Africa; it has three: Pretoria (executive), Bloemfontein (judicial) and Cape Town (legislative).

How much does it cost?
Dinner for two at an upmarket restaurant: £10 (Kenya)
Local beer in a bar: £1.15 (Tanzania)
One-way train ticket Tangiers to Fez: £9 (Morocco)
Six local oysters: £5 (Namibia)
Cup of rooibos tea: 95p (South Africa)